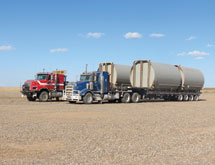 Opportunity abounds in the Williston Basin. As oil producers have entered North Dakota and Montana, suppliers and service providers have certainly experienced growth opportunities from oil exploration occurring in the state. Unfortunately, the fast-growing market has also left the door open for short-term opportunists. However, at T&R Transport, the oilfield transportation services company has committed to running an operation that is safe, reliable, consistent, honest and ethical. T&R management believes in the long-term viability of the business as a locally owned oilfield services company providing efficient and reliable service.
"We are proud to say that every E&P [exploration and production company] we have begun working with, has continued to utilize our services," says Ross Eriksmoen, vice president of the family-owned company. "Service companies will come through and offer services to an E&P. At which time an E&P will use them and if they don't like the service, they will switch to the next company and those suppliers will fall off the market. We never gouge with pricing or fail to deliver a service that we offer. We provide services that clients can count on. We will maintain a long-term strategy to be here throughout the exploration and production phase of the Bakken shale and Three Forks Sanish formations."
That could be a very long time since recent industry estimates of the 200,000-square-mile formation in the Williston Basin say the area could hold between 18 billion to 24 billion barrels of oil. T&R Transport plans to be in the area for the long haul, providing crucial transportation and disposal services in the oilfields of North Dakota and eastern Montana.
As a full-service water transportation and oilfield trucking company, T&R got its start in freshwater transportation to oil rig sites and frac tank locations as well as transportation and disposal services for waste and flow back water. It also offers full-service pre-disposal water filtration using self-enclosed filter pot trailers.
In an effort to diversify itself and further embed itself as a service provider in the industry, the company began adding additional services such as oil skimming and recovery for pit reclamations, flat-bed and pipe hauling for rig moves, winch truck services, aggregate hauling, and side-dump and belly-dump services to haul rig cuttings.
All-Around Growth
"We are always looking to diversify on the trucking end of things," Eriksmoen says. "We are looking to get into other facets of the trucking industry, whether it's crude oil hauling or chemical hauling – we need to explore new opportunities in different areas to diversify ourselves with the base we already have in order to maintain long-term leadership."
Along with adding services, the company also is expanding its reach and capacity. In 2006, T&R Transport launched its operation with one truck. In 2008, it was offered an opportunity to expand through hauling for SM Energy and Continental Resources as a 20-truck operation. Since then it has grown with its initial E&P clients and added on several additional clients including Oasis Petroleum and Crescente Pointe Energy, growing to a 140-truck operation with 60 company-owned trucks and 80 sub-contractors. From 2008 to present, it has grown from a $200,000-a-year company to a $40 million-a-year company with plans for continued growth.
T&R Transport is building a 7,000-square-foot office near Crosby, N.D., at its original truck facility, and it will soon open a truck yard in Plentywood, Mont. to better serve clients in eastern Montana. Eriksmoen says T&R will continue to deliver reliable service by maintaining a growth strategy of not outgrowing its ability to provide the services it sells.
"It's our job to be on time and be there when E&P companies need us," he says. "We focus on providing consistent service and making sure our drivers are well trained. We also provide good equipment. Many companies are out here running on shoestrings with cheap equipment. We don't do that."
Safety First
A large part of T&R's business is not just to get the job done, but to get it done safely. Eriksmoen explains that each oil producer sets its own safety standards and T&R has set its standards to match the most stringent ones in the industry. It has an environmental health and safety strategy in place that is enforced by an in-house health and safety director. Its trucks visit the maintenance shop every three weeks for a complete inspection.
T&R takes every precaution to ensure the protection of its drivers and others, which includes having the right coverage. Dixon Insurance, a Great West Casualty agent, provides the company with trucking, liability and umbrella insurance. Eriksmoen's father, Ross Eriksmoen Sr., has worked with the Fargo, N.D.-based company since the early 1980s as an independent truck operator.
"They are one of the major truck insurers in the industry and Dixon has been fantastic as far as helping us get set up with proper insurance, equipment and meeting industry standards for insurance," Eriksmoen says. "This is a tough environment for insurers because of the nature of the environment we work in. There is the potential for a large number of losses, but we have done very well. Dixon provides us with a Great West Casualty Insurance program and they've been a tremendous partner for us in the oilfield." EMI