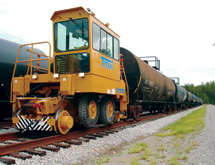 Since the first Trackmobile railcar mover left the shop floor of Whiting Corp. in 1950, numerous imitations have hit the market in an attempt to replicate the performance of the original. However, they still pale in comparison when it comes to in-house expertise and customer service provided by Trackmobile LLC.
"What we have that our competition doesn't have are sales specialists, factory-trained service technicians and 24-hour emergency service," explains Keith Sellers, executive vice president of sales and marketing for Trackmobile.
"The competition tries to fill that void, but they can't do it in the manner in which we do."
The Trackmobile is a mobile railcar mover with the ability to operate on tracks as well as travel on the road. It is equipped with four rail wheels and four road wheels, and the two sets give Trackmobile the mobility to quickly and easily be changed between tracks.
The road wheels are parallel to the rail wheels and are equipped with pneumatic rubber tires for road travel, and these wheels also are hydraulically raised and lowered to enable the machine to transfer locations quickly.
According to Trackmobile, the product utilizes an industrial diesel engine coupled to a four speed electronically controlled automatic transmission by a flex plate torque convertor drive. The power is transmitted through a lubricated gear box to front and rear heavy-duty planetary axles.
Historic Demand
Trackmobile began as an in-plant project at Whiting Corp., in Harvey, Ill., when Marshall Hartelius was assigned to modify an old industrial locomotive Whiting had used for years inside its own plant. Hartelius' challenge was to design a machine that was light enough for road movement and heavy enough to start and stop railcars. To solve this, Hartelius designed a coupler head that could be operated from the driver's seat that would rise hydraulically to lift the railcar, transferring up to 49,000 pounds to the wheels of the vehicle. Hartelius then took his mobile railcar mover on the road across the United States to demonstrate its advantages.
Since then, more than 10,000 Trackmobile units have been put into service in 60 countries. By 1980, Trackmobile had outgrown the Whiting plant in Harvey, Ill., and moved to LaGrange, Ga., as a separate division. In 1987, The Marmon Group of Chicago acquired Trackmobile, and the Marmon Group is now a part of Berkshire Hathaway Inc.
Ergonomically Speaking
You often hear about ergonomics in office settings where nonstop sitting for eight hours at a time while looking at a computer screen is the main culprit for nagging injuries. However, Sellers says Trackmobile purchasers are interested in ergonomics for the unit's drivers, as well, and the company has taken those demands into consideration.
"A lot of our customers are more safety conscious," Sellers says. "We make sure the operators in the machines are comfortable and that it is a comfortable environment for them to work in."
International Mobility
With Trackmobile firmly entrenched in the North American marketplace, Sellers says the company continues to expand its international business. The company has targeted the BRIC countries – Brazil, Russia, India and China – as well as South Africa for its units. However, any country with ample railway access would be a candidate.
"You have to look at the countries that have the most rails and are similar to the United States," Sellers says.