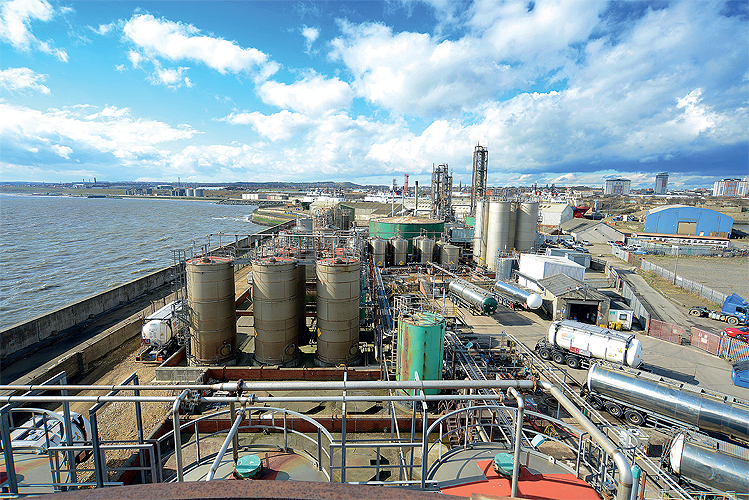 Trading in change
With three main areas of expertise, Tradebe is setting its goals high to be the leading hazardous waste management company through its additional specializations in chemical manufacturing and bulk liquid storage services. Since 1984, the business has supported industrial customers, with the environment at the forefront of its priorities. Speaking with Victor Creixell, the Group CEO, we learn about how Tradebe is honing its focus onto the sustainability of both its business and the environment.
The company's success is heavily dependent on the relationships it garners with its clients and this manifests in two different forms: short and long-term. "We have clients with specific
needs who call us up and rely on us for quick solutions, but we also work on more complex cases. For example, we provide an alternative fuel to cement kilns across all the markets we operate in, and the origin of that fuel is waste. Therefore, we are able to transform waste into valuable fuel, which moves the kilns away from burning coal and instead burn a fuel with the same energy value. These relationships with cement kilns in my opinion are exactly what our times demand, because they give a second life to waste and avoid fossil fuel consumption. These are not easy contracts and to ensure that we meet the requirements of the client and of the regulators, we have to ensure that the fuel is of the highest quality possible. To do this, we are incredibly careful in terms of mixing, blending and treating waste," Victor explains.
In the same breath, he also provides a second example of how Tradebe works with its clients, which concerns the health system particularly in the UK. "This type of contract is aimed towards providing a logistics solution for hospitals. We are able to create a logistical solution to arrive at medical centers, pick up the waste and treat it in a safe and compliant manner in our specialized facilities. We are able to adapt to the needs and circumstances of our customers and provide solutions that in one case are about sustainability and making sure we eliminate the use of fossil fuels from our industry, while the other revolves around the speed of response and logistics we have built regarding the client's needs," he says.
Throughout these developments, the business has additionally been able to perfect its sustainable practices and innovation. "We are able to extract valuable solvents from some of our clients waste streams, and return them to our customers, or sell them in the open market, especially in the agrochemical and chemical space as well as pharmaceuticals. Those three industries are interested in recovering some of the solvent molecules found in the waste they create. Recently, we have also seen that we could also serve these customers not just by taking their waste and recycling it, but by creating chemistry and molecules that could be interesting for them without necessarily being recovered from waste. That type of technology to produce the molecules is not very different from the chemistry and the engineering that we do ourselves in our operations," he shares.
These activities are essentially what sets the company apart from other waste management businesses. Regarding the circular economy, which Victor briefly mentioned, the business implemented this philosophy a long time ago in order to increase recycling and energy recovery as a key driver for sustainable innovation. "Although this sort of practice has been a buzz word for the last few years, we have been working on a circular model for quite some time now because economically it has made sense for a long time, and hence, the circular economy concept is deeply engrained into our DNA," he shares.
The success of this method is also entangled with the company's innovation and its ability to pull its resources together quickly to deliver speedy service. "We have a lot of people devoted to innovation who research new ways to deal with the waste that we receive and provide new solutions to our customers, which means that innovation is a key element to what we do. What also sets us apart from our competition is the pace at which we move. We make decisions quickly and hence, we are able to meet our customers' demands," Victor explains.
Underpinning these aspects of the business' success are the values that have been at the core of the company ethos since its inception, and according to Victor, accountability and tangible results are additional motivators that keep the company seeking out expansion opportunities. "We are a pragmatic, highly motivated team because we are powered by highly knowledgeable people who understand our business very well and they are the ones that source the opportunities and see them through to the end," Victor shares.
These opportunities have been the buttress behind the business' acquisitions and expansions. Three strategies come into play when the business makes acquisition decisions. Firstly, because of its goal to expand geographically, location is key. Secondly, market positioning of the potential target is equally as vital. "We are interested in businesses that hold a strong position or who are looking to improve. This is very helpful in terms of how effective we can be and the service we can provide to our clients. The third element is acquisitions which bring us synergies; either through growth or through our operations becoming more efficient," shares Victor
With these measures powering Tradebe's growth, it has also had the opportunity to expand its business across international borders and service clients in Europe, the US, and the Middle East. Now, to continue this trajectory, the company's facilities in the Port of Barcelona are in the process of exciting expansions. "Our infrastructure in that location has been around since 1991 and recently the demand for service has become significantly more complex, which is why those expansions are taking place. The other development currently happening in that area is we are recycling some of the hydrocarbons that are combined with waste so that they can then be reused in the boats and vessels that come into the Port of Barcelona. We are already doing that on a smaller scale and this investment will allow us to increase the volume and the service to our customers," he says. Overall, it is a matter of modernizing and optimizing the facility and providing more sustainable solutions.
On that note, Victor is proud of the measures already in place for the company to decrease its carbon footprint; an area in which its innovation strategies are excelling. "We have been doing recycling and energy recovery, which consists of transforming waste into an energy source. The next phase is capturing CO2. As one of the most pressing issues right now, there is still a lack of technology that completes this but we are excited to be engaged in the analysis of projects developing this area. We are also looking at how to reuse that CO2 in a way that is sustainable and efficient for our industry – and we hope to be successful once we find the right model and right way of working here," he says.
Looking ahead, the business is in the process of investing in the growth of its chemical manufacturing activities. In terms of the waste management side, it is focused on delivering on a recent investment in an energy from waste plant in the US. "This was a major investment we completed. We started two-and-a-half years ago and it is now finally in operation and what we had to do this year is go to the commissioning stage. Now the plant is working at full speed and providing fantastic results while also contributing to turning waste into a source of energy. This is to ensure that the waste is not just dumped somewhere but it actually provides value by being turned into energy," he informs us.
Victor's field of work is a heavily regulated environment, as it should be. Without these measures to ensure that waste is treated and disposed of thoroughly, it would be difficult for businesses in this sector to expand and compete successfully. This is why Tradebe is determined to uphold its regulations to the highest standard and incorporate innovation that allows it to expand internationally and bring its sustainable solutions to the rest of the world. As pioneers in environmental services, the company is a leading example of how waste management can be done responsibly and beneficially.
Tradebe
www.tradebe.com
Services: Waste management and environmental services providers