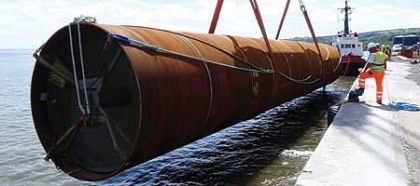 Safety first
Trans-Web is a UK-based manufacturer of a range of high quality lifting and safety products, including webbing lifting slings, lashings, height safety equipment, kits and accessories.
The company offers a portfolio of hundreds of products designed and developed to meet today's market requirements, all of which have been tested and certified to the latest quality and safety standards, manufactured by a highly skilled team and are delivered with excellent customer service.
The standard range of products is complimented by Trans-Web's ability to design and supply bespoke specialist lifting systems. This service is offered to provide high quality performance solutions where difficult lifting or lashing requirements cannot be met using a standard product. Demanding working conditions can often be highly hazardous but, furnished with the exact requirements, Trans-Web can design and develop systems which are suitable for specific applications; these can include use in the transportation, construction, marine and offshore engineering industries.
Although Trans-Web is particularly well known for its expertise in the design and manufacture of textile lifting systems, the company has now expanded out of this market and following significant research, development and testing, it now offers height safety equipment. As a result of the organisation's commitment to quality management all manufacturing procedures are guaranteed, and it constantly assesses its activities to ensure they are meeting international standards.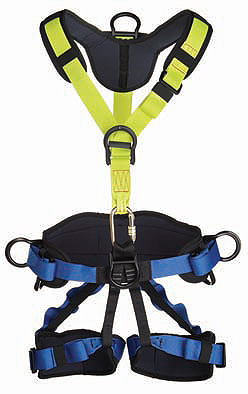 As a result of this policy, and to further illustrate the quality of its height safety equipment, Trans-Web recently applied for membership of the Work at Height Safety Association (WAHSA). Applicants for membership of WAHSA must fulfil demanding criteria before being accepted – to qualify companies must show that they control the production of height safety equipment at every stage, from raw materials through to testing and certification. WAHSA found that the company qualified for membership on all counts.
"We are all very proud of our achievement," comments Lee Wrigley from Trans-Web. "This is a feather in our cap. Recognition of excellence by one's peers is something we all covet, and membership of WAHSA has achieved that recognition, not only from them, but from the people who are seen to uphold and regulate the standards within the industry."
After 25 years in business it is clear that Trans-Web understands how crucial it is to keep evolving, discover new products and launch into new areas. As the application areas for its products have become more demanding, the company has quickly reacted and for example, has extended the size and capability of its round sling range.
The enhanced range is manufactured by the company in the UK, and is designed with a lifting capacity up to 100 tonnes in weight. Slings can be produced up to 36m in circumference on newly installed machinery.
Like all Trans-Web's slings, the new large round sling range is manufactured from 100 per cent high tenacity polyester yarn. This, together with its heavy duty, high quality non-load bearing sleeve, enables these large slings to deliver a remarkably high strength-to-weight ratio. They are light, flexible, twist and kink resistant, and have the ability to absorb shock loads, within the usual safety constraints. Because the slings have been designed to wear evenly along their full length, they deliver, like all other Trans-Web products, a longer life span.
"Our large round slings are ideal for choke lifting cylindrical objects," adds Lee. "They also offer flexibility for the user, providing a wide choice of lifting modes, and the polyester sleeve offers a significant degree of protection when lifting smooth objects without causing damage. All our products are fully tested, and the large round slings are no exception, being certified to current standard BS EN 1492-2:2000 + A1: 2008. This gives them the full safety factor of 7.1."
Over recent years, through its dedication to innovation, quality and customer service Trans-Web has become a well-known and respected supplier and manufacturer. By virtue of its flexible working practices Trans-Web is able to react very quickly to customer requests, and this skill recently enabled it to help a client when their existing supplier was unable to fulfil an important contract. The product in question was a cargo net for use on a grain-carrying boat. The net is stretched over a tarpaulin to hold it down; the tarpaulin in turn covers and protects the cargo. Trans-Web manufactures nets to its own specification, used mainly for lifting lorries or cars. However, producing this very large net involved working closely with the customer on the technical specification.
"Knowing that the customer had already been kept waiting for several weeks by its former supplier, we pulled out all the stops to turn the order round quickly," says Lee. "We were able to deal with it straight away, and managed to complete the job within three days.
"On the back of our success, we have already fulfilled an order from the same company for a number of harnesses, and we are well-placed to become the customer's future preferred supplier of nets and other safety products."
Trans-Web Ltd supplies its range of products through a network of industrial equipment suppliers and safety equipment supplier / distributors across the UK, with this in mind Trans-Web Ltd would welcome enquiries from potential distributors within the oil and gas industry.
Trans-Web Ltd
Products: Lifting and safety products