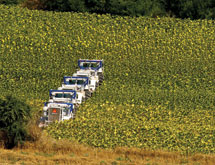 TransAtlantic Petroleum Ltd.
Attempting to bring North American technology to another nation halfway around the world to extract resources is always a daunting challenge. But when the process will significantly cut down the cost of operations and increase margins of profitability, a little a trial-and-error to determine the best course of action is well worth it.
TransAtlantic Petroleum Ltd. was doing just that when it brought hydraulic fracturing to the European portion of Turkey that holds the Thrace Basin, which the company says is rich in previously tested natural gas. And the company will soon use this technology in southeastern Turkey to begin more earnest testing of the Dadas shale after doing some initial testing in late 2010 and early 2011.
According to Chad Potter, vice president of finance and investor relations, the company finally found the right combination of fluids and sand needed to recover the natural gas out of Thrace Basin's tight sands in late 2011 in wells shallower than 6,000 feet. Now that the correct completion method has been determined, TransAtlantic Petroleum is moving ahead on deeper wells while beginning the planning of a development rig line and completion program.
"In late 2011, we found the right completion method and in November and December, we were able to begin a string of repeated frac successes," Potter says. "Those could lead to a significant recovery of several tcf [trillion cubic feet] of gas, we know the gas is there. The question now is, 'Can it all be produced economically?' We are confident that the shallower zones work, but the deeper zones are still being evaluated."
TransAtlantic Petroleum is an international energy company engaged in the acquisition, development, exploration and production of oil and natural gas with interests in developed and undeveloped oil and gas properties in Turkey, Bulgaria and Romania.
The company was incorporated in 1985 in British Columbia, and it moved its headquarters to Alberta in 1997. After spending its first years as an offshore developer, TransAtlantic Petroleum focused on onshore assets between 2005 and 2007. In those two years, the company acquired an exploration permit and a reconnaissance license in Morocco, three production blocks in Romania, three exploration licenses in Turkey, and two licenses in the United Kingdom's North Sea.
In this time period, TransAtlantic Petroleum also acquired properties in Texas and participated as a non-operator in four other properties in Texas, Oklahoma and Louisiana.
In 2007, however, TransAtlantic Petroleum exited its U.S. operations and focused on its international portfolio of properties. It also acquired three more exploration licenses in Turkey, converted a portion of its Moroccan reconnaissance license into two exploration permits, sold the Texas properties it operated and offered its remaining non-operated U.S. properties for sale.
By 2008, the company had changed focus from prospect generation to vertically integrated project development, which followed Malone Mitchell taking a controlling stake in the company. Mitchell currently owns approximately 40 percent of TransAtlantic Petroleum's outstanding shares and recently acquired additional shares.
Right Place, Right Time
Now is the time to take advantage of favorable drilling opportunities in Turkey, according to Potter, because, he says, the Turkish government is fair and business friendly. Potter says Turkey is a good place to operate today because of reasonable royalty and tax rates.
Turkey's shortcoming has been the short supply of infrastructure for the oilfield industry. Now, the company is bringing some of it Turkish staff to the U.S. to gain experience in the rapid pace of drilling and completion employed in the U.S. resource plays.
"The main idea was to capture North American pricing instead of paying to move equipment from North Africa for just one well," Potter says. EMI