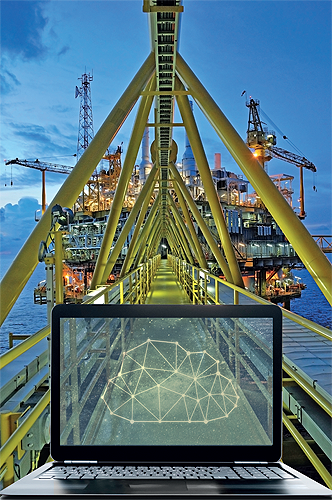 Today, oil extraction is no longer just a mechanical process. There is much more to the process than just drilling wells and extracting oil at a distant location in the sea. Just like how the rest of the world is looking towards technology to improve and transform their processes, the oil industry too, is turning to digital transformation to innovate and grow. Offshore oil rig platforms now increasingly rely on robust connectivity and cloud services to become centres of digital innovation and data powerhouses.
Finding a new normal
Since the onset of the pandemic, many industries have had to face new challenges and threats, and the oil and gas industry is no exception to this. In addition to the usual problems these companies have to solve, from lowering costs to meeting safety and sustainability targets, the pandemic has pushed more pressing items to the top of the agenda.
For example, as concerns around safety intensify, how can these energy companies ensure productivity while also maintaining employee safety on and offshore?
With the development of innovative technologies, they can address and overcome this growing issue. The oil and gas industry is finding its new normal by virtualising previously physical processes to help more staff work remotely from safer onshore environments.
For example, companies are incorporating connected sensors into their mechanical processes. A typical offshore site could have between 350,000 and 500,000 sensors onboard, all of which help platform operators make smarter decisions about equipment utilisation and enable predictive maintenance from a socially distanced onshore location. These sensors have to be able to move data between oil rigs and onshore offices and personnel.
Energy companies will need to ensure they have the right network infrastructure and connectivity solutions to enable this move towards a digital future – one that allows them to quickly adapt to changes in the environment and for personnel to collaborate even over long distances.
Rapid connectivity to the most remote sites
With more energy companies turning to data to inform their decisions about drilling locations, maintenance and sustainable extraction strategies, IT teams will need to ensure offshore platforms have the same access to high-bandwidth, low-latency connectivity that their onshore sites have to move data between back and forth effectively. On top of this, not every company sends data directly to their headquarters – some transfer data to the cloud for storage and/or compute.
Moving data to the cloud may have previously been impractical for these energy companies as it meant they would have to move data from the offshore platform to a data centre and then to a cloud provider, all of which requires infrastructure investments in servers and other networking equipment. Now, energy companies are turning towards dedicated software-defined networking solutions to do this. These services allow energy companies to easily connect to cloud services directly, even when the site is remote and out at sea. These solutions have also allowed these companies to overcome scalability issues as cloud connections can be set up quickly and cost-effectively.
So, even if these energy companies find themselves suddenly needing to connect to a new cloud service provider or scaling up their capacity, this can be easily managed with a Network as a Service (NaaS) platform.
While energy companies have been working with partners like Tampnet, a leading telecommunications operator to the offshore industry headquartered in Norway, to connect on and offshore activities for a while, the amount of data being collected, the speed at which it needs to be transferred and the sensitivity of that data are skyrocketing. The use of the cloud has also pushed energy companies and their current partners to look for better connectivity solutions. And this is where NaaS comes in.
"Whether oil and gas companies use sensors and digital twins to better understand equipment on platforms, or wearables and drones to help offshore maintenance engineers do their work from more socially distanced onshore locations, there is a need to transmit high volumes of data quickly and securely," said Frode Støldal, Chief Digital Officer at Tampnet.
"Specifically, many oil companies are rightly conscious about the security of their data and the connectivity it relies on; a cyberattack on an offshore oil rig could have catastrophic consequences which is why having the secure and scalable connection of a NaaS provider is so important," continued Støldal.
One of the advantages of energy companies turning to a NaaS provider is that they can bypass conventional public internet lines to their cloud provider. This means they can immediately lower their risk of exposure to potential cyberthreats.

Reaping the rewards of the cloud
Today, as more offshore oil rigs welcome new technologies and become more data-driven, to transform and grow, they need to ensure they have the infrastructure to do so. They need to make sure they have easily accessible, scalable and secure connectivity to reap the rewards of these technologies, and the cloud.
It's no longer just the companies operating onshore that can make the most out of the cloud – the offshore industry can too.
MISHA CETRONE
Misha Cetrone is VP Cloud Product at Megaport. Megaport is a leading provider of Network as a Service (NaaS) solutions providing a global Software Defined Network (SDN) that helps businesses rapidly connect their network to services via an easy-to-use portal or open API. Megaport offers agile networking capabilities that reduce operating costs and increase speed to market and partners with AWS, Microsoft Azure, and Google Cloud.
For further information please visit:www.megaport.com