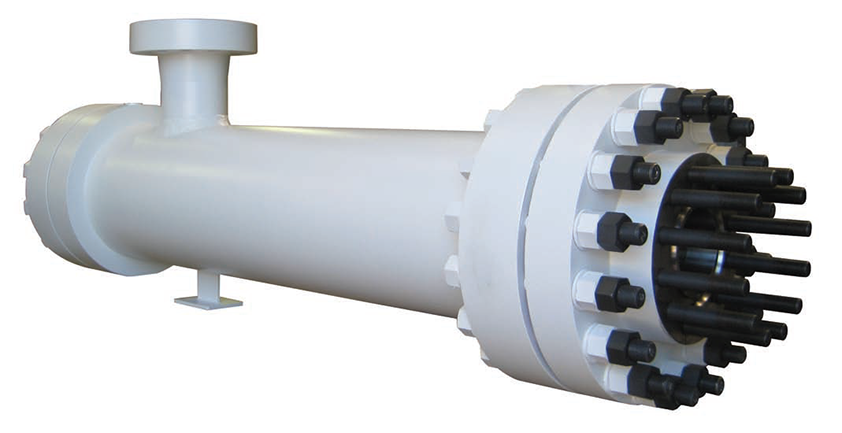 A flare for recovery
"We have just celebrated our 40th year, which was a couple of weeks ago," says marketing manager of Transvac, Peter Ainge. "It's a nice milestone – we have been around for a long time.
At the heart of all of our oil and gas solutions lies the Ejector, sometimes also known as an eductor or surface jet pump. They are essentially pumps that have no moving parts, require little or no maintenance and often require no 'new' energy to run. They use a jet of either liquid or gas to create a low pressure region in the body of the Ejector which then draws in a third fluid, which again can be either a gas or a liquid. It's an old principle that has been around for hundreds of years but is very effective and offers some exciting opportunities to the oil and gas industry."
The principles behind Transvac's Ejector systems may be hundreds of years old but the company is breaking new ground across a host of industries. The oil and gas industry however, has been the company's most important catalyst for growth as it looks for ways to improve on the levels of resources recovered. "We use Ejectors across a range of industries including nuclear, oil and gas, food and pharmaceutical, water treatment, steam and vacuum," Peter explains. "These have kept our business nice and steady over the years, however the oil and gas industry is our most exciting market. A very topical theme in the industry, particularly in the North Sea is about recovering more, extending field life and if possible restarting 'dead' wells. With a mature field and depleting reserves one of the challenges is not to abandon a well or a field when it has only had 40-50 per cent of its resources recovered. Our patented production boosting Ejectors reduce backpressure on wells, or indeed lower the backpressure from a separator, to enhance recovery
There are two common ways in which an Ejector can be driven, requiring no new energy and no running costs. This means that any gain in production is free, 100 per cent efficient. The first opportunity is where there is a high pressure (HP) well that is being choked to reduce its pressure. This is common practice so as to maintain production across other nearby wells sharing the same production facilities. However, there is energy being wasted across the valve, offering no benefit. We can use this energy to drive an Ejector. The Ejector becomes the choke device in effect, but also creates a suction that can be used to literally suck on the LP, dead well, bringing it back to life. Liquid loaded wells are no problem as, unlike mechanical compressors, Ejectors can handle liquid slugs with without issue."
The second opportunity lies where mechanical compressors are operating in recycle, which is commonplace in mature fields where the throughput has fallen off. By recycling some of the gas from the discharge side of the compressor and feeding it back into the suction side, the compressor then sees a throughput closer to its design point. Again, there is a loop of wasted energy, which can be tapped into and used to drive an Ejector. "We've had some great success with this and the beauty of our technology is that it has no moving parts, it doesn't require any electrical power and it doesn't require any maintenance," says Peter. "It looks like a simple piece of pipe to be honest, it's not an exciting piece of kit to look at but what is going on inside, and the opportunities it presents, really are.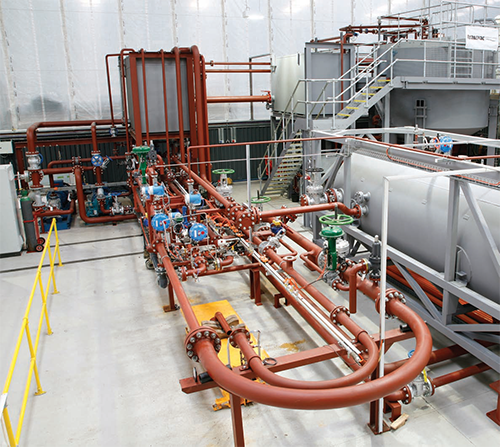 "We've had huge success with these, they can create hundreds of thousands of dollars worth of revenue a day for no extra cost apart from the cost of the Ejector. It doesn't require any power or maintenance, it will run itself – it's just a principle of physics. A lot of the time we'll have engineers saying, "That sounds too good to be true, what's the catch?", but there really isn't one."
In 2010 Transvac opened its research and development test facility, which has allowed the company to break new ground in a big way. A great example of this is Transvac's new flare gas recovery solution, FlareJet. "We have over 20 years experience in delivering flare gas recovery solutions to the industry, but armed with this new performance data and some cutting-edge Ejector designs we can now offer gas compression up to 90:1," says Gary Short, R&D director. "FlareJet is the result of many years of development and our latest IP. It has opened up many new opportunities for our clients who can now enjoy zero-flare operation at their facilities."
In many cases produced water can be used to drive an Ejector. This can achieve very high compression, which allows flare gas, often close to atmospheric pressure, to be compressed up to a pressure high enough to either re-enter production or be used as a fuel gas elsewhere on the facility. It's a very effective solution and a great alternative to liquid ring vacuum pumps or mechanical compressors that are often plagued with maintenance issues and spiraling running costs.
Elaborating on the success of Transvac's research and development centre, Peter says "We have used the research and development facility for a number of projects including sand cleaning packages and we are currently in the process of testing a gas-flaring package for flare gas recovery in Oman for PDO. It's groundbreaking work we're doing, we have been making liquid jet Ejectors for 40 years but now we have been able to completely rewrite the rulebook regarding what we are able to do with them."
Moving beyond 2013 Transvac is determined to push into its largest market, the oil and gas industry, as well as developing the way it operates in other sectors. Alongside delivering its FlareJet system, the company will look to take advantage of the growing subsea industry, which it sees as perfectly suitable for its Ejector products.
Many technologies have fallen by the wayside and many require complete redesign to operate subsea. Ejectors do not and as such, Transvac has been part of some of the subsea industry's most groundbreaking projects, such as Marlim, the FMC/Petrobras subsea separation and reinjection module currently installed in the Campos Basin off the coast of Brazil. Transvac also supplied the world's first subsea Ejector to Tordis, the FMC/Statoil separation module. This was the world's first full-field subsea separation system. Ultimately, 2013 is looking very exciting for Transvac.
Transvac Systems Ltd
Services: Product boosting and recovery solutions