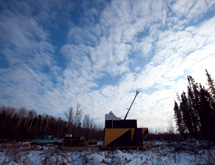 The Goliath Gold project located in Ontario's Kenora/Dryden mining district has seen more action in the past five years than it did in the 15 years before it was purchased by Treasury Metals Inc. in 2008. The lack of activity at the gold-laden land wasn't for lack of interest, however, since three companies had staked claim on the 49-square-kilometer project.
"The project had fragmented ownership for about 15 years until 2008 when Laramide, Teck and Corona all decided that it would be beneficial to put the project under one name, and that's when Treasury Metals emerged as the entity that now controls the project," President and CEO Martin Walters says. "That was in August 2008, and that gave us the green light to go forward with exploration. Up until then, very little work was being done because of the fragmentation. Under Treasury, we have been busy drilling and developing studies and moving the project to where it is today."
Resource Reality
When Treasury Metals adopted the project, Goliath had a proven resource of 600,000 ounces of gold. Through an aggressive exploration program that saw 110,000 meters drilled over the past two years, Treasury Metals has proven up the resources to 1.7 million indicated and inferred ounces. The most recent exploration has focused on the property's C Zone, located 30 to 50 meters from the project's Main Zone of mineralization.
"We continue to drill in the C Zone and the Main Zone and conduct infill drilling to upgrade from inferred to indicated," explains Norm Bush, vice president and general manager.
Treasury Metals completed its preliminary economic assessment in 2012 and is taking necessary steps to obtain a mine permit. The Canadian Environmental Assessment Agency has accepted Treasury Metal's project description allowing it to move onto environmental assessment stage.
"We are now in the formal environmental assessment permitting process with the federal government and working on a parallel track with the provincial government with permitting," Bush explains. "The permitting process is expected to take 18 months to complete assuming there are no issues along the way. We're very pleased with where we are in respect to permitting and every time we look at the economics of the project, it just keeps getting better."
Making the Grade
"The thing that differentiates us is that we are pushing for high-grades," Walters says. "We're not developing .67 grams or sub-1 grams. We have a non-negotiable in the company with our grades."
In its most recent drilling report, the company did record hitting 2.7 grams per ton over a 2.4-meter interval, 1.57 grams per ton over a 16-meter interval and 1.4 grams per ton over a 22-meter interval. The focus on maximum profit is equal to the company's focus on reducing expenditures. Treasury Metals' goal is to keep the capital expenditure costs to $100 million or less.
In addition to the gold deposits that sit below, the project has significant upside that will help the company reach its economic goals. For one, Treasury Metals is an exploration company that actually earns revenue. It has a 3 percent net smelter return from a producing gold mine in Mexico that earns the company $70,000 to $80,000 a month.
Specific to the Goliath project, the flagship property is in a well-developed area with roads and utilities in place and able to support a mining operation.
"One thing that makes this project successful is the fact that the local community is very much looking forward to the jobs and opportunities that this project will create for northwestern Ontario," Martin says.