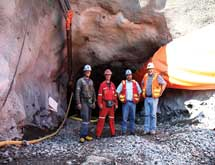 Trelawney Mining and Exploration Inc.
A well-structured business model and experienced management team have brought Trelawney Mining and Exploration Inc. success in its pursuits. The Toronto-based company specializes in the exploration and mining of high-grade narrow vein resources in northern Ontario. "As [our president and CEO] Greg Gibson likes to put it, we're focusing on quality – not quantity – ounce projects," says David Reid, manager of investor relations and business development.
Trelawney has been exercising its expertise on the Chester gold property located in Ontario between Sudbury and Timmins at the southeastern tip of the SWAYZE Archean Greenstone Belt. The Chester project is close to a major regional fault located just to the north of the project, which appears to be a southwestern extension of the Cadillac-Larder Lake Fault Zone. The Destor Porcupine Fault Zone is a similar fault zone, which runs through the gold deposits of the Timmins area.
These large regional faults are close to some of Canada's most productive gold camps. Having resources within trucking distance of custom mills – eliminating the need for major investments in infrastructure – is key in Trelawney's business strategy, Reid says.
Story Behind Chester
The Chester project area hosts at least 12 known gold mineralized structures. "The property had been explored for about 70 years total, but the land package was very fragmented," Reid notes. "Greg was able to bring three properties under one umbrella, and that's really going to help this project move forward."
These three properties – named Chester 1, Chester 2 and Chester 3 – were historically known as Murgold Chesbar, Young-Shannon and Jack Rabbit, respectively. None had been in production until recently. "We're bringing Chester 1 into production as we speak," Reid reports. "We should be producing up to 250 tonnes a day starting the second quarter of 2011, and we will be ramping up to 800 tonnes a day moving forward in about 24 months."
The grade is about .38 ounces per tonne. Reid says $13 million has been budgeted for mine development in 2011.
Chester 1 previously had 5,000 meters of ramping going down 500 vertical feet, which meant the property was developed but never mined. This is another business strategy to the benefit of Trelawney, Reid notes. The company focuses on opportunities where past flow-through expenditures have resulted in advanced underground exploration without reaching the production stage. Previous ramp development, he says, can enable underground access at a fraction of the cost of new ramp development. With the mining infrastructure complete and the personnel on hand, Trelawney has what it needs to produce gold at the Chester property.
In March 2010, Trelawney intersected several hundred meters of gold mineralization at the Cote Lake Deposit zone. "We performed 23,500 meters of drilling for 2010, and we have a budget of about $15 million and 77,000 meters of drilling for 2011 to delineate the multimillion-ounce deposit," Reid says.
Experienced Leadership
The market for gold has been "tremendous," Reid says. "We have been received very well. We have about $60 million in cash, so we are well financed and have very near-term profitable production. We have been very well received locally [in that we are] providing employment to a really depressed area. The philosophy at the company is to employ as many local people as we are able to. We also have a great working relationship with the First Nations. The exploration agreement has been signed, and we are moving forward."
A key reason why the Chester project has run this smoothly is due to the many years of experience Trelawney's management and board of directors have brought to the table. "The years of experience they have was instrumental in this discovery," he says. "Combined, our principals Greg Gibson, Tyler Culhane (mining manager) and Dave Bielhartz (vice president of exploration) probably have more than 75 years of experience. The board is led by Tony Makuch (president of Lake Shore Gold), and anyone in mining knows who Tony Makuch is. We look forward to brining this property into production and exploring its full potential, which we believe is substantial."