A buoyant approach
As part of Trelleborg Group, a world leader in engineered polymer solutions, Trelleborg's offshore operation takes performance to a new level as a specialist in the production of polymers and syntactic foam for all levels of the offshore industry.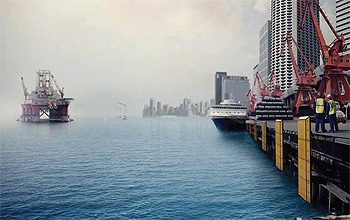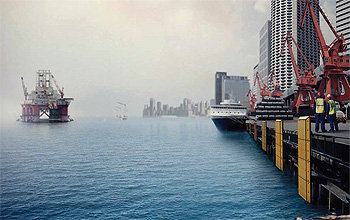 Trelleborg Group's roots date back to 1905 and its offshore operation was established in 2009 with the goal of performing at every level to deliver innovative and reliable offshore solutions that maximise business performance and meet customer requirements.
"Trelleborg started life in Sweden in 1905 as a rubber company and over the next few decades it became one of the leading suppliers of rubber products in Scandinavia, then Europe. During the 1980s the company underwent a period of conglomeration and moved into a number of different industries, however since the mid-2000s it has consolidated its operations to focus on engineered polymers in demanding environments. As such, the offshore segment of the business was developed through a series of acquisitions and consolidations in the late 2000s, with the offshore operation being established in 2009," explains Antony Croston, Business Group Director of Trelleborg's offshore operation based in Houston, Texas.
Following a 20-year period of market consolidation of well-known brands such as Emerson and Cuming, CRP, Balmoral Marine and Wood Corp to name a few, Trelleborg's offshore operation was the leading solutions provider of buoyancy, insulation and asset protection. Moreover, the offshore operation benefits from the long-term expertise and financial strength of its parent company, which has around 23,000 personnel in 50 countries across the globe and leads the way in delivering reliable and high quality engineered polymer solutions that seal, damp and protect critical applications in demanding environments.
The Houston-based offshore operation has proven syntactic experience and expertise in solving its customer's challenging requests; focusing on design, project management and manufacturing solutions, the company provides products that seal, damp and protect in demanding environments to customers that principally operate subsea. "Our solutions include cable protection, buoyancy products, thermal installation, fire protection and other engineering polymers," says Antony. "While we can't be specific on the clients we provide these services to, it is generally to original equipment manufacturers, such as first-tier contractors, installation and drilling contractors and so on, while the operators we work with tend to be major and independent firms."
He continues: "The reason people come to us is our technology; we have always had a focus on demanding environments that require highly engineered solutions. In fact, the company was essentially built on syntactic foam more than 50 years ago. Today our attention is on investment in product development and innovation as well as material development. This is supported by a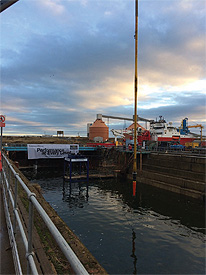 strong team that is focused on delivering high quality solutions for customers, whether that is the development of a new product or material. We also partner with various industry bodies such as universities and clients with intellectual property that they are looking to commercialise. Ultimately we have a technology-driven approach to business that is fed by the needs of our customers."
Notable products within the company's enviable portfolio include Drill Riser Buoyancy, which provides critical support to the riser; a conduit for the drill string and drilling fluids from the ocean floor to the rig. This product has significant weight that must be supported by its own structure and by the drilling vessel. In order to reduce this weight in water to a more manageable amount, discreet buoyancy units are fitted along the length of the riser. There is also the RiserGuard, which provides complete protection of bare riser joints and external lines during handling, storage and drilling operations. This abrasion resistant product is designed to protect the drilling riser from impact damage during running or retrieving through the moon pool area.
As a company that is committed to strategically aligning with market developments, the Houston operation's current core activities are centered on revolutionising deepwater drilling operations through the utilisation of software analysis. "In Houston the deepwater drilling market is a major focus for us as it is a huge challenge for companies in this sector to reduce the cost of drilling the well. In order to lower costs, they need to expand usability of assets in harsh environments, so what we are looking at doing is reducing the impact of the environment on these vessels by changing the profile and performance characteristics of our products. This will include incorporating specific features to reduce vibration, Helical Buoyancy is one example of this," highlights Antony.
Developed alongside Diamond Offshore Drilling, the Helical Buoyancy riser technology is a patented riser buoyancy design that reduces riser drag and mitigates vortex-induced vibration in offshore applications, while also enabling enhanced operational efficiency. An alternative to adding fairings or strakes to the drilling riser, this solution can reduce deployment time and expenses during operations; it also improves safety as it eliminates the need for employees to work below the drill floor to attach the separate apparatus. Thanks to its innovative features, Helical Buoyancy not only improves the economics of offshore drilling for operators, but will also boost efficiencies in high-current environments.
"We need to partner with our customers to ensure we are all working together to reduce the break-even costs of a barrel of oil; that is the goal for everybody. So while we are revolutionising deepwater drilling and increasing performance we are also actively engaging with our customers to understand what their challenges are and to try and alleviate these. In terms of innovation, this means we are looking to push materials for harsh environments even further, whether that means significant reductions in the density of the material or at the same time maintaining or even increasing its strength," says Antony. "We have already seen huge benefits from a life cycle cost point of view when we have reduced the size of components, while still providing the same performance, as this saves our clients a significant amount in storage and installation charges. In fact, we have seen that the higher performing materials add a significant amount of overall value to our clients."
With the oil price remaining a challenge for those in the oil and gas industry, Trelleborg's offshore operation is keen to become a leader in the segments that it operates in through the development and delivery of new technology that will benefit customers and complement its existing product line. "We want these products to become the industry standard over the next three to five years," says Antony. "During this period we also want to consolidate our position as a market leader and enhance the technological relationships that we have with our partners."
Trelleborg Offshore
Services: Specialist in the production of polymers and syntactic foam