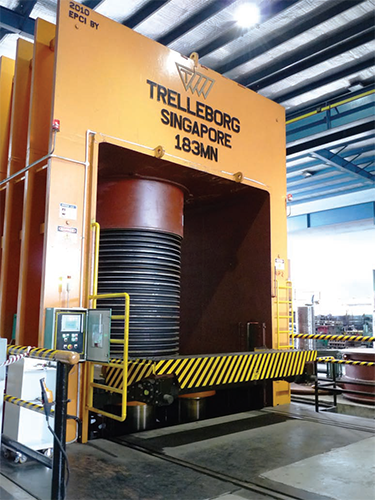 Trelleborg Singapore Pte Ltd
The pressing issue
In 2001 Trelleborg Singapore Pte Ltd was incorporated into the Trelleborg Group through the acquisition of Hercules Rubber and Chemical Industries Pte Ltd (established in 1967) and its associated companies.
Today the company operates as part of the engineering systems division within the group.
As a world leader in engineered innovative elastomeric solutions Trelleborg Singapore is focused on providing infrastructure, construction and oil and gas industries with solutions that seal, damp and protect critical applications in demanding environments, accelerating the performance for its customers in a sustainable way.
Its primary designed and manufactured engineered elastomeric products are distributed for use in offshore projects in over 60 countries worldwide. Through its extended footprint the company has established many customers within the EPCI sector including three major Korean shipyards. With the majority of its clients within the Asia-Pacific region, the business has recently expanded into China, Europe and the US.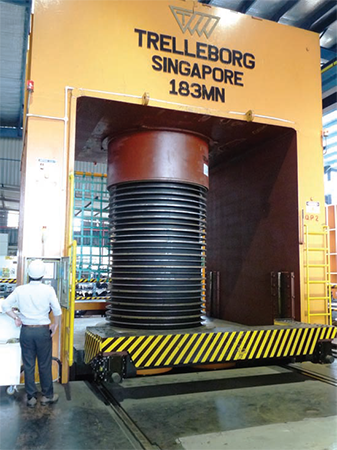 Trelleborg has a team of qualified design engineers and chemists within the research and development (R&D) department in Singapore producing state-of-the-art rubber compound formulations for new and existing products. Quality control inspectors within the company oversee rigorous physical property tests on the rubber. Trelleborg aims to maintain the standard that its customers and the industry have become reliant on, and to maintain its production at an optimum cost.
Managing director of Trelleborg Singapore, Julian Wee highlights what the company brings to the oil and gas industry: "We specialise in applications for topsides, down to jacket structures, pipelines and floating production, storage offloading (FPSO) and FLNG. Additionally we have expertise in corrosion protection coatings, fire protection, load transfer products and high performance seals. We have a range of very good solutions to meet customer needs and we are able to offer them at a fast speed. Moving our fender business to China was a strategic decision that is more efficient for the group."
The company operates closely with its clients, supporting them with its engineering knowledge to produce solutions that meet their needs. The efficient working relationship has been a key factor in the expansion of its product range. The suite of products includes Leg Mating Units (LMU) that are used in the float-over processes. The LMUs consist of a steel structure incorporating rubber elements to achieve a specified spring rate.
Three years ago in 2010 Trelleborg Singapore installed the world's largest test-press for elastomeric components testing. The investment represented a major step forward in the development of its offshore business and in particular in supporting and securing float- over projects. Julian explains: "The gigantic test-press has been engineered, procured, constructed and installed by our team in Singapore. The press will be used primarily for LMU and Deck Support Unit (DSU) product testing. It can also be utilised for other high capacity load transfer products like FPSO/FLNG module support bearings and seismic products." The robust structure constructed with extra high tensile steels of outstanding yield strength has a load capacity of 18,300 MT and itself weighs 600 tonnes.
With its fabrication facility and test press located in Singapore the manufacture and testing of products can be completed in a shorter time frame without relying on a third party. The groundbreaking equipment was inaugurated into the business as a result of increased market demand, with the sizes of topsides on production platforms varying from less than 1000 tonnes to in excess of 40,000 tonnes. The facility enables Trelleborg Singapore to test LMU and DSU units in-house to design factored loads. Julian continues: "The high capacity equipment allows us to perform full-scale testing and it's proving to be a very good investment, for us and for our customers."
Enhancing the highly engineered range of products, Trelleborg Singapore recognises that the safety and protection of both people and the environment is essential in the development of its solutions. It is by abiding to its own carefully developed strategies that the company remains active in the market.
As recovery from the backlash of the economic crash continues there is substantial growth ahead and Trelleborg Singapore recognises the advantage of being based locally within the region. Shedding light on recent activity Julian says: "We have had several projects secured. We have been quite successful in developing within the floating liquefied natural gas (FLNG) market." FLNG is a cost-effective and flexible solution for commercialising new gas discoveries in deep-water locations. He concludes: "We believe this is a market that will be expanding quite strongly in the coming years. Business has been quite positive and we are looking forward to 2014 and beyond."
Trelleborg Singapore Pte Ltd
Services: Designs and produces engineered elastomeric solutions that seal, damp and protect applications