In safe hands
Operating as part of Swedish Trelleborg Engineered Systems, which in turn is a part of the global Trelleborg Group, Krokstadelva-based Trelleborg Viking AS is Norway's largest producer of rubber products, serving customers across the world.
Since its establishment in 1896, the company has rapidly developed into an experienced manufacturer of corrosion and jet fire protection materials, flexible connections, thermal insulation and impact protection systems.
Responding to the demanding requirements within the oil and gas, defence, automotive and other traditional industries, Trelleborg Viking's technical expertise combined with its engineering and production capabilities has resulted in a high number of satisfied customers worldwide. Utilising its extensive experience, the company is able to create innovative problem-solving solutions for each individual client. It has its own research and development department, laboratory and rubber mixing facility, with a production plant where an extensive range of standard and customised products are developed and manufactured.
Stein Hovde, sales and marketing manager at Trelleborg Viking, comments on what sets the company apart from its opposition in the marketplace: "Our main strength lies within our widespread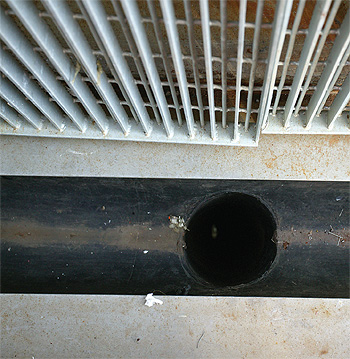 knowledge in product development. We also have a broad range of products, some of which are quite unique, especially within fire protection. Also, the fact that everything from the developmental stage to production is completed in-house provides us with a great advantage, allowing flexibility when it comes to product delivery. As the majority of our products are customised, we also have a lot of experience in solving the customers' individual needs, helping them with special applications." The company's protection systems are designed and supplied to match the lifetime of the client's specific installation.
The physical properties of different rubber materials make it possible to solve problems within the majority of applications, especially when compared to alternative traditional materials. Elastopipe, for example, is the company's patented flexible piping system and is specially designed for use in hazardous and corrosive areas. Statoil, ConocoPhillips, BPAmoco, Norsk Hydro, Norwegian Navy and Statsbygg sponsored the development of the Elastopipe piping system in 1996 under Trelleborg Viking's leadership. Stein elaborates: "Elastopipe is a flexible corrosion free 150 lb piping system and is both impact and jet fire resistant. This highly adaptive and versatile piping system was originally developed for sprinkler and deluge applications, but has later proven suitable for other piping applications. A new version of Elastopipe, developed for hydrocarbon transport, is currently undergoing tests and is demonstrating promising results. The piping system has a minimum lifetime of 30 years and has the lowest life cycle cost, with properties such as being 100 per cent corrosion free, easy and flexible to install and reducing water hammer effects."
The company works to ISO9001 standards for the design and manufacture of technical rubber and plastic products, as well as the environmental standard ISO14001. Safety for people and the environment has always been the main focus for the application of Trelleborg Viking's products. Stein discusses the importance of environmental management: "The waste produced from some of our products is utilised and reused in other applications. Through this, we have been able to decrease our waste of materials significantly over the last few years. We have also been looking into lowering environmentally unfriendly components as much as possible, this is something we're working towards on a daily basis."
Continuing, he discusses how the global economic downturn has affected the company: "The financial situation has had an impact on us, but in different areas and with different products. Most of what we're doing is in the oil and gas sector, with approximately 80 per cent of our production there, so we are more dependent on the oil prices than the economic crisis. We do have some products for the automotive industry, which of course is being affected, but that is not a major concern as it constitutes only a small part of our overall sales. At the moment we are endeavouring to be more active, believing that even though the market will slow down, in the next few months we could take on more in other market segments."
Concluding, Stein comments on expansion plans and where he sees the company developing over the coming years: "We're continuously looking to open out and are currently looking into co-operating with other Trelleborg companies within the group, with the objective of getting closer to the market. This will involve more product exchanges throughout the Trelleborg companies.
"Our strategy for the future involves ongoing growth within the oil and gas sector. We have also now started focusing on the defence sector, which is a huge market especially with regards to fire protection. We believe that our products could be very easily adapted into such a market, so that is one of the main goals throughout the next three to five years. Global expansion is additionally important for our future, we have been very close to the offshore North Sea market and recognise that there is a market in the Gulf of Mexico, Brazil, the coast of Africa and Asia."
Being highly experienced in developing tailored solutions, combined with the highest level of performance and competitiveness, Trelleborg Viking has and will continue to be successful within the industry. This method of working has allowed the company to be in constant contact with its customers, contributing to a positive future throughout challenging times.
Trelleborg Viking AS
Products Anti-corrosion, fire and thermal protection