Resourceful engineering
For over 20 years, Trendsetter Engineering has been a trustworthy subsea solutions provider for the oil and gas industry. With an expertise in solving unconventional problems with conventional field-proven technology, especially in crisis environments, it is evident that the company is truly passionate about making a difference in its chosen sector. The confirmation of this claim lies in the multiple innovative systems Trendsetter has built throughout its existence.
"No other company has more experience and accumulated reference material in source control (capping stacks and emergency response hardware and services) than Trendsetter Engineering," the
company's Global Technical Director, Brett Morry states. "Every capping system we have built, has been a case study of its own. When we first started building capping stacks, no specifications or codes existed, so we applied our unique skillset to create a system that readily-met the requirements of the industry. Later, we were involved in the formation of the API 17W specifications for capping stacks."
Labelled an industry-defining device that changed oil and gas companies' perception of source control and emergency response, Trendsetter's first capping stack system saw the light of day in 2011. "Since then, we have produced 17 capping systems, including the industry's first 400F stack and 20,000 psi stacks. By leveraging our manufacturing expertise, we are able to stay ahead of the curve by providing industry-first hardware in the realm of HPHT. We have also enhanced the latest generation capping stack designs by making these lighter and higher-performing, which allows industry access to a much larger pool of installation capable vessels globally," Brett discusses.
Originally part of the 400F HPHT Capping Stack project, the TCS HPHT Flowline connection system fully encompasses Trendsetter's technical acumen. Continuous expansion of the product line has seen the system evolve into a wide range of sizes, temperatures, and pressures to support the company's projects, turning it into an integral part of several producing assets.
"The intervention space represents an area where we would like to expand further, hence the significance of our 15,000 psi Subsea Tree Injection Manifold (STIM), which is a corner stone on which to build our aspirations," Brett introduces another of the business' flagship tools. "The ability to revitalise existing wells via hydraulic stimulation from a vessel of opportunity is of great value to the industry. In addition, STIM can be used as a remediation tool to remove hydrates and other blockages from flowline and pipeline systems without having to mobilise a MODU, which makes it a highly sought-after solution. The system has been successfully deployed on multiple projects in water depths approaching 7000 ft and pressures up to 12,500 psi. "
A bright example of Trendsetter's operational versatility is the company's participation in Noble Energy's Leviathan project, for which it won six major subsea hardware packages. "The project involves the development of a large natural gas field in the Eastern Mediterranean Sea, off the coast of Israel. As part of this project, we took upon ourselves the provision of multiple TCS clamp connection systems, subsea distribution equipment, MEG filter modules, subsea metre modules, TC2 small bore utility collet connection systems, as well as a mix of subsea manifolds. Over the course of the programme, the need for additional product innovation occurred, which resulted in the development of a nominal 16'' connector with dual 7'' bores. This large bore connection system and its metal seal capability eventually proved critical to the Leviathan development," Brett reviews the scheme.
Additional advantages
Having worked together for five years already, Trendsetter and Add Energy embarked on a major joint project in 2015 to further develop technology that benefits the energy industry by increasing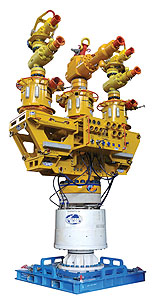 safety and allowing for more cost-effective drilling operations. The result of their efforts was the Relief Well Injection Spool (RWIS), which was granted a US patent in July 2018. Brett presents the system's main functions: "It is a device that increases the flow capacity of a single relief well. In many scenarios, this is a safer and less challenging option to drilling multiple relief wells. The RWIS sits well between the relief wellhead and the BOP and provides inlets for multiple pumping vessels to hydraulically connect via flexible lines and inject kill fluid into the relief well."
Among the other remarkable solutions developed by Trendsetter sits the utilisation of the Light Riser Intervention System (LRIS). "This system reflects the successful completion of our first foray into mechanical intervention. Deployed from an intervention vessel in the Gulf of Mexico, the operation was performed at a water depth of 6000' with a shut-in pressure of approximately 12,000 psi.
"We are also very proud of modifying a template by converting it to accommodate an off-template tree, thus extending the life of a Gulf of Mexico field by utilising the existing field architecture," Brett goes on. "For this project, a flexible well jumper was installed using our TC7 clamp connectors and TEX gaskets to connect the subsea well to the template system. The connectors were supplied as part of a larger scope of work where Trendsetter developed new hardware, including a template adapter module and subsea tree connector porch, to facilitate long-term growth through utilisation of existing assets."
Trendsetter has gained an additional advantage in the industry, owing to the company's ability to maintain its core team over a long period of time. "The capabilities of the business begin and end with a discussion of our personnel and the years of cumulative experience we have in our ranks. It is important for us to be at the top of our game in every sense, if we are to continue leading the industry. When we are given the opportunity to offer solutions, we strive to be as responsive as we can to client's needs and strengthen our relationships by supplying them with costeffective, high-quality products that can solve their problem directly. These qualities enable us to win repeat business, regardless of the state of the industry.
"The oil and gas sector has become more selective about the projects they choose to advance and companies are now aiming to be more fiscally prudent. We have succeeded in managing our finances diligently and have invested in new technology that will allow us to further penetrate the market. We have also recently started expanding our manufacturing prowess beyond the Gulf of Mexico, and into West Africa, as Trendsetter Vine Ghana – a joint venture we set up with Vine Energy Limited. Our long-term ambition is to be seen as a company that offers solutions not just offshore, but onshore, as well. We want to continually innovate and set the standard for what the industry should be, and, ultimately, emulate our company name by being a trend setter," Brett concludes, outlining his observations of the current business climate and ambitions for the future of Trendsetter.
Trendsetter Engineering
Services: Subsea solutions development