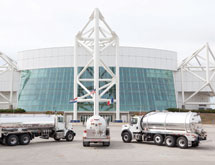 Because tanks frequently outlast their trucks, it is not unusual for a fuel or propane tank to be removed from one truck chassis and remounted onto a new one. Sales Manager Jason Soulon of Tri State Tank, a leading manufacturer and refurbisher of cargo tank motor vehicles and a Walker Group Holdings company, points out that nearly half of the tank trucks that the company supplies are sporting refurbished tanks.
"A propane cargo tank is half-inch-thick steel, so it may last 40 years, whereas trucks wear out in 10 to 15 years," Soulon explains. "Diesel and gasoline tanks can be refurbished and last one or two lifecycles on a truck, but they are a thinner material."
Reinstalling a used propane tank onto a new chassis requires several additional stages of production compared to a new tank. "We remove it from the old chassis, strip the tank, and if necessary, perform weld repairs," Soulon says. "Many times the tank rails are corroded beyond repair, so we install new tank rails. We sandblast the tank back to bare metal, and then the tank can be primed and painted. We install new piping, fenders, a body and pumping system, and when we're done, you have a like-new propane tank for a $10,000 to $15,000 savings over buying a new one."
Tri State Tank keeps the most common styles of fuel and propane trucks in its inventory. "Beyond that, we're building to customer order," Soulon says.He attributes much of this demand to the oil fields. "The demand for the support equipment for the drilling and fracking activities started in the summer of 2010," Soulon recalls.
Regional Variation
In addition to oil fields, the trucks that Tri State Tank supplies are used in many commercial industries to transport fuel, gas and agricultural chemicals. The company also manufactures vacuum trucks for environmental waste and various oil field applications. Besides the variety of industries in which the tank trucks are used, the regions where they are driven also affect their design. This variation affects the production of the trucks. He characterizes some Tri State Tank trucks as very customized, especially vacuum trucks, which are used in wastewater recovery, to clean out car wash pits, recover drip-gas in oil fields, and clean portable restrooms and septic tanks. The company's tank trucks are sold nationwide and worldwide.
More Assembly
"We're really more of an assembly plant," Soulon declares. "We mount a tank onto a truck with a pumping system. So you can load the tank with product, haul it out, unload, go back and get more. We're buying pumps, meters, etc., and bringing it all together into a tank truck designed to each customer's application. We fabricate the piping, wiring and pneumatics.
Tri State Tank has buying agreements with the major truck manufacturers. "If one of our stock specifications does not satisfy a customer requirement, we can go back to the dealer and order a truck to their specifications," Soulon notes.
"Due to the higher cost of new trucks, we are developing a used and refurbished chassis program that will save the customer federal excise tax," Soulon announces. Because used trucks built before the 2007 model year do not have the complicated emissions systems newer models do, some customers prefer those trucks because they are more user-friendly and less expensive to operate, Soulon says.
Tri State Tank also has been installing electronic meters on its trucks, which have far fewer moving parts than mechanical meters. "We're constantly improving our designs, refining our tank designs, adding more ergonomic features to our tanks and equipment, and increasing their structural integrity," Soulon concludes. EMI