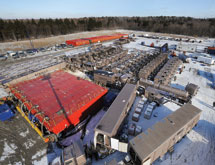 The Marcellus Shale is key to one Canada-based well services provider's plans to expand in the United States. Trican Well Service in 2010 established operations in Mill Hall, Penn., specifically to offer services to oil and gas companies working the Marcellus play.
Trican, an Alberta-based company established in 1979, offers a number of services to customers around the world. Its efforts on the shale are focused on providing fracturing services, District Manager Curt Williams says.
Since establishing its U.S. operations in Pennsylvania, Trican has secured regular work with oil producers Anadarko Petroleum Corp. and Talisman U.S.A. Trican's fracturing services are adaptable to single or multiple well pads as well as other well configurations. "Business is very robust, even with just two customers, and we're working daily," Williams adds.
Trican's role in fracking is to pump fluid into a well at high pressure to fracture underground rock formations that restrict oil and gas flow. A proppant – which usually consists of sand – is added to the fluid and injected into the fracture to prop it open. Once the sand is placed into the fracture, the fluid flows out of the well, leaving the sand in place and creating a conductive pipeline, Williams says.
From the Ground Up
Trican plans to expand its well production enhancement services in the area this year, now that it has established itself on the Marcellus Shale. "We don't like to rush into offering multiple services lines, and [will] hold back the reins a little bit in order to provide better service to our customers," Williams says. "We don't want to go into a full-service line until we're ready to build efficiencies and out-service our competition."
In addition to the Mill Hall location, Trican operates a number of regional bases in the United States as well as in Canada, Russia, Kazakhstan, Algeria, Australia and Saudi Arabia. Its U.S. operations all concentrate on shale plays and similar formations in Texas, Oklahoma and Arkansas.
With this experience and support, the Marcellus Shale was a natural choice for expansion. "It's not unusual for us to come into a new area and compete – we do it in other shale plays and areas of the United States," Williams says. "Competition is not foreign to us, and we believe we can carve out a niche in any profitable play. After watching the Marcellus Shale grow and develop and seeing that it was a long-term play, it was a natural decision to come into this market."
Trican's expansion plans include offering cementing and coiled tubing services to Shale customers in the next year. Cementing involves pumping cement down steel pipes in wells to help secure and protect well casings, while coiled tubing is used as a conduit to circulate and place fluids into a wellbore for cleaning or reservoir stimulation purposes.
Helping Staff Flourish
In addition to its range of services and global reach, Trican distinguishes itself through a set of values that guide its operations. Chief among these is a dedication to staff. "We want our people to flourish, be a part of the business and help it thrive," Williams says. "We give our people the tools they need to be successful such as well-maintained equipment, and build the infrastructure needed to support their efforts."
The Mill Hall staff includes field personnel such as equipment operators and supervisors, as well as sales staff, engineers, administrators and maintenance and support staff. The company also operates a catering service that provides three daily meals to work crews.
Staff on all levels take advantage of the company's extensive training program. "We have a wealth of training here focused from the beginning levels through to highly skilled technical positions," Williams says. "We have a lot of new people coming in to the industry, so we focus initially on basic training such as crane and forklift use before moving on to more advanced skills such as electronics, safety management and project management. We are a value based company and have a goal of reaching "Target Zero" as far as incidents and accidents are concerned. The focus is to never put production ahead of safety.
"We're constantly training people in skills that will enable them to advance in higher positions and focus a lot on promoting from within whenever we can."