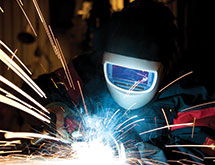 Trinity Industries enters each market with the goal of earning a leading position in that field. The publicly traded company is the parent organization encompassing five major industrial product and service entities: a rail group, a railcar leasing and management services group, an inland barge group, a construction products group and its recently expanded energy equipment group. Under its energy equipment division, the company created Trinity Cryogenics and followed up with two acquisitions that broke Trinity Industries into the market as a leader.
"Trinity Cryogenics LLC is the parent company over WesMor Cryogenics and Alloy Custom Products," says Jesse Collins, president of Trinity Cryogenics. "We bought the businesses in early 2013, not simultaneously, but one right after the other. They are very different companies that make somewhat similar products."
Collins explains that although both companies are in the business of manufacturing cryogenic vessels, each has its own brand identity and Trinity Cryogenics seeks to keep it that way. Alloy Custom Products, for instance, is known for its longevity as a leading atmospheric trailer manufacturer. Some of the attributes that attracted Trinity were Alloy Custom Product's refined development of stock and specialty cryogenic trailers, its delivery record, quality record and seasoned management team.
WesMor Cryogenics, which hasn't been around quite as long as Alloy Custom Products, has more of an entrepreneurial spirit, Collins says. "WesMor came up as a repair operation that grew rapidly," Collins explains. "As the company grew, they started to think, 'We can repair these vessels, but what better way to really learn how they work then to get into new product manufacturing.'"
Once WesMor got into manufacturing, it quickly found its sweet spot in new product innovations for liquid natural gas (LNG) tanks, mobile fueling tanks and other products, such as bobtail truck mounts and oilfield skid tanks, while continuing as a leader in repair and rehabilitation work For Alloy Custom Products, however, Collins says its product development strengths lie in the atmospheric and industrial gases market as well as repair and rehabilitation.
"We look at cryogenics in three market verticals," he explains. "The first is atmospheric and industrial gases, like oxygen. The second is the LNG market, which is a big, emerging growth platform. Then there's the repair and rehabilitation of trailers. On the atmospheric side, that is something we associate with Alloy Custom because they are already known as a premier manufacturer in that market. That's Alloy Custom's sweet spot. With WesMor, their niche is really in LNG. They've built transport trailers, mobile fueling products and ISO containers, which are more LNG related."
Playing to Strengths
Through Alloy Custom Products, Trinity Cryogenics has a firm grasp on the well-established atmospheric and industrial gases market, which Collins says is growing steadily due to the demands of an increasing population and the pressure pumping occurring in natural gas shales across the country.
When it comes to the emerging LNG market, WesMor's early presence puts Trinity Cryogenics at the forefront as it waits for the market to mature. WesMor has the capacity to handle current market demand, but Collins says a number of natural gas liquefaction facilities have been announced and are scheduled to come online at various stages over the next three years. Once those facilities are in place, the demand for WesMor's products will grow.
"We see the LNG market as a very large growth market for us, but it's a timing issue, it's just not here yet," Collins says. "So we are really trying to position ourselves for growth."
One of the ways Trinity Cryogenics is readying itself for market growth is through consolidating the two operations where it makes sense and sharing best practices across its subsidiaries while letting each maintain its brand identity.
"For now we plan to continue to operate as two separate companies," Collins says. "They have different identities and do a number of things well without much overlap. However, the sales and engineering and support are slowly moving to a centralized group. We are sharing best practices and consolidating things on the purchasing end, which are natural things you do as you integrate and try to get a common support platform. But overall, we are down the path with integration and keeping our eye on growing in the cryogenics space."