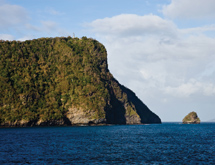 Trinity Exploration and Production
Trinity Exploration & Production's business approach is to transform failed government oil leases in Trinidad and Tobago, making them profitable. "We are experts at expanding into leases where the state oil company has deemed them unproductive and unprofitable and turning them around," says Richard Fritz, executive manager of business services.
It makes the leases more productive with increased efficiencies and lower costs, Fritz says. "We retool those installations and make them productive," he says.
To date, production on the islands has been directed by oversized state-controlled companies and international majors. Trinity Exploration & Production points to research and case studies from other mature basins in which these larger companies under-exploited and stranded assets that smaller, more nimble operators could develop. The company is now well-suited to take advantage of growth opportunities the basin offers, it says.
As a smaller organization, it can accomplish these tasks with less overhead than larger organizations. It's a fairly unique business model, Fritz says, especially in its geographic marketplace.
Trinidad and Tobago has a thriving energy sector with large multinationals such as BP, British Gas and BHP Billiton operating out of the dual-island nation of 1.3 million in the south Caribbean. The nation has been producing commercial oil for more than 105 years.
"Compared to other parts of the world, it's a fairly friendly environment here for oil and gas operations," Fritz says. "There is not a lot of government interference. In fact, the government promotes oil and gas heavily; it's a key sector of the economy. It is amenable to changing and negotiations on taxation and royalties." Indeed, Trinidad and Tobago is a big energy exporter with a prolific hydrocarbon base and a fairly sophisticated energy industry in place. The Republic of Trinidad & Tobago recently announced additional capital allowance incentives in its 2014 annual budget enhancing project economics.
The Minister of Energy & Energy Affairs Kevin Ramnarine visited the company this year. The senator then publicly thanked the company, praising it as the largest independent oil producer in an official government address.
The company was started in its current form in February. Since new management has taken operational control, production has increased more than 17 percent with six onshore development wells brought online.
New Merger
Following an October 2012 merger with Bayfield Energy Holdings, Trinity Exploration & Production is now gaining a foothold on the east coast where it had not worked before. Subsequent to the merger, it has 11 active operating fields on both the east and west coasts of Trinidad and one in South Africa.
Commenting on the merger, Bruce Dingwall, executive chairman, says the new "Trinity will be the leading Trinidad-focused independent E&P company offering investors an attractive balance of existing production, near-term production growth from low-risk development opportunities and exciting exploration prospects."
Geologist Dingwall, a former North Sea Exxon geophysicist and native Trinidadian, founded Trinity Exploration & Production in 2005.
It is expert at developing onshore, nearshore and offshore assets and takes pride in delivering strong returns, Fritz says. "The company board and team members have an excellent track record of building high-quality businesses," Fritz says.
Big Investments
Focusing on oil, not natural gas, Trinity Exploration & Production has raised $90 million on the international market via prominent investors. It will use the revenue to pursue its programs such as offshore exploration and development wells including work in the Galeota Point and Brighton areas. It started drilling in the Galeota location this November.
"Trinity is delivering on its strategy of increasing production, adding reserves and maintaining profitability. The two exploration wells drilled in the fourth quarter have the potential to more than double the size of the business," CEO Joel 'Monty' Pemberton says.
Its active exploration, development and upstream drilling programs rely on the highly skilled and experience management team and board of directors, Fritz says. He joined Trinity this year with responsibility for support services and supply chain functions. Following a military career, he has worked in the oil industry for 20 years and held a wide range of senior positions with Bayfield Energy Holdings, Eni, Chevron and Texaco. He earned a bachelor's degree in political science from Colorado State University and a master's degree in International Relations from the University of Florida.
Drill Baby Drill
Trinity Exploration & Production is considering drilling 14 offshore development wells, 27 onshore wells and six offshore exploration wells through the end of 2014.
Company officials are British, Scottish, Trinidadians, Canadian and American, according to a personnel profile on the company website. Trinity Exploration & Production has a corporate office in Edinburgh, Scotland.
It has a strong production portfolio producing 3,965 barrels per day in 2012 and it anticipates future production levels at 5,000 barrels per day. Such robust production necessarily puts the company in a good position with solid cash flow, which, in turn, allows for solid overall operations, a corporate growth strategy and strategic business partnerships, says Pemberton, who joined the company in 2005 as CFO and became CEO in 2009.
Trinity Exploration & Production has a strong local supply chain and recently inked a $25 million loan with Citibank to fund future growth, Pemberton says.
Under Pemberton's leadership the company has significantly grown its business through attracting external capital and undergoing a period of growth.
Pemberton started his career with the audit team at Ernst & Young where he qualified as a Chartered Certified Accountant and worked in both Trinidad and the United Kingdom, focusing on the energy sector. Pemberton moved to Trinidad working in the Energy Finance division of RBTT Merchant Bank prior to joining Trinity Exploration & Production. He is a Fellow Chartered Certified Accountant from the Association of Certified Chartered Accountants.
During the half-year ending June 30, Trinity Exploration & Production garnered revenues of $54.5 million, according to a Sept. 19 financial report.
The new six onshore wells brought into development this year generated an average of 150 barrels per day, each well exceeding estimates of 50 barrels per day.
Big Projects
According to a company report, two major infrastructure projects were completed in the first half of this year; a Brighton field automatic metering and oil transfer system and upgrades and a new deck for its offshore MP-8 platform. In addition, two jack-up rigs have been secured to drill the two 2013 exploration wells with zero cost options for additional rig slots if required.
On the safety front, more than 425,000 man-hours were logged in the first half of the year without a lost time incident and more than 2,000 hours of training was provided to staff and contractors under the current management team.
"Trinity remains a fundamentally strong business, continues to grow reserves and production, generating operating cash with material exploration upside," the company says. It ended June 2013 with $57 million in cash and is fully funded for its work program, it says.
Production has increased although it could have increased even faster had it not been for slower than expected growth at its Trintes field delayed by drilling schedules, investment and a generator outage in February. This field is operating at only 80 percent capacity because poor power supply damaged pumps and electrical motors. The field also had rigging and transportation difficulties. Despite these issues, action plans have been implemented to overcome these challenges such as replacing rig shakers and ordering new boats from a new contractor for better transportation and less boat downtime. As a result, the company lowered production expectation by 300 barrels per day yet once the Trintes well is running at full capacity, Trinity Exploration & Production anticipates still greater profitability.
Total production reached 4,000 barrels per day as of September increasing from 3,524 for the first half of 2013. This marks an uptick from its 3,187 barrels per day in the first half in 2012 but still short of its target of 5,000 barrel per day.
Trinity's active exploration, development and drilling program focuses on low-risk plays with the two wells being drilled in the fourth quarter estimated to contain 30 million barrels.