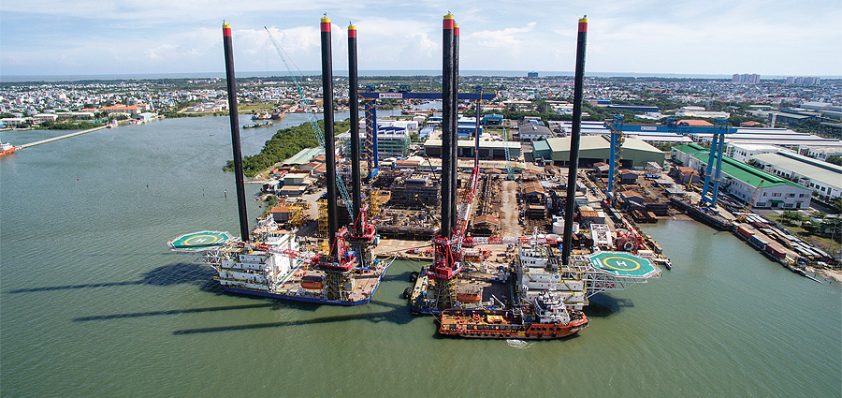 Record breakers
When Energy, Oil & Gas last spoke with Chan Eng Yew, CEO of TRIYARDS Holdings, back in July 2015, we found out how the company was successfully diversifying around the world and into new sectors following its establishment in 2005. With a number of vessels under its belt, chief amongst the company's achievements at the time was the successful delivery of its multilay offshore construction vessel, the Lewek Constellation in late 2014.
Costing over $650 million over a five-year build programme, the 178-metre vessel delivers ultra deepwater pipelaying and heavylift capabilities to a range of applications and is already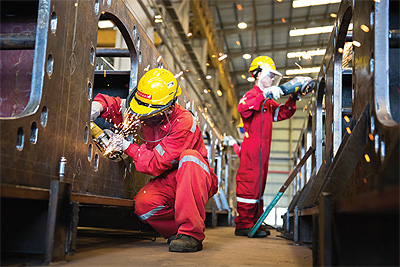 demonstrating TRIYARDS's engineering excellence on a global stage. In 2016, Lewek Constellation was named the Support Vessel of the Year at the annual Offshore Support Journal (OSJ) Awards, where only three other vessels were shortlisted.
"The Lewek Constellation has successfully executed every project she has undertaken and has even set new industry records along the way," Chan reports. "For example, while undertaking three challenging subsea tie-back projects for Noble Energy at the Big Bend and Dantzler field developments in the Gulf of Mexico, she installed the heaviest pipe-inpipe (PIP) system ever deployed in the world, working at water depths of 2,100 metres. The vessel also set an industry first when she successfully laid a test pipe at a tension of 632mT – a record breaker for rigid, reeled-lay operations. Winning this OSJ award attests to TRIYARD's strong engineering expertise and our ability to develop groundbreaking solutions that meet the industry's ever-evolving needs."
Indeed, since it was last profiled, the Singapore-headquartered firm has made even more significant progress in its diversification strategy. Chan highlights two contracts from 2015 in particular that represent the success of its strategy to grow its footprint both in terms of its product offering and its client base. "We will be constructing three chemical tankers for ship-owner Swiss-Canadian Maritime Ltd to be managed by ABC Maritime AG, one of the world's leading managers of floating accommodation barges," he outlines. "Each of the new IMO Type 2-certified, double-hull ice-classed tankers will have a storage capacity of 24,000 cubic metres and will be specially adapted for operating in colder climates.
"Then there is the scientific research vessel that will be constructed for the Taiwan Ocean Research Institute (TORI) to be used to support on-going research activities."
In April 2016, TRIYARDS announced even more success by securing four contracts worth a combined $17.8 million and expanding its client base even further. Out of three wind farm support vessels plus one luxury river cruiser, three of these new projects are with new customers. "Regarding the wind farm vessels, each will come equipped with either the Quad Volvo IPS or Quad WaterJet propulsion engines and can cruise at a speed of at least 25 knots," Chan describes. "These aluminium craft can carry up to 24 passengers and will be fitted with deck cranes with lifting capacities up to ten tonnes. We already have a solid track record for the construction of wind farm vessels, as well as extensive experience in handling complex vessel projects. As such, we are confident of delivering the luxury cruise vessel on time and within budget."
The 65-metre luxury river cruiser will be built for Compagnie Fluviale du Mekong to ply the Mekong River between Vietnam and Siem Reap, Cambodia. Designed with a rustic charm and with the
utmost passenger comfort in mind, the vessel will boast 30 cabins with private balconies as well as a swimming pool on the sub deck.
Looking forward, diversification continues to remain the buzzword of TRIYARDS' growth strategy. In 2012, 100 per cent of the company's order book came from the oil and gas sector; yet today this figure has decreased to 60 per cent and ensuring this reliance on a currently unpredictable market continues to decline will be key. "Right now, we see good prospects for the renewable energy segment as it is a growing clean energy source around the world," Chan highlights. "Europe continues to remain the largest market for windfarm support vessels with Taiwan also becoming a promising area."
With continued investment helping its sites around the world to develop greater levels of expertise and capacity, the company also remains busy in building a strong and versatile engineering and fabrication team that will enable it to move into new markets as it carries on into the future. For instance, TRIYARDS is one of only five companies worldwide able to manufacture leg-encircling cranes, which help to maximise deck space. To date, TRIYARDS has already delivered 30 cranes of varying types – mostly on its new build vessels – but setting up a dedicated commercial arm to grow this will also feature in its outlook.
"It's all part of a plan to add more business, which will generate recurrent income streams to supplement our earnings from new build construction," says Chan. "These businesses will be well-supported by our existing core of engineering and fabrication excellence. Supplementing this, our shorter term vision will remain focused on delivering our order book and gearing up to execute this diversification strategy."
TRIYARDS Holdings Ltd
Services: Provides integrated full-service engineering, fabrication and ship construction solutions for the global offshore and marine industries