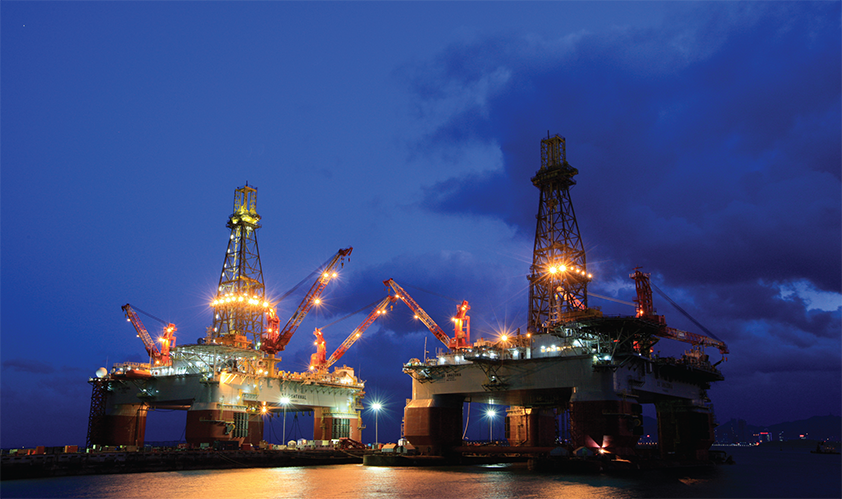 The complete package
TSC Group Holdings Ltd (formerly known as TSC Offshore Group Ltd) is a product and service provider serving both the onshore and offshore drilling industries worldwide.
The Group is organised into three business units: TSC Offshore, TSC Distribution and TSC Service in order to be able to best meet the needs of the oil and gas industry.
TSC Offshore is a global product and service provider, offering a vast range of onshore and offshore specialised products and services, and customised solutions for all environments. The division operates around the clock and around the world. TSC Offshore's operations headquarters and central distribution centres are located in Houston, Texas, while its engineering centres, manufacturing facilities, sales offices, distribution and service locations are strategically located in all major oil and gas producing regions.
Over the years it has been involved in the sector, TSC Offshore has developed strong working relationships and diverse networks with drilling contractors, offshore engineering and construction companies, oil majors and major shipyards throughout its history. Many of its valued global clients have been with the company for over a decade and TSC Offshore is committed to being the preferred vendor for future projects and upgrades.
On the products and services side, TSC Offshore meets the needs of today's drilling operations through innovative and reliable product designs. It works with clients to fulfill their specific needs and can provide seamless turnkey solutions for offshore jack-up rigs, semi-submersibles and modular platform requirements. By utilising finite element analysis and 3D modeling to simulate operating conditions, it is able to eliminate risks in product design. Its strategically located service and distribution centres are always ready to support with its: 'Around the Clock, Around the World' service statement. Covered within the products and services on offer are drilling products, compensation tensioning, mechanical handling, jacking and rack material, deck cranes, lifting and mooring equipment, maintenance and services and consultancy.
On the solutions side, TSC Offshore's major business offerings are divided into: rig products and technology, rig package turnkey solutions, rig supply chain solutions, customised solutions, and upgrade & revamp solutions.
In the rig products and technology sector, TSC Offshore designs and manufactures a complete range of drilling equipment, mechanical handling equipment, compensating and tensioning systems, jacking systems, rack materials and drilling cabins for all offshore drilling rigs, including jack-up rigs, semi-submersible rigs, drill ships, and platform modular rigs.
For rig package turnkey solutions, TSC Offshore provides turnkey solutions for global clients, including shipyards, operators, partners, and drilling contractors. Turnkey EPC packages include the following rigs: jack-up rig packages, semi-submersible rig packages, platform modular rig packages, drillship rig packages, tender assist rig packages, land rig packages and drilling barge packages.
Moving onto the supply chain, TSC Offshore can offer rig supply chain solutions. Through its global distribution network, the organisation provides supply chain solutions worldwide for both onshore and offshore drilling operations. TSC's Distribution Centres are located in Brazil, Houston, Singapore and UAE. TSC provides all drilling expendables, spare parts and supplies through strategically located warehouses integrated with an extensive worldwide distributor network.
In addition to its 'off-the-shelf' solutions, TSC Offshore can also provide customised solutions for worldwide clients based on their particular requirements and specifications. Here its solutions cover drilling packages, mechanical handling packages, electrical control packages, and land rig upgrades. TSC Offshore has provided customised solutions for several high profile projects, including the Olinda Star Semi-Submersible Platform. On this particular project, an anchor moored column stabilised semi-submersible drilling unit, built by UIECFEM Consortium, the platform and equipment were upgraded for the Gulf of Mexico, West Africa and Brazil conditions, for up to 1100m water depths. It can now drill up to 7000m from RKB with a variable drilling load capacity of 4850 sh ton. TSC Offshore's comprehensive upgrade included (but isn't limited to): the subsea Christmas tree handling system, the under hull test stump deployment system, Christmas tree sliding bridge, drill line realer and king post deck cranes.
Finally, TSC Offshore provides upgrading, retrofitting, rebuilding and repairing solutions as well as spare parts for drilling packages, mechanical handling systems, cranes, electrical drives and control systems. TSC Offshore also provides services for land rig driller's cabin and drawworks disc brake upgrades.
CSR
As an international company with over 1000 employees worldwide, TSC Offshore is committed to be a good corporate citizen in the global communities in which it operates. It believes in treating the environment and society with respect and dignity, and views the balance of social responsibility, environmental protection, safety as well as a sustainable economy as key factors in ensuring business continuity and success.
Working hand-in-hand with this dedication to corporate social responsibility is TSC Offshore's Quality Management System. The attainment of ISO 9001 (assessed by American Petroleum Institute Quality Registrar) at TSC Offshore's manufacturing facilities is evidence of its commitment towards stringent quality standards for all of TSC's products and services.
The effectiveness of the quality system is continuously improved through planned QHSE reviews, in order to provide its customers with the highest quality products and services at a competitive price, in a timely manner, in a safe working environment. TSC Offshore's quality assurance (QA) and quality control (QC) internal procedures are in place to ensure design; production, installation and service are in accordance with the terms of the contract.
Given its global footprint, TSC Offshore also has to be committed to the compliance of all national QHSE laws, regulations and relevant standards in the countries where it operates. TSC strives to continually to improve the QHSE company performance.
As far as TSC Offshore is concerned, total quality management is not a short-term programme. It is a long-term commitment aimed at continuously improving in all aspects of the business, from providing a safe work environment, managing its business processes and controlling supplier selection/retention, to improving the quality and operation of its products.
The company endeavours to demonstrate its beliefs in the values it represents – tolerance, openness, reliability and co-operation – in its business activities and societal involvement. It has also introduced efficient tools to ensure the comprehensive implementation of social, safety and environmental considerations within the organisation, involving its employees, business associates, supply chain partners as well as individual societies and cultures around the globe
TSC Offshore
Services: Offshore rig packages