Handled with care
"TSC Offshore Europe has more than 20 years of engineering expertise in delivering engineered mechanical handling products and high performance drilling equipment to the offshore industry," explains Jeff Taylor, general manager of TSC Offshore Europe, by way of an introduction to the industry-leading business.
"The company was formed in 2008 as a result of the strategic acquisition of GME (formerly known as MOS International) by TSC Group Holdings Ltd in 2007, which includes Ansell Jones (an established brand in high quality lifting and mooring equipment with 166 years of history)."
As Jeff continues, this acquisition provided a number of considerable benefits, both for the business and for its client base: "It actually brought onboard a compelling value proposition to the clients as all engineered mechanical products and drilling equipment activities (early stage design, engineer, manufacture, install and commission) are managed in-house within the group from teeth to tail. This equipment has been supplied to the North Sea, Gulf of Mexico, Europe, West Africa and Asia."
During its history, TSC has built up a strong reputation for its quality, innovative and reliable products and services to clients in all of the major E&P regions around the world. In fact, as Jeff comments, it is the expertise within the business that sees its clients differentiate it from many of its competitors:
"At TSC Offshore Europe we have a relative lead over our competitors as we have earned a strong reputation for our mechanical handling equipment robustness and simplicity over our competitors. Above all, our mechanical handling maestro, Mr. David Bradshaw was, and still is, the cerebral driving force behind all of our engineered mechanical handling products. Today he is backed by a global engineering/technical team of energetic and meticulous engineers located in the US, UK and China.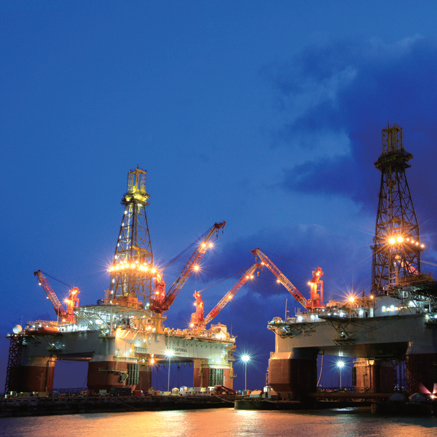 "In terms of our experience, we have provided numerous mechanical packages over the last 20 years and have received refurbishment jobs from clients such as Transocean on equipment that we have previously designed, as the applications for the equipment have changed. Also, the established brand name of Ansell Jones, a world leader in high quality lifting equipment, is a stronghold for the Group to leverage on. We are working on improving its overall competitiveness using the Group's resources, which another of our key differentiators."
He goes on to explain more about TSC's current activities: "Our core activities are in the design and production of specialist mechanical handling equipment for the offshore oil industry," says Jeff. "This includes products such as drill pipe handling systems, casing handling, BOP handling, iron roughneck, subsea tree handling, derrick, kingpost cranes and knuckle boom cranes. We are one of the few manufacturers in the world with a complete suite of drilling equipment product lines and, in addition, we provide repair and maintenance services for a whole range of drilling equipment."
Naturally, to retain its leading position in the industry TSC places considerable emphasis on continuous programmes of innovation and product development, as Jeff highlights: "The TSC philosophy is 'continuous improvement' in everything we do and we constantly strive to offer market leading products to our clients. To this end research and development is very important to us. We carry out development on our existing product range working with our client base to identify improvements that can be made to our product capabilities. TSC also carries out market research, and through our investment in people and technology we look for gaps in the market that we can exploit and complement our current extensive product range. Due to this investment our clients can expect to see new innovative products entering the market very soon."
As well as continuous innovation and product development TSC has a full order book at present and for the foreseeable future. For example, as previously mentioned, the business has recently been involved in a considerable rig-upgrade project on behalf of Transocean. "With this project, initially an offshore supervisor was mobilised to conduct a survey of the BOP Skid, CTU, bridge cranes and service cranes for upgrades," Jeff explains.
"A comprehensive report was then compiled and used in accordance with both internal and client meetings in order to pull together the following scope requirements:
As requested by Transocean, a comprehensive list of spare parts, gear boxes, hook blocks and other related equipment was drafted in order to facilitate the upgrades of 2 x 15Te service cranes, 125Te BOP crane, CTU and the BOP skid on the Constellation 2 Drill Rig. This work is being carried out in order to provide an additional ten years lifespan on all equipment as mentioned.
Separate to the quotations there will be additional revenue generated on invoice for our offshore service personnel. The scope is due to kick off at the end of the first quarter of 2012 and will take approximately one month to complete.
"In addition to this project we are working on turnkey projects for production platforms (Ansell Jones)," says Jeff. "They include a mechanical handling equipment package for ONGC's B193 AP and B193 AQ platform; a mechanical handling package for the ADMA-OPCO Integrated Development Project, offshore facilities; a mechanical handling equipment order for the Cuu Long's Su Tu Trang Wellhead Platform; bespoke design and manufacture of the stern sheave arrangement for the Technip flagship pipelay vessel 'Deep Blue' (the whole project will be DNV design approved); and the supply of 20 Te hose handling winches for the Petrofac Berentai FPSO."
With such a large amount of work currently ongoing, and the prospects of future product developments coming to the market, there is little doubt that Jeff is confident about the future for TSC Offshore: "TSC's vision for the European market is to become the leading supplier of offshore drilling equipment, BOP and pipe handling equipment and offshore drilling equipment services. We will achieve this goal by concentrating on building our service team to ensure we can support our clients with our range of equipment offerings, thus building their confidence to purchase further equipment from the TSC Offshore Group. At the same time we will also continue to offer high quality, competitively priced equipment and aggressively market that equipment to the North Sea with the confidence that we have an industry proven product that is currently operating successfully in other offshore locations worldwide."
Offshore Europe
Services: On and offshore drilling services and products