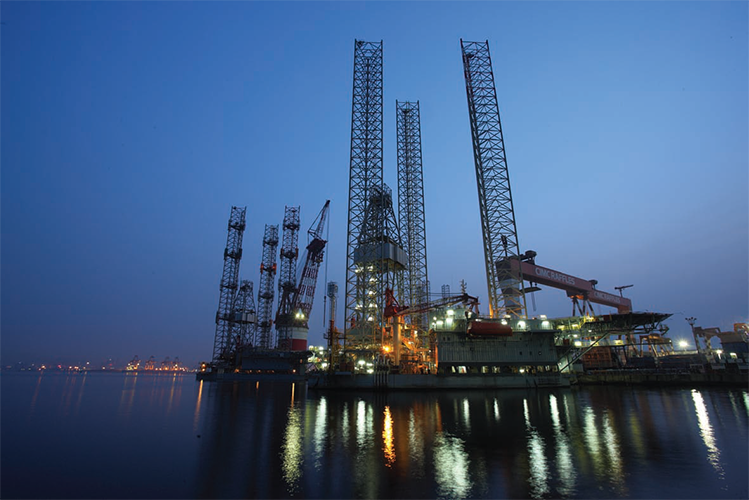 Dynamic expansion
TSC Offshore FZE was established in 2010 as part of the TSC Group Holdings Ltd, focusing solely on the Middle East market.
The TSC Group is a global product and service provider, serving both onshore and offshore drilling industries worldwide. Offering a comprehensive product line that includes drilling equipment, mechanical handling equipment, solids control equipment, power control and drives, tensioning and compensation systems for semi-submersible rigs and drillships, it is also able to design, build and sell complete rig packages for jack-up rigs, semi-submersible rigs and platform modular rigs, as well as offshore deck cranes for both drilling rigs and production platforms.
Setting its sights upon the Middle East market TSC Offshore FZE is actively involved in the sales and marketing of its range of product lines, additionally providing service related offerings to clients in the UAE, Oman, Bahrain, Saudi Arabia and Kuwait. The company's client base consists of businesses such as Shelf Drilling, Sino Tharwa, Arabian Shipbuilding and Repair Yard, Lamprell, Petrofac, Saipem, McDermott's, Chinese Oilfield Services Ltd, Dry-docks World and other drilling contractors in the Middle East. The specific focus of the business in the area further complements the broad global offering of the group to markets in China, the US, Brazil, Mexico, the UK, Singapore, Hong Kong and Russia.
With a strong reputation as a designer and manufacturer of a complete range of products for the offshore industry, Sarabjeet Marwah, sales representative – Middle East explains: "We manufacture all major oilfield equipment like SCR's, VFD's, jacking systems, CTU's, pipe handling equipment, mud pumps, iron roughnecks and rotary tables. All of our products are of high quality and have an excellent track record." The turnkey products and services provided by TSC include comprehensive product lines in both onshore and offshore rig equipment,
expendables and packages that encompass design, manufacture and system integration. As part of a large group, TSC Offshore FZE is able to access the broad and highly technical equipment portfolio provided by its sister companies.
The business deploys an innovative process to provide a complete offshore rig package, whether it is for a jack-up rig, semi-submersible rig, platform modular rig, or a drill ship. Through its turnkey approach, TSC Offshore FZE provides a complete cantilever and drill floor package, which includes the main structure, drilling equipment, solids control system, power package, rig control and drive package, BOP stack and handling, and pipe handling system. With the system pre-tested at its purpose-built facility, it can then be shipped to any location for installation and commissioning, benefitting its many customers. This innovative method of construction is further implemented in blocks for the semi-submersible rigs with the installation of drilling equipment accomplished on the ground before final integration.
Engineering is at the heart of the business with its skilled team able to customise the design of a specific platform modular rig, whether the requirement is for a large modular drilling rig package or a smaller work-over package. The modularised packages, such as drilling package, solid control package, power package and living quarters can be tailored to accommodate a customers' well drilling and work-over operations. As a transferrable unit, the complete packages can be easily lifted and re-located to another platform as required.
The development of its business interests in the Middle East has not been without challenge. There is enormous competition in the region from established vendors in operation such as NOV, Aker and other Chinese manufacturers. However, to continue to grow its market position, TSC Offshore FZE has built up a strong sales workforce, and established a good source and storage of essential products to supply to its customers. "In our warehouse we house mud pump expendables, shakers, screens and valves amongst numerous others," highlights Sarabjeet. As a manufacturer and distributer of mud pump fluid end expendables and spares it can supply for almost all popular pump models used around world, including Emsco, Garden Dever, National Oilwell, Wirth, OPI, Wilson, and IDECO.
"Very soon, we will be well placed to provide servicing jobs directly from the Middle East office. We are already regarded as having good quality products offering effective lead times on all our equipment," explains Sarabjeet. As well as operating as a trusted equipment supplier, TSC Offshore FZE provides an extensive range of engineering, maintenance and support services that present clients with greater value-added service and ensures that whatever the problem, TSC Offshore FZE has the solution. "We are a solutions provider to our client's needs," says Sarabjeet, adding: "We are dedicated to utilising leading edge technology to create high product performance, distinguishing ourselves from other companies with a reliable and flexible product line."
As an international company with over 1000 employees worldwide, the TSC Group is committed to the role it has naturally adopted as a good corporate citizen in the global communities it operates in, treating the environment and society with respect and dignity, whilst regarding the focus on the balance of social responsibility, environmental protection, safety and a sustainable economy as key factors in ensuring business continuity and success. Clearly demonstrating its beliefs in the values that it represents – tolerance, openness, reliability and co-operativeness, Sarabjeet points out: "We have also introduced efficient tools to ensure the comprehensive implementation of social, safety and environmental considerations within the organisation, involving our employees, business associates, supply chain partners as well as individual societies and cultures around the globe."
In line with the entire group's focus for the coming years, TSC Offshore FZE is confident that is has the right foundation to continue to grow well into the future, anticipating that the demand for rig solutions and equipment will continue to grow due to a sustained oil price and increasing demand. Growth of the group as a whole has been strong over the past year and the increased efficiency and productivity has generated its highest ever return on assets. The future business strategy for TSC revolves around opportunities arising from industry dynamics. Having already seen significant increase in demand over the last 24 months for offshore equipment sales Sarabjeet concludes on the future vision for the business: "We aim to expand the clientele base in the Middle Eastern region, effectively becoming one of the top vendors in the Middle East region."
TSC Offshore FZE
Services: Drilling equipment, service and solutions provider