Adding value
Part of TSC Group Holdings Ltd, TSC Offshore is a business division specialising in product and service supply, serving both the onshore and offshore drilling industries around the world.
As such the company offers a comprehensive range of products including drilling equipment, mechanical handing equipment, solids control equipment, power control and drives, and tensioning and compensation systems for semi-submersible rigs and drillships.
One prominent activity is the design, build and sale of complete rig packages for jack-up rigs, semi-submersible rigs, and platform modular rigs, as well as individual jacking systems and rack materials. In addition, TSC Offshore designs and builds offshore deck cranes for drilling rigs and production platforms. Completing the supply chain, the company also provides maintenance, repair and operations (MRO) services to its clients.
The in-house design capabilities means that TSC Offshore is able to meet the needs of today's drilling operations with innovative and reliable products. Finite element analysis and 3D modelling techniques are used to simulate operating conditions, ensuring that risks are eliminated at the design stage. The company works alongside its clients to fulfil their specific needs, and as part of this is able to develop customised solutions.
Priding itself on working around the clock and around the world, TSC Offshore maintains a whole network of engineering centres, manufacturing facilities, sales offices, distribution and service facilities strategically located in all major oil and gas producing regions. This all stems from, and is managed by, TSC Offshore's operational headquarters and central distribution centre in Houston, Texas.
The wide scope of TSC Offshore has earned the company a client base that consists of many of the world's leading drilling contractors, oil majors, offshore engineering and construction companies, and major shipyards. Many of these clients have worked with the business for over a decade, and TSC Offshore is committed to remaining their preferred vendor for future projects and upgrades.
One such relationship is with Yantai Raffles Shipyard Ltd, which since March has been a wholly owned subsidiary of CIMC, which TSC Offshore signed a market agreement with in February 2010. Since then the company has delivered many projects for YSR, including a recently announced eighth jack-up rig package. This is for Yantai CIMC Raffles' new Y13-1293 rig, and has a value of approximately $29.6 million to TSC Offshore.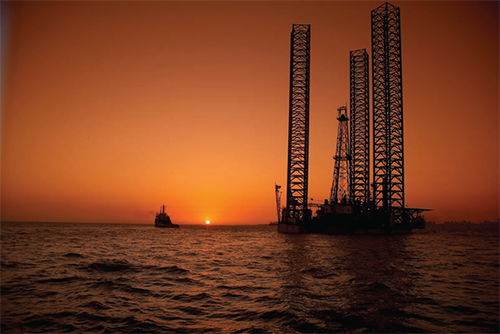 Two previous projects for Yantai CIMC Raffles have also now entered into the final stages of completion, and show the progress TSC Offshore and client have made in achieving an effective co-operation to meet the increased demand for jack-up rigs. The combination of new discoveries of offshore reserves, and the aging nature of existing jack-up fleets means that drilling rig packages and solutions are a key future requirement. By 2015, it is estimated that more than 117 jack-up rigs will have been in service for over 35 years, and as such in need of upgrade or replacement, and TSC Offshore is well positioned to benefit from this trend.
Mission critical drilling rig packages are a core element of the integrated solutions offered by TSC Offshore. It's also a main driver of the company's revenue growth as internally designed and manufactured equipment continues to be recognised for its reliability and efficiency. In addition, TSC Offshore products are certified by the American Bureau of Shipping – Certified Drilling Standards (ABS-CDS) and other internationally notable classification authorities, assuring the industry of their high quality.
This year has seen the TSC Group put in place a number of other key strategic alignments, including one with Lanzhou Lanshi Oil Equipment Engineering Co Ltd to develop the on- and offshore drilling market. This will see the two companies co-operate on equipment supply, promotion, after-sales services and global network to enhance mutual growth and market share.
For TSC Offshore this means being able to take advantage of the world-class manufacturing facilities of the Lanshi Group. The company will also provide Lanshi with competitive prices for its solid and electric control systems, and maintenance services, which will increase TSC Offshore's share of the oil and gas equipment industry. The two companies will also jointly bid for additional offshore and land rig drilling tenders.
Another new co-operation is with the China Industrial and Commercial Bank (ICBC), which will assist TSC Offshore in its aspiration to become a major player in the global shale gas equipment manufacturing market. Even more recently though, TSC Offshore has entered into a strategic framework agreement with Wuyand Iron and Steel Co Ltd, a subsidiary of Hebel Iron and Steel Group (HBIS), which will enable it to provide a one-stop service for jack-up leg rack products within China's offshore equipment manufacturing industry.
Capable of putting together the perfect package at any stage of its clients operations, TSC Offshore is a first name within its market. This is backed by the company's strict corporate social responsibility programme, and quality management system. The effectiveness of this can be seen in TSC Offshore's attainment of ISO 9001, and is continuously improved through planned reviews. As such the company's customers receive only the highest quality products and services at a competitive price, in a timely manner, and with a safe working environment.
It's this model that TSC Offshore will continue in, particularly as more customers look towards end-to-end solutions. Likewise, TSC Offshore's ability to put together an added value proposition of all products, equipment and services related to drilling, which is also managed in-house, results in highly integrated seamless solutions that deliver for the client, whatever their demands.
TSC Offshore
Services: Offshore rig packages