Tube-Mac Piping Technologies Ltd
Piping not hot – but cold
Founded in 1977, piping systems repair and installation business Tube-Mac Piping Technologies Ltd. (Tube-Mac) has plenty of firsthand experience when it comes to negotiating challenging economic times. It is this experience, and its proven ability to weather these storms while maintaining its industry-leading position that has seen it grow into a progressive, global company with its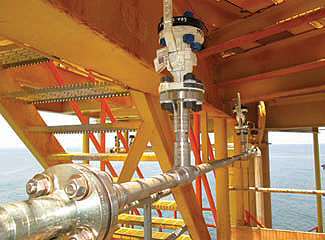 head office in Canada and offices in the United States, Spain, Austria and Brazil, and distributors and agents throughout Europe, Scandinavia, Asia and the Middle East.
"We are currently witnessing a scenario where business in general throughout the world is experiencing several years of relatively slow growth, especially in comparison to that seen a few years ago," begins Chris Peitchinis, Tube- Mac's Vice President of Business Development. "One of the biggest contributors to this has been the drop-in oil prices, and while we have identified some potential piping repair and modification business on the horizon in the latter half of 2018, this drop has contributed to a decrease in sales from our customers in this particular sector."
Luckily for the company, it has diversified over the last 40 years, moving into a number of industry segments, including steel, mining, automotive, offshore and marine shipbuilding. "The steel industry in North America has always been our strongest market, powered by a consistently strong demand for hydraulic piping systems, and while it too has suffered something of a slowdown, we see great potential for 2018," Chris adds. "Meanwhile, demand from the shipbuilding industry has remained active in certain countries and we are seeing a number of other trends aiding our business, including the conversion of Offshore Supply Vessels (OSVs) into other ships such as fishing trawlers."
Tube-Mac utilises technologically advanced non-welded 37° flare and retain ring flanges, and PYPLOK connectors as a more costeffective alternative to traditional welded piping systems. With industry trends today resulting in a decrease in available skilled, high pressure welders, particularly in remote parts of the world, as well as ever-stricter cleanliness and environmental regulations, Tube-Mac is adamant that piping systems should no longer be installed in the same manner as they were 50 years ago. To do so simply creates higher labour costs and inadequate practices, and its advanced nonwelded piping technologies have been developed to combat this
"Mechanically attached PYPLOK fittings are really becoming an interesting new product development, which companies have been embracing in increasing numbers," Chris explains. A weld-less,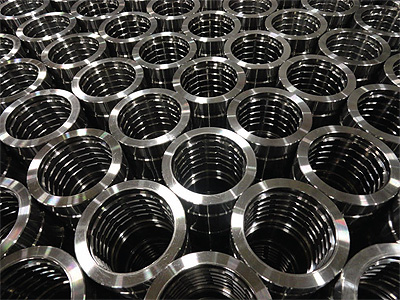 thread-less way to join pipe, the product has a successful history in the most demanding of environments where fire safety is essential, as well as being a quick and easy solution to maintenance repairs. Using a portable, hand-held installation tool, couplings are cold worked and permanently compressed onto the piping, thus forming a permanent leaktight seal. There are three seals, these being a metal-to-metal seal, an inner o-ring seal and an outer o-ring seal. The outer o-ring seal prevents outside contaminants from entering the system.
The use of the PYPLOK connecting system eliminates the extensive requirements and costs of welding, such as a welder and consumables, hot work permits, fire watch, flushing and purging, gas freeing, radiography and certification. Repairs and pipe installations can be made safely, quickly and easily with the PYPLOK system, minimising the duration of shutdown periods. For these reasons, PYPLOK was recently approved by, and will be included in, STATOIL's TR 3016 standard.
Innovative, cost effective systems like PYPLOK, together with exceptional customer service, have contributed to Tube-Mac becoming involved in all manner of projects over the last four decades. To this day, it continues to be contracted to work on interesting and challenging undertakings, particularly when it comes to the offshore and steel industries. These projects can be highly specialised and diverse, from its work on the new locks being installed at the Panama Canal to the installation of an underwater acrobatic hydraulic system at the Wynn Hotel in Las Vegas, Nevada.
This year marks the 40th anniversary of the company being established, quite the achievement for a business of any size or expertise. "Being in business for 40 years, and counting, provides our customers with an added boost of confidence, reassuring them that we are not simply a 'fly by night' business, rather that we are serious when it comes to providing the best quality products and services every time," Chris states. "What makes us equally as proud as the company reaching its 40th anniversary is the fact that many of our employees have also been here for over 30 of those years. That says an awful lot about both them and how Tube-Mac values its people, and plans are in the works for a big celebration for all our employees and their families to mark this milestone."
While business in some of its core sectors may currently be down compared to previous years, Tube-Mac is always on the lookout for new opportunities and potential new markets to explore. "PYPLOK gives us an edge since it is a system that can be utilised with a variety of fluids and gases, not to mention in any number of industries," Chris says. "One example would be in the field of condensate and steam lines in petrochemical or oil refineries. This is a new market for us that we are yet to fully penetrate, so that is something we are looking closely at.
"Our goals for the business are simple, and they are to stay the course and increase sales. We will achieve this by supporting our existing customers and finding new ones. We have an added advantage in that along with great products, we recognise that you also need to have a team of dedicated and knowledgeable staff to sell and promote said products. We have such staff and without our people, our solutions simply would not sell themselves."
Tube-Mac Piping Technologies Ltd.
Products: Non-welded piping systems and components