Your partners in power
A leading independent provider of gas turbine overhaul and repair services, Turbine Efficiency's story began in 2000. Determined to breathe new life into the gas turbine service industry, the company quickly experienced sustained growth, and opened a new, 70,000 square foot, state-of-the-art facility, in 2012, from which it offers a wide range of industrial gas turbine equipment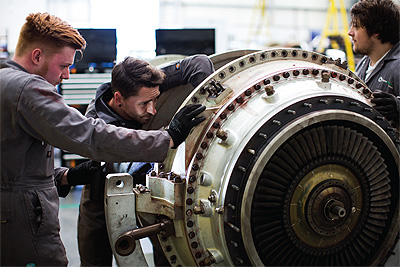 maintenance solutions for the power generation, oil and gas, and industrial markets.
"From our strategically placed location in the East Midlands, we are the leading independent provider of specialist services to SGT-100 (Typhoon), SGT-200 (Tornado), SGT-300 (Tempest), TA and TB turbines," begins Turbine Efficiency's Chief Executive Officer, Chris Turner. "Our activities support a number of key industries, including paper, CHP, power generation, oil and gas, and offshore platforms, as well as the activities of one of the UK's top utility suppliers. We support power projects at every stage, taking an independent and expert approach that delivers you the best service solutions available, whilst also targeting specific geographic regions of growth, including the Middle East, North Africa and the Americas."
Turbine Efficiency's tailored and innovative services provide an array of solutions, proving it to be specialists in the fields of core engine overhaul, engineering and installation, maintenance, operation, and the servicing of gas turbines and associated equipment. "With our repair procedures being 'Failure Mode' and 'Effects Analysis' based, we are able to prioritise crucial tasks across the safety and longevity of the turbine engines," Chris explains. "Our comprehensive portfolio of in-house service capabilities and fully validated repair processes are available for all types of turbine, our Coatings and Repair operation handles most types and sizes of OEM steam and gas turbine blade and vane coating and repair requirements, all under one roof. Further support is provided by a 24/7 global help desk, thus ensuring that our customers experience a simple, smooth process when having their engines overhauled, repaired or upgraded.
"With a wide range of fully validated repair processes available for all types of turbine, as well as blade rejuvenation, welding, coatings, thermally applied coatings, honeycomb seal replacement and specialist heat treatments, we have the laboratory capabilities that enable us to process and record micro sections. This enables us to verify the coating structure, thickness and integrity, breathing new life into pilot burners for example."
Turbine Efficiency received significant new investment in November 2016, with ownership transferring to London based Core Capital Partners LLP. With a new management team now in place, the last six months have been a particularly successful period for Turbine Efficiency, the company having recently completed one of its most ambitious projects to date. It was back in August 2016 that it was awarded a contract from East Anglia ONE Offshore Great Yarmouth to completely overhaul three Ruston TA1750 packages and have them back up and running by the end of 2017, in order to ensure the next ten years of operation. The first phase of this project has been successfully completed, with the second TA engine currently in the workshop, meaning phase two is in full flow. The company fully expects to have the contract power package work complete, and all three TA's installed and commissioned by the end of the year.
Next level coating
"This year has also seen us introduce our next level of compressor coating," Chris adds. "In response to a continued push towards a totally chrome free system, our GWS coating offers a 'Chrome Free High Temperature Erosion' coating as the final layer. Supported by traditional sacrificial overlay coating, our new, three-layer system improves the surface profile of the compressor blades, reducing the environmental deposits that adhere during service. Following on from this, the first salt spray and corrosion test to be carried out on a set of blades has also proven to be a great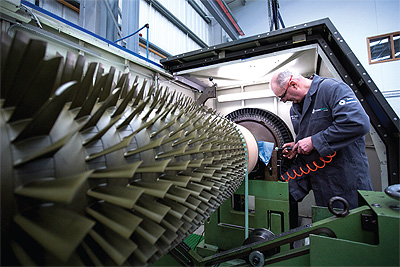 success." The coating also allows the reduction or elimination of between outage compressor washing thus giving increased availability.
When you consider the many important technological leaps the company is making, it is clear why Turbine Efficiency found itself included this year in the London Stock Exchange (LSE) Group's '1000 Companies to Inspire Britain' report. "Coming at such an important time in our development, this national recognition from the LSE Group was very welcome and appreciated by ourselves, our employees and our investors," Chris comments. "Turbine Efficiency is only really now beginning to unlock and tap into its future potential, and I believe this entrepreneurial spirit is what was recognised by the LSE Group. It has certainly encouraged us all to push the boundaries of what is possible even further."
Strategic growth
As part of its future expansion strategy, Turbine Efficiency is looking at several potential complimentary acquisitions in order to increase its footprint in strategic countries and regions globally. The first of these is a potential acquisition of a gas turbine services company, located in North America. As well as expanding its existing offering into The Americas, this acquisition will provide TE with the opportunity to expand its capability into other OEM gas turbine servicing and repairs.
"A great many of our customers have multiple OEM gas turbine fleets and are therefore increasingly looking for a one-stop-shop service provider," Chris says. "In addition to enhancing our position as the leading independent provider of specialist services, we are also spreading our global sales coverage to be nearer to our customers, by opening regional sales offices in Aberdeen, Dubai and other strategic locations. In the meantime, we will continue along our path towards profitable growth, both organically and through carefully chosen acquisitions. This will allow us to constantly improve our offering to our customers, confirming our position as a real, viable alternative to traditional OEM service providers."
Turbine Efficiency
Services: Gas turbine overhaul and repair services