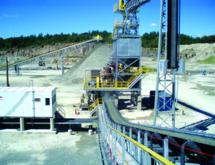 Turnkey Processing Solutions
In a difficult situation, it's always comforting to know that the partner you have at your side is ready for whatever might come your way. What's even better is when that partner actually looks forward to those difficult situations because that's when they shine. That's what Turnkey Processing Solutions says it does for its customers in the mining, energy and aggregate-processing markets. Vice President of Business Development John Vyskocil says challenges are where the company makes its reputation.
"We really serve the more difficult projects," he says. "That's where our core competency lies."
President John Cross founded the company seven years ago after retiring from one of the largest aggregate producers in the United States. Cross says he consulted for other companies before bringing in many of his colleagues he worked with for years and began doing design/build work for processing facilities. Today, the company provides aggregate mineral-processing plant solutions to customers in multiple sectors.
Along with the company's ability to handle challenging projects, Vyskocil says what sets Turnkey Processing Solutions apart from its competitors is its willingness to provide customers with a complete solution from start to finish. He adds the company has given itself a more strategic position in the marketplace by becoming business partners with its clients and helping them succeed.
"What the company has done is reduced the risk of its clients and has taken on a much broader role than just supplying equipment," Vyskocil says. "It has really gone to a complete solution." With the addition of programs like the TPS360 processing solution, he says, Turnkey Processing Solutions stands ready to be a partner to aggregate companies long into the future.
Experience Counts
Vyskocil says Turnkey Processing Solutions' culture of experienced and high-end employees is key to its success. "We don't have any entry-level people," he says.
This gives the company a high degree of competency when it comes to developing and designing plans for processing facilities. What's more, it means Turnkey Processing Solutions can actually operate the facilities for customers if asked. "Because we have that operating experience, not only do we know how to design and build these facilities, we actually know how to run them," Cross says. "We're not like a dealer rep, where we're out there pushing equipment or pushing a product line."
The company's experience also allows Turnkey Processing Solutions to handle complex and challenging projects. Vyskocil says projects with tight time frames or complex applications don't worry the company because it can see potential issues before they arise and cause delays. "We address all the risks early and aggressively," he says. "A plant becomes much more economically viable."
Complete Package
One example of the type of service Turnkey Processing Solutions is known for is the TPS360 package. This turnkey approach begins on the front-end of a project and covers all aspects of an aggregate-processing facility, from design all the way through to the construction schedule. "They basically know exactly what they're going to get," Cross says.
The TPS360 package gives customers everything they need to evaluate the viability of a project before any work is done. Cross says this has been a valuable resource for many clients because it gives them something concrete to show to their board of directors or banks to receive approval or funding for such a project.
Specialized Services
Among the specialized areas Turnkey Processing Solutions excels in is industrial sand processing, where the company says it has extensive experience designing, building and commissioning facilities. The company says its experience gives it the know-how to provide a facility that supplies the highest yield, best quality and lowest operating costs for the specific type of sand a customer needs. Along with the company's own expertise, Turnkey Processing Solutions also relies on Wisconsin-based subsidiary American Bin & Conveyor, which has been providing processing plants, storage systems and loadout systems to the industrial sand industry for more than 20 years.
"We design sand plants with the operator in mind and we create maintenance-friendly operations that achieve the highest uptime and lowest operating cost in the industry," the company states. The company's experience also includes recycling and mining facilities.
Once the facilities are complete, Turnkey Processing Solutions continues to provide assistance to its customers. For example, the company provides a variety of training programs in areas such as plant optimization, process control, process flow and crushing and screening. The company says its educational model is based on learning by doing.
"Our approach to training is very interactive," the company says. "We typically give assignments for the attendees to complete outside of the classroom. At the end of the training program, attendees present their assignments to the class. This ensures that the attendees stay engaged throughout the training process. Training that does not translate into real improvements in [customers'] operations is a waste of time."
Further Growth
Cross says the future of Turnkey Processing Solutions will involve further integration of services for its clients. The company has taken advantage of the banking crisis to offer financing for certain projects, charging customers to operate the facilities on a per-ton basis. He says new services will involve more operations and maintenance.
"I think we're going to make more strategic acquisitions that will provide more vertical integration so we can offer more services to our customers," Cross says.