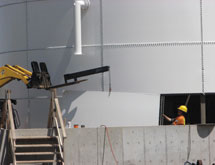 TWD Technologies began its evolution into construction management approximately four years ago as a way to ensure that its engineering designs were executed flawlessly. "I think the top reason is to have more control," co-founder and principal Scott Wilson maintains. "The traditional way of doing things is, we do the engineering and then a contractor builds it.
"Issues can get blown out of proportion and are not resolved as quickly as they could," Wilson continues. "So we like having more control. We deal with the owner and we deal with all the contractors, so we can solve all the problems, resolve issues and get things done effectively."
TWD Technologies is an engineering, procurement and construction management company that provides project development, execution and specialty engineering services for industries such as oil, energy, renewable energy, chemical processing, pharmaceuticals, automotive and food and beverage. "We're primarily oil and gas," Wilson declares. "I would say we are 60 percent oil and gas."
Largest Biodiesel Plant
The company works on approximately 100 projects per year. Some are smaller upgrades of power plants, pipelines, fuel terminals and refineries. A major project is a new natural gas peaking station for Maxim Power Corp. and a silver refinery for Johnson Matthey. TWD has also provided full engineering, procurement and construction management services for Canada's largest biodiesel plant that is being built by Great Lakes Biodiesel in Welland, Ontario, in the Niagara region.
TWD Technologies worked for six months on the design of the project and is managing its construction, which began in March and is scheduled to be completed in November. Wilson estimates approximately 20 subcontractors will work on the project and 100 people will be onsite at the height of construction. "This biodiesel plant is the biggest [project] we've done," he says. "We subcontract everything out. We don't tend to work with general contractors unless they have a specific expertise."
TWD Technologies also redesigned a plant for Sanimax in DeForest, Wis., that was recognized by the Consulting Engineers of Ontario. "We got an award for the debottlenecking of their plant, making it more efficient," Wilson says.
Mid-size Company
Wilson considers TWD Technologies, with approximately 130 employees, to be a mid-sized company compared with industry giants who employ up to 10,000. "When it comes to engineering companies, there's not a ton of companies that are more than 100 people," he maintains.
The company's 10-member construction management team has been built up since 2008. "One thing we definitely didn't want to do was just assume that all engineers know how to do construction management," Wilson relates. "We have brought in a team of professionals who are very experienced in construction. Some aren't engineers, but they are construction experts, whether for safety or cost. It is a different skill set."
Among current challenges, Wilson notes TWD Technologies is experiencing pressure on project costs, the merger of two of the company's biggest customers that put both clients' projects on hold and the perennial challenge of winning jobs. "We're trying to get our name out there," he says. "I don't think we're a household name yet, but we'd like to change that."
TWD Technologies is using its website, social media, news releases, trade shows and networking to attract new customers. Most of its business is in Ontario and Alberta, but they have also done some work in the United States. Wilson thinks the oil and gas industries will continue to be a good source of work for TWD Technologies along with growth in the energy sector.