Drilling fluid recovery
Due to a combination of tightening international legislation, complexities in well architecture, enhanced ethical awareness, and an ever-increasing trend for best practice, the need for the global oil and gas industry to pursue more sustainable and efficient methods of handling and treating drill cuttings and slop has never been greater. This requirement has seen oil and gas companies seek out single source providers who can safely deliver drill cuttings and slop management, preferably through the full project life cycle from exploration to decommissioning. One such provider is TWMA.
Formed in the UK in 2000, TWMA is globally recognised for providing specialist drill cuttings and slop handling, management and treatment solutions to the onshore and offshore oil and gas industry. "Our skilled and experienced teams work in partnership with clients internationally to meet and surpass the demands of legislation by providing value driven solutions for the recovery of valuable drilling fluids, whilst also reducing the environmental impact, and improving the safety of drilling and associated activities," explains TWMA's Chief Executive Officer, Ronnie Garrick.
"From initial concept development through to project execution, we specialise in the design, manufacture, integration and maintenance of reliable equipment packages, designed to safely and efficiently handle and treat the various material streams generated during oil and gas operations," Ronnie adds. "We design, manufacture and operate our technical solutions in-house for use across multiple applications, dependent on specific project requirements. This allows us to provide tailored, high quality solutions for our customers."
These customers are active today in core markets such as Europe, the Americas, North Africa, West Africa and the Middle East, across which TWMA employs approximately 550 people in order to meet demand. "Since 2000, we have safely delivered solutions across the full contract spectrum, from single well projects to multi-well, multi-year programmes, with varying levels of complexity," Ronnie says. "Our clients are typically operators, well engineering companies and rig contractors, who are looking to meet and exceed legislative parameters, whilst maximising operational and cost efficiencies with regards to their drill cuttings and slop management requirements.
"Clients turn to us to develop tailored solutions whether their project is considered to be straightforward or much more involved and complex. Unlike many of our competitors, we don't simply provide off-the-shelf solutions, rather we provide a service based around established technology and solutions. This is proven through our volume of repeat business and number of long standing clients."
A number of operators in the industry have experience working with multiple service providers across various drilling waste streams, but this can often lead to issues with control, liability and tracking, thereby reducing efficiency and adding unnecessary costs to the supply chain. TWMA offers every client an efficient and value driven solution by bundling drill cuttings and fluid recovery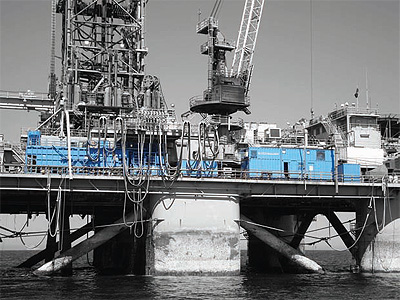 requirements into one contract. By providing fluid recovery and drilling efficiency through drill cuttings and slop management solutions, the company gives itself an edge over its competitors, many of whom can only offer this as a 'bolt-on' service.
TWMA's core technologies and services include the EfficientC®, TCC RotoMill®, TCC RotoTruck® and Slop Treatment. Its EfficientC technology transports drill cuttings for drilling operations, removing the need for high volumes of crane lifts onshore and offshore, thus allowing continuity of operations, which significantly reduces safety risks to personnel. Meanwhile, the company's TCC RotoMill, TCC RotoTruck and Slop Treatment solutions effectively separate drill cuttings and slops into its three constituent parts, these being recovered oil, solids and water. Oil is recovered at such a high quality that it is able to be reused in multiple applications including returning it to the drilling process. Recovered water and solids are also clean enough to be safely dispersed.
There are numerous examples of TWMA's services and technologies being applied to successful projects. One particular case involved the company being contracted by an international operator undertaking a five-year drilling campaign in the North Sea. The rig was already under construction, with a client owned drill cuttings and storage system integrated into the rig when TWMA was tasked with delivering a complete drill cuttings management service. Core elements that needed to be addressed included the need to safely and efficiently manage the removal of the drill cuttings from the rig preload tanks, and to utilise an electric drive TCC RotoMill, which would harness rig power via a Variable Frequency Drive (VFD) offering 950kW of rig supplied capacity. Furthermore, the service needed to be contained within a small, pre-defined area on the rig and TWMA needed to deliver contingency options for the robust and efficient management of drill cuttings.
In October 2015, in Singapore, the company conducted a detailed rig survey and a comprehensive solution was outlined. This would involve TWMA designing and manufacturing a flexible solution that delivered the lightest and most compact electrically powered TCC RotoMill, as well as a fully designed, developed and manufactured Air Transfer System. The latter would be used to safely transfer drill cuttings from rig preload tanks to the TCC RotoMill.
"Installation and commissioning of the system was carried out with no incident, and once in its operational phase this application was successfully operated offshore," Ronnie describes. "The Air Transfer System allowed a significant volume of drill cuttings to be transferred from the rig owned preload tanks and processed successfully through the TCC RotoMill."
In May, 2017, TWMA announced that it had secured an important strategic partnership and investment from specialist oil field services investment firm, Buckthorn Partners. "This investment will accelerate our plans for global growth and product and service expansion. It will allow us to invest further into research and development, and continue to introduce revolutionary technologies and industry-leading solutions," Ronnie states. "Coupled with the strong financial performance of the business over the last three years, this investment positions us well for the future."
The aim for the company is to continue to grow by focusing on its core activities and associated services while maintaining and delivering high level service quality to its clients. The longer-term view is to have its current international business transitioned into a global business.
"Delivering best in class solutions would not be possible without the best people in place to support our clients' requirements. Our talented and committed workforce has helped us contribute greatly to the evolution of a more cost efficient and environmentally- aware energy sector, as well as the growth of TWMA as a whole. We look forward to building on our success in the future, and bringing new products and services that will add further value to our customers."
TWMA
Services: Drill cuttings and slop handling, management and treatment solutions