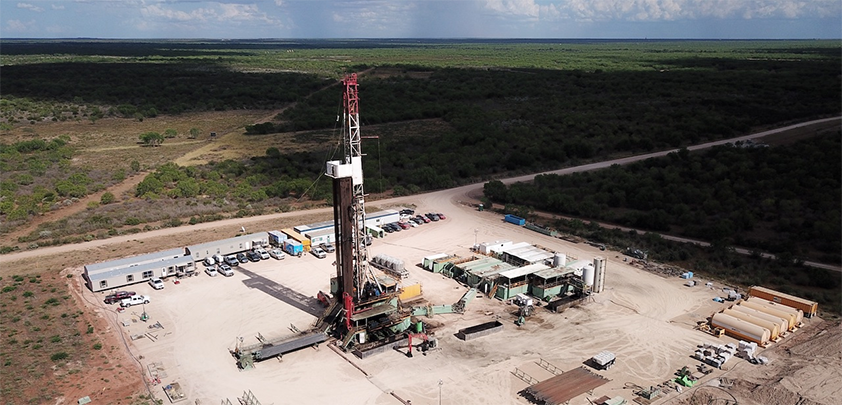 U.S. Energy Development Corporation
U.S. Energy Development Corporation is drilling longer lateral oil wells at faster speeds
Following an extensive 40-year operating history that comprises over 2,350 wells in 13 states and Canada, U.S. Energy Development Corporation has found an affinity for the Eagle Ford Shale in south Texas. In 2015, the company bought more than 13,000 net acres in the Eagle Ford, one of the top seven shale regions in the United States. It now has 36 wells producing about 4,500 barrels of oil per day with 14 additional wells going into production in the coming months.
"We expect pretty significant growth over the next three quarters," COO Steve Blackwell says. "Upwards of 6,500 to 7,000 barrels a day."
The Eagle Ford Shale is currently the largest producing formation for U.S. Energy, representing about 90 percent of the company's recent drilling operations, says Jared Christianson, Vice President of Operations. In fact, both Blackwell and Christianson acknowledge the company's exposure to high quality drill-ready acreage as one of the most exciting aspects since joining U.S. Energy in November 2017.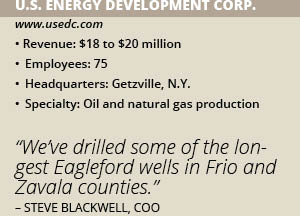 40 Year History as Operator
U.S. Energy was founded in 1978 as Oilmark & Company in the Appalachian region and in 1980 changed its name to U.S. Energy Development Corporation. In 2018, the company relocated its headquarters from upstate New York to Arlington, Texas, to allow for quicker access to the company's core operations in Texas, New Mexico and Oklahoma. At one time, U.S. Energy was one of the most active drillers in New York and Pennsylvania.
While the company has found immense success in the Eagle Ford Shale where it mostly operates its own properties, U.S. Energy has a long history of partnering with other joint venture partners and continues to add new partners. The company currently owns more than 1,900 oil and natural gas wells and produces nearly 10,000 barrels of oil equivalent per day. It's project areas are in excess of 80,000 net acres.
Operating in the Eagle Ford
Over the last several years, U.S. Energy has found that drilling is both faster and less expensive than ever in Eagle Ford Shale. "We've drilled some of the longest Eagleford wells in Frio and Zavala counties." Blackwell says.
In August, under the direction of Christianson, U.S. Energy's operations team set a field record for the fastest vertical curve lateral on the Hideaway Ranch D 2EF oil well in Frio County, Texas. The well drilled 10,028 feet in 83.5 hours for an average drill rate of 120.1 feet per hour with no incident. Ironically, just a few weeks later the company eclipsed that record with the drilling of the Monte Lenoso B #2EF well.
"We are operating in record times," Christianson says. We just drilled 14,750 feet in 4.6 days. By comparison, some of the company's legacy operations would require anywhere from 11 to 18 days for a similar well."
To drill so quickly required U.S. Energy to apply next generation technology, including "directional assemblies, techniques from Halliburton [and] specialized tools that help us run casing in the wells better," Christianson says. "It's been those innovations that have allowed us to decrease drilling cost by about 13% in the last year."
Other technologies the company is testing includes a switch from rod pumps to jet pumps, which removes water in the formation faster and increasing the amount of oil pumped per day. The company also has deployed its second-generation completions designs which has resulted in higher initial production rates (IPs)." Blackwell says.
With each successive series of wells showing increased production and lower cost per foot to drill, it has resulted in improved economic performance for U.S. Energy and their partners.
Managing Risk and Reward
One of the aspects that attracted U.S. Energy to pursuing development of the Eagle Ford Shale was not only the relatively low breakeven cost for new drilling, which allows for sustained operations during periods of price volatility, but also its consistency. While EUR, ROI, and other investment metrics remain a top priority to the company, the Eagle Ford has delivered on the most important metric to the company which is consistent and repeatable production results; something senior management acknowledges is not found in many other formations today.
Christianson and Blackwell think that U.S. Energy was smart to invest in Eagle Ford Shale when they did. "The Eagle Ford has been an underused and underdeveloped acreage position," Christianson says. "While everyone else has moved to the Permian Basin [in west Texas and southeast New Mexico], the Eagle Ford is a unique opportunity for us to exploit and develop in an area that has been overlooked a little in the last two to three years."
Operating in a Remote Location
The company acknowledges that one of the challenges of operating the wells at Eagle Ford Shale is that "it's a little bit remote," Christianson says. "We do have some infrastructure issues related to bringing in electricity and water."
Like all energy companies, U.S. Energy is required to comply with environmental regulations of the EPA and the state of Texas, particularly in regards to emissions and flaring. "For our projects, we have been able to comply with those fairly easily," Christianson notes. "The cost of compliance has come down significantly and over the last two to three years the industry has gotten a lot better at being a good steward of the environment and complying with the regulations."
Although Blackwell notes that there could be some further loosening of such environmental regulations due to current political leadership in Washington DC, that "for the most part, the industry has baked in those standards.
Among the actions U.S. Energy takes to protect the environment are
* An environmental evaluation of each prospect site with an action plan for the least-invasive operations;
* Cementing well casings for additional groundwater protection;
* Adhering to the most stringent regional compliance requirements that frequently exceed state and local regulations; and
* Devoting 20 percent of its line management to inspection of well operations.
In many respects, the Eagle Ford Shale is a straightforward oil field in which to operate. "There's not anything overly technical," Christianson says.
While U.S. Energy's long and rich history has afforded it the opportunity to operate in numerous basins, recent history has shown that development of the Eagle Ford shale should remain a primary area of focus for a significant period going forward. U.S. Energy also believes that the volatility and lower oil prices will create generational investment opportunities for the next several years for an astute energy company.