Tank commanders
Enjoying a worldwide reputation for excellence in design and quality UBH International (UBHI) is the UK's only manufacturer of the full range of inter-modal tank-containers for the secure transportation of bulk liquids (both chemical and food-grade) and gases.
Inter-modal tank-containers can be used interchangeably for road, rail and sea transport worldwide, and this means that they have considerable ecological advantages, being almost infinitely reusable with a service life that can easily exceed 20 years. They are strong and damage resistant, and so minimise the danger of accidental release of potentially harmful pollutants into the environment.
The history of UBHI began over five decades ago, and it has been through various evolutions to become the market leader it is today. A constant feature of these changes has been UBHI's willingness to adapt, as Tom Harding, sales director, highlighted: "In the late 1990s, UBHI was the world's second largest producer of tank-containers. However, recognising the threat posed by low-cost manufacturing in China, UBHI embraced the situation, licensing its standard designs of tank-container to a Chinese container builder at the start of what became a spectacularly successful ten-year alliance, which has seen its licensee become the world's largest manufacturer of standard tank containers.
"At the same time UBHI itself moved away from the standard market to focus on building higher added value, specialist tank containers, optimising and exploiting its accumulated expertise to build a new, highly profitable niche business."
As a result of this approach, the company consistently returns a healthy manufacturing profit from its UK operations, whilst most of the employees, who number around 75, have a shareholding in the company and thus benefit from the company's success by way of regular dividends.
This success has continued since UBHI was last featured in European Oil & Gas Magazine in 2013, as Tom was happy to confirm: "The last year has seen very high levels of production of larger offshore tanks (10 ft and 20 ft DNVapproved tanks) for the oil and gas industry, as well as continued high demand for the more familiar 4000-litre offshore chemical tanks. Steady demand has also held up for the 2000- and 3000-gallon nitrogen tanks, which the company supplies for well stimulation operations around the globe and for specialist equipment such as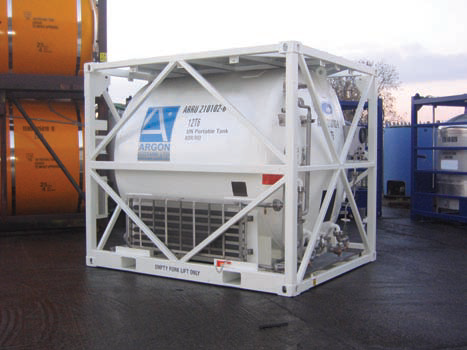 mud-gas separators, which represent a niche product in which UBHI has developed an excellent reputation thanks to its engineering and specialist vessel manufacturing skills."
2013 also witnessed the outright purchase of the company's production facility (hitherto leased) covering 100,000 sq ft. on a four-acre site. Tom explained that this investment was the beginning of a sustained period of progress, which has included installing larger cranes to allow the handling of higher capacity and higher pressure gas tanks, as well as the mud-gas separators and larger offshore tanks for which the company has developed a strong reputation. "We have also acquired new welding equipment to improve weld integrity and manufacturing efficiency, and made general improvements to the fabric of the buildings to enhance safety, efficiency and economy," added Tom.
Given the careful attention to detail and a constant determination to improve the design, safety and effectiveness of tank equipment, it is no surprise UBHI has a steadily growing reputation within the oil and gas industry. "The company's principal products are transportable tanks and tank-containers for chemicals and cryogenic gases, and a wide range of such tanks are required in the oil and gas industry for both on- and offshore operations.
"As well as transportability and robustness, safety is key, and UBHI has developed a range of tanks which responds to the rigorous expectations of oil and gas clients," Tom continued. "Ease and economy of transport to and from the well-head is assured, with tanks being mounted in strong protective frames equipped with slings and fork pockets, and with DNV, CSC or other relevant approvals as required. With damage to tank frames an everyday occurrence in the offshore business, tanks can be built to a bolt-in design, allowingeasy removal of the vessel while frame repairs are carried out, and if necessary enabling quick, easy and economical replacement of the entire frame.
"The UBHI range of tanks for the oil and gas industry is bringing benefits to companies around the globe, not only in efficiency and profitability but also, critically, in employee safety and environmental security," noted Tom.
As it enters the New Year, UBHI plans to continue with the great strides it has made in the tank-container market. "Its focus will remain on the development of the range of offshore tank containers and 10 ft and 20 ft DNVapproved tanks to improve safety characteristics, to facilitate ground operation of valves, to minimise tare weight, and maximise capacity, thus optimising the number of tank moves," explained Tom. "It will also continue to develop its range of cryogenic tanks to encompass the full range of liquefied gas transport needs, including LNG. Particular focus has been placed on enhancing pipework integrity and resilience to optimise performance and durability in the rigorous conditions found in the oil and gas industry. Overall, the company will keep up its attention on the skills and competencies it has already established, in order to maintain its world's leading position."
UBH International Ltd
Products: Tank containers