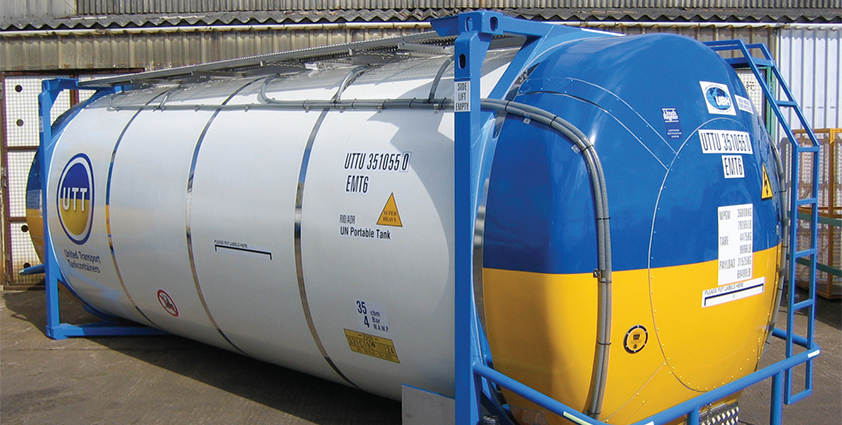 Delivering the goods
Well into its seventh decade of operations, UBH International is recognised as one of the world's leading specialist manufacturers of transportable tanks for bulk liquids and gases, with a vast range of bespoke products in service across the globe.
An expert in the transport and storage of liquids and gases, its tanks are built to handle hazardous or non-hazardous substances, ranging from high purity and cryogenic gases such as oxygen, nitrogen argon and LNG, through chemicals for the oil industry and to food-grade products including whisky and wine. Today employing some 70 people, many of whom are also shareholders in the company, and a member of the International Tank Container Organisation (ITCO), the somewhat more humble beginnings of the group, then known as United Boilers, took shape towards the end of the 1940s.
Moving to its current home in Burscough, Lancashire in 1958 and taking on the UBH name, the group shifted its operational focus to the manufacture of equipment for bulk liquid transport, further diversifying itself as the years went by. The company's current status owes a lot to the decision in the early 1970s to utilise the skills of its workforce to develop a range of intermodal tank containers. This decision reaped its rewards in the 1990s with the development of its trademark beam tank design. Still a hugely common feature of the world's biggest leasing fleets, its success comes down to its low tare weight, its low cost of maintenance, reduced life cycle costs and its impressive in-service resilience. It is thanks to this set of key features, as well as the fact that tank containers such as these can hold over 50 per cent more payload than a standard box container, that currently over 25,000 are in service in all corners of the world. 12 years ago a management and employee buyout paved the way for a hugely successful partnership with CIMC of China. This alliance was put in place to supply the volume side of the market, thus allowing UBH International to commit more to its development of custom-built units. With a tried and tested business model in place the company is looking towards increased organic growth in 2011 and beyond.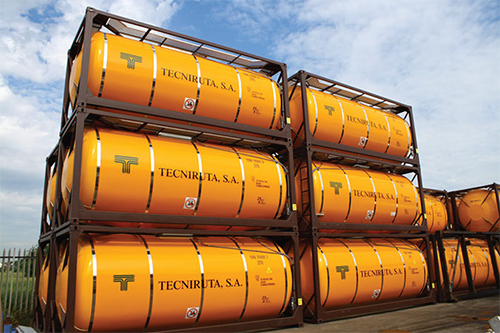 A key part of this desired growth will undoubtedly be the continued supply of UBH International's products to the oil and gas industries. Designed to meet all the necessary safety requirements, the type of tanks it offers range massively from vertically mounted or horizontally mounted offshore tanks and ten and 20ft ISO- tanks to helifuel, acid mixing and offshore nitrogen skid tanks. For many years it has also been supplying tanks with a capacity range of between 7500 litres and 25,000 litres for the transport of liquefied gases, most commonly propane, butane and refrigerant gases. Predominantly made of stainless steel or carbon steel (with specialist materials such as titanium available if required) and offering a variety of inner linings such as rubber, plastic or resin, its tanks come complete with specialised heating and cooling systems, specifically chosen to optimise protection of the individual type of liquid or gas being transported. Operating under a stringent ISO 9001: 2000 quality management system, in place to guarantee that the highest possible standards are maintained throughout the manufacturing process from design stage to end product, the company is also proud to hold ASME U and R stamps for its manufacture and repair work.
The key speciality of the company is providing transport solutions for difficult logistical challenges, with the aim of providing quick, practical solutions to aid the transfer of products between locations. UBH International's customer base is mainly made up of transport operators and tank leasing companies that hold large fleets of tanks available for lease to other companies. Although short-term rentals are not uncommon, longer period leases are more typical. With an average lifespan of almost 20 years and a proven record of reducing the risk of spills during filling and discharging, tanks such as these avoid the complications that come with drums, which are harder to clean, more difficult to dispose of and have a limited ability to be reused. A further benefit of tank use is the ease in which they can be transferred between various modes of transport. Such a feature is key to the promotion of the environmentally friendly concepts that the company prides itself on, for example the maximisation of rail usage to aid the reduction of road congestion and the release of vehicle emissions. With industry at large being much more aware of the environmental impact of its collective carbon footprint and with increased pressure coming from the European Union to ensure greater use of rail for long-haul transport of heavy freight, companies like UBH International have benefitted greatly by being ahead of the curve thanks to the eco-friendly nature of the tank container as a form of packaging and mode of transport.
What helps set the company apart from the competition, aside from its ability to provide equipment which caters to the specific demands of its customers, almost regardless of the difficulty of the task at hand, is its continued commitment to research and development. As UBH International's sales director, Tom Harding explained back in 2010, "our success really boils down to R&D". Particular pride from within the group comes from its quality of design and build and its ability to respond swiftly to specific requirements with its own technology. "This is where we shine the brightest", Tom enthused at the time and this indeed remains the case a year on as the company continues to diversify into more niche markets. Despite a highly challenging time in 2009 amidst the chaos of the financial crisis, 2010 proved to be a much more stable and profitable year for UBH International, and with the company still maintaining an industry leading status alongside plans to grow as the opportunities present themselves, Tom's belief last year that, "the future is looking bright for us", couldn't be more accurate.
UBH International Ltd
Products: Intermodal tanks