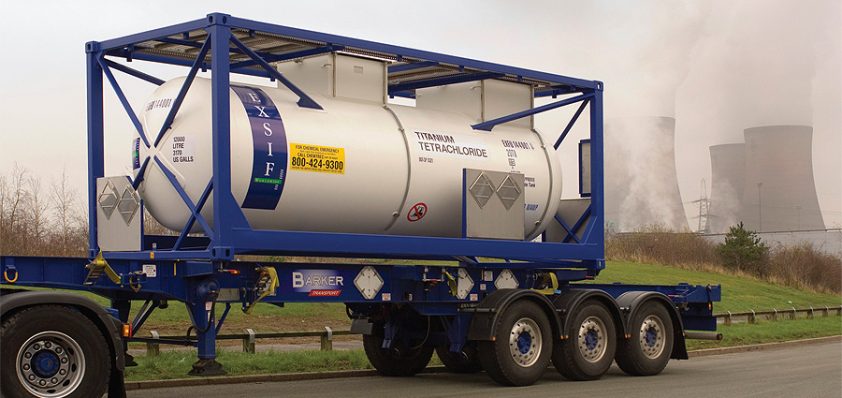 The green mode
The late 1940s marked the beginning for UB's – or United Boilers, as it was known then – development of its skills in pressure vessels.
In 1958 the company moved to its present site in Burscough in Lancashire, and changed its name to Universal Bulk Handling (UBH), marking a conscious shift of emphasis to focus on equipment for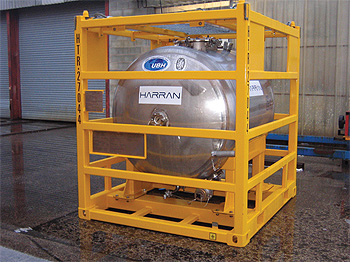 bulk liquid transport. Originally a manufacturer of specialist road tankers, the company began to diversify from the early 1970s onwards, using the skills of its engineers and workforce to develop a range of intermodal tank containers or ISO tanks.
"Following a management and employee buyout in August 1999, UBH International became an employee-owned company, and began to re-focus its activities," states Tom Harding, UBH International's sales director. "It made a conscious decision to move away from standard tank container production, forging a ground breaking alliance and licensing deal with CIMC of China, the world's largest producer of freight containers. With this arrangement in place to supply the volume side of the market, we have been able to concentrate on building more specialised custom-built units. These niche products are highly specialised and technically demanding, and include cryogenic tanks for industrial gases like nitrogen, argon, oxygen and also liquefied natural gas or LNG. This is an area where we are continually developing products, and where we have had significant success to date, especially in the oil and gas sector.
"Apart from the niche products, we also produce a comprehensive range of tanks for the oil and gas sector: these offshore tanks, were originally based around our range of ten-foot ISO tanks but this has been extended to include smaller offshore chemical tanks and helicopter fuel tanks. In addition, we have also supplied custom-built tanks for the transport of liquefied gases such as propane and butane (LPG) and R22 refrigerant gases. And of course, being a pioneer of the ISO tank container for the transport of bulk liquids, we are still at the forefront of innovation in this type of product and can offer an extensive range of capabilities and frame types including our universal beam tank, universal frame tank, universal ten tank and swap tank."
Continuing, Tom highlights the customers that UBH International caters for: "Our customer base is mainly made up of transport operators and leasing companies, the latter being asset management businesses that buy large numbers of tanks from us as well as from our Chinese licensee and then offer them for lease to other companies. Normally these tanks are leased out for a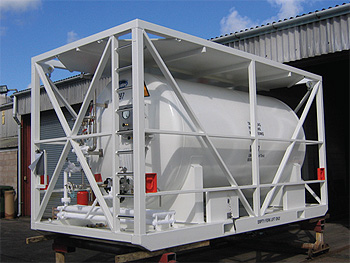 long period of time though it is also not uncommon for short-term rentals. We have a large customer base that consists of many well-recognised names in the leasing, transport and well-service industry. More recently, we have begun pitching ourselves to smaller players in the general transport market that are involved in moving specialised chemicals."
Having earned an unrivalled reputation in the market, it is evident that UBH International has focused all its efforts on perfecting its products and services. Never one to rest on its laurels, Tom emphasises the key strength that has set the company apart from its competitors: "Besides our experience and highly skilled staff, our success really boils down to R&D – our continual development of new products and ability to custom design these products to be utilised in challenging, logistical applications, for example where a sensitive product being transported needs to be uncontaminated and a specific temperature maintained throughout its journey. This calls for a reliable, quality of design and build, backed by the ability to respond swiftly to specific requirements with in-house technology – this is where we shine the brightest."
2009 proved challenging for many and UBH International was not spared, though Tom is optimistic that 2010 is so far proving to be a rather more stable year than last, while the company sets its hopes for a brighter 2011. "We will continue our diversification in niche markets, as the industry is becoming more aware of the impact of its carbon footprint and the importance of diverting heavy freight traffic off the roads and on to the rail links. There is an ongoing lobby in Europe to ensure more of the freight that travels long distances on the road switches its mode of transport to rail. With a growing number of intermodal depots that have very sophisticated transfer points where trucks can come in and get their cargos lifted and placed on to trains to continue the rest of its journey, means that this is not only becoming a very attractive option, but also a very green one. This not only contributes to a reduction in carbon emissions, but there is also a long-term advantage for our intermodal tanks. So I dare say, the future is looking positive for us," Tom concludes.
UBH International Ltd
Products: Intermodal tanks