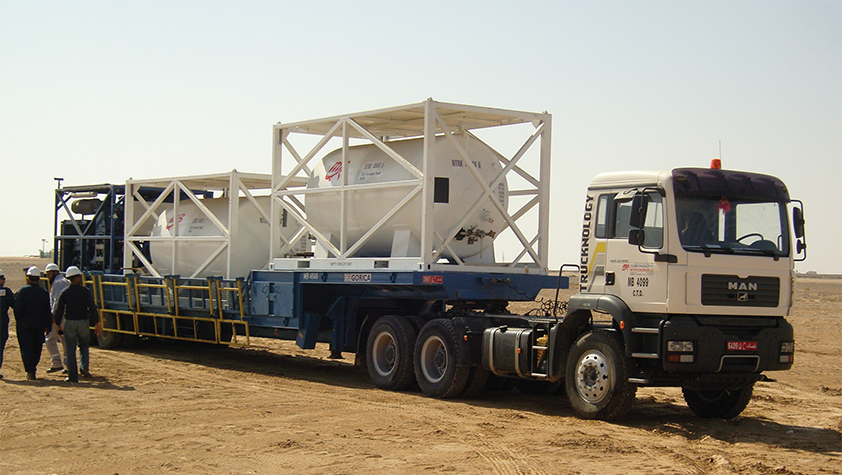 Beating the drum
While the current climate has seen many comparable manufacturing companies fail, UBH International Ltd (UBHI) has skillfully adapted its offering to match the needs of its customers in the specialist chemicals sector, the industrial gas market and the oil and gas industry.
Determined to maintain the success of recent years, the UK-based firm is strongly committed to innovation, consistently high levels of quality and service and of course safety, in order to open up wider areas of application for its inter-modal solutions for bulk liquid transport.
"We have taken great encouragement over the last year from the continued buoyancy of our markets, considering the general climate and the fact that, as a UK manufacturer, we have a relatively high cost-base compared to some of our competitors. We have managed to maintain high levels of production," says Tom Harding, sales and marketing director at UBH International. "Our key markets have held up solidly in that time and we remain focused on the transport of the full spectrum of chemicals in ten and 20-foot ISO-tank containers as well as DNV-approved offshore chemical tanks. At the same time we are constantly striving to identify new areas in industry where the tank container hasn't yet been identified as a potential means of carrying bulk liquids and gases."
Established in the late 1940s as a pressure vessel manufacturer, UBHI now employs around 100 people, many of them shareholders in the business, and has established a strong reputation as a manufacturer of tanks for the transportation of a vast range of liquids and gases across a broad range of industries.
The company is now a world leader in its field and the UK's only manufacturer of inter-modal tank-containers for the secure transportation of bulk liquids and gases, including cryogenic gases. Inter-modal tank-containers can be used interchangeably for road, rail and sea transport worldwide. They are ideally suited to long haul transport via major rail axes with delivery by truck to the final destination, and can be tailored to meet a wide range of specific requirements.
UBH International builds the lowest tare-weight units on the market, allowing operators to maximise payload and flexibility. The tank container as a means of bulk liquid and gas transportation is remarkable for its safety, efficiency and impeccable environmental credentials, allowing the most efficient mode of transport to be used and helping to move heavy freight off overcrowded roads and onto rail. The safety of the tank container derives from its extremely robust, resilient design, which allows the cargo to be manipulated as a single package from source to destination and cuts out the need for decanting or additional handling when transferring from one mode of transport to another. Personnel, cargo and the environment are all protected from potential harm.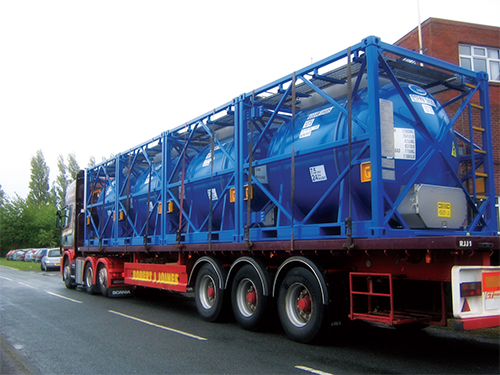 With regard to environmental advantages, tank containers are almost infinitely reusable and have a service life that can easily exceed 20 years. They are strong and damage resistant and so minimise the danger of accidental release of potentially harmful pollutants into the environment. And critically, thanks to their inter-modal flexibility, tank containers contribute to a more rational, economical and environmentally friendly movement of goods. UBH International is committed to demonstrating how the resilience, re-usability and versatility of these specially designed transportable tanks can bring benefits in many different sectors around the globe, not only in efficiency and profitability but in safety and environmental security.
In 1999, with the supply of standard tank containers beginning to exceed demand leading to a commoditisation of this part of the market, the company decided to move away from standards and focus on production of specialised custom-built units. "Such tanks require a high level of technical and manufacturing expertise, which is simply not available in the mainstream market. Units are tailored specifically to customers' needs, allowing us to maintain solid and profitable sales, which have allowed us to continue to grow and invest in future products," explains Tom.
As the energy sector continues to grow, UBHI has seen strong demand for its cryogenic range of tanks for the oil and gas industry; it has also enjoyed success with its comprehensive range of DNV-approved offshore chemical tanks. These tanks are designed to meet the most stringent safety requirements of the oil and gas industry and can be tailored to the specific needs of the customer. To complement its cryogenic offering, the business now not only builds ten-foot DNV-approved cryogenic tanks but also road-tankers for nitrogen supply to the oil and gas industry. A growing demand for cryogenic tanks and tankers for the transport of LNG has meant increasing interest in the company's ability to supply 20ft and 40ft cryogenic tanks as well as LNG road tankers.
To underpin its future plans, the company is about to embark on an investment programme, which will not only see new welding equipment but also the installation of increased crane capacity to facilitate the production of these larger and higher pressure tanks, in particular. "We are also constantly refocusing and finding new areas in the industry where the tank container hasn't yet been identified as an option for transporting specialist liquids," says Tom. "We will continue to add specialist tanks for particular products, such as temperature-sensitive products for example that need to be maintained at a high or low temperature and may require electric heating or a refrigeration unit. We also supply specialised tanks for aggressive or corrosive products that require special tank linings."
Looking to the future, UBHI is determined to remain innovative and to diversify in order to maintain its reputation as a leader in the transportation of specialist chemicals. There is also a clear determination to continue enhancing awareness of the advantages of tank containers over drums. "A large volume of hazardous chemicals continues to be moved around the world in drums that are inefficient, far less secure and far more susceptible to damage," highlights Tom. "The tank container with its longer life expectancy, almost infinite reusability and ease of transfer between different modes of transport is without doubt the safe and secure option."
UBH International
Services: Tank manufacturer