With plans to expand its sustainability efforts, UGI Energy Services LLC is tackling the global climate crisis through innovation and dedication to greener practices in the gas industry
Investing in the future
UGI Energy Services LLC (UGI Energy Services) supplies and markets natural and renewable gas, electricity, renewable power, and liquid fuels to over 42,000 locations across Pennsylvania, New Jersey, Delaware, New York, Ohio, Maryland, Massachusetts, New Hampshire, Virginia, North and South Carolina, Rhode Island, California, and the District of Columbia. The company also conducts midstream natural gas business through its ownership of underground natural gas storage, liquefied natural gas and propane-peaking facilities. This is in addition to maintaining its pipeline and electric generation assets in Pennsylvania.
UGI Energy Services offers a wide variety of products to allow customers to hedge their energy purchases with or without renewable energy options. Furthermore, it has been making great strides recently to expand its renewable energy offering for customers. The business's Vice President, Shaun Hart, highlights that alongside the company's expansive portfolio, UGI Energy Services also manages the transportation and marketing of renewable natural gas (RNG) supply across the US. For him, the diversity and reliability of the company's asset services are what sets it apart from other names in the industry.
The journey to establishing UGI Energy Services' operation has been extensive and layered with hard work. We learn more about this through Shaun, who elaborates on the company's history by beginning with the fact that it is a wholly-owned subsidiary of UGI Corporation.
Incorporated as the United Gas Improvement Company in 1882, UGI Corporation became the first public utility holding company in the US. In 1985, following an FERC Order 436 on natural gas pipeline transportation deregulation, UGI Energy Services began marketing natural gas to large commercial and industrial customers. Almost a decade later, UGI Energy Services formed its own company that offered natural gas marketing services in other utility areas across the Mid-Atlantic. In 2003, the company then acquired TXU Energy's Northeast retail business, which helped expand its customer base, as well as its management, sales, and support staff.
In 2008, the business then began exploring opportunities to develop the Marcellus Shale gas industry in Pennsylvania. "The first opportunity that we jumped on was the construction of a compressor station and pipeline interconnect to move a substantial amount of gas discovered in north east Pennsylvania to sell to the market," shares Shaun. Since then, UGI Energy Services has had the opportunity to construct several pipelines and compressor stations, providing more locally-sourced gas into the market for customers. Furthermore, the development of Marcellus gas has provided consistently low natural gas and electricity prices, allowing for significant economic growth in Pennsylvania.
Over the years, UGI Energy Services has invested in liquefied natural gas (LNG) vaporization, storage, and liquefaction, propane peak-shaving facilities, and power generation. In 2011, the company converted an electric generation plant from coal to natural gas, and then expanded additional LNG facilities in Pennsylvania.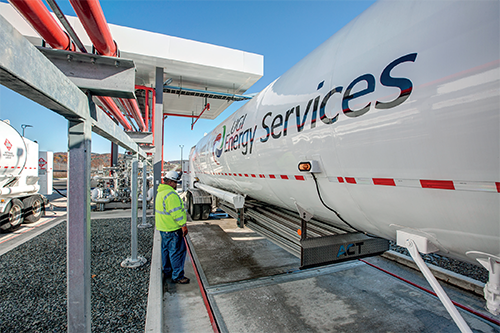 UGI Energy Services then increased its retail natural gas business by acquiring EQT's retail business and South Jersey Energy's retail business in 2015 and 2018 respectively. A year later, it expanded its natural gas midstream footprint into western Pennsylvania and eastern Ohio through the acquisition of Columbia Midstream Group, which increased UGI Energy Services' pipeline assets in the Marcellus Shale.
Today, UGI Energy Services is one of the largest LNG and peak-shaving companies in the eastern US, while UGI Corporation continues to improve access to affordable energy by delivering reliable solutions across the 50 states and 17 countries in Europe. "The UGI family of companies includes AmeriGas, the largest retail propane marketer in the US; UGI Utilities, Inc. and Mountaineer Gas Company, natural gas utilities operations in Pennsylvania and West Virginia respectively; and UGI International, a leading LPG distributor and natural gas marketer in Europe.
Last year, in 2021, UGI Energy Services signed a series of agreements with a subsidiary of Energy Developments Pty Ltd (EDL), headquartered in Brisbane, Australia to accept delivery of RNG into its natural gas gathering system, known as Pennant. The company is a partnership between UGI Energy Services, Harvest Midstream I, LP, and a subsidiary of Williams Companies.
"Under the agreements, Pennant will transport the RNG from the carbon limestone landfill located near Youngstown, OH, through its existing system and redeliver the gas, to EDL's downstream markets. The carbon limestone landfill gas, which is a by-product of naturally decomposing materials in the landfill, will be processed and conditioned by EDL's largest North American RNG facility to meet Pennant's gas quality requirements," Shaun explains. The project is scheduled to become operational in 2023.
Coupling with this major contract, in May 2022, UGI Energy Services entered into an agreement with MBL Bioenergy to fully fund the first set of RNG projects currently under development in South Dakota. MBL Bioenergy is a joint venture partnership between UGI Energy Services, Sevana Bioenergy and a subsidiary of California Bioenergy, with the sole purpose of developing RNG projects in South Dakota. The first set of projects will be built on three farms located north of Sioux Falls, and is expected to be completed in 2024.
"This project brings with it some further exciting developments. Dairy waste from the farms will be anaerobically digested and then piped to a central upgrading facility before it is delivered into the interstate natural gas system, near Dell Rapids. Through our wholly owned subsidiary, GHI Energy, we will be the exclusive marketer for MBL Bioenergy," Shaun divulges.
This venture is a massive step forward in the direction of the company's sustainability efforts. In 2020, UGI Corporation announced its commitment to invest at least one billion dollars in renewable energy through 2025. "We made our first large investment in RNG by acquiring GHI Energy, a Houston-based company that sources RNG from landfills and bio-digesters, and supplies it to vehicle fleets in California. Since 2020, we have entered into a number of strategic RNG partnerships in Idaho, Kentucky, New York, Ohio, Pennsylvania, and South Dakota," says Shaun. These dairy farm, landfill, and food waste partnerships capture fugitive methane, which is the by-product of waste decomposition, and prevent it from being released into the atmosphere. UGI Energy Services is quickly becoming a leading RNG marketer in the US.
According to Shaun, the group's green strategies are crucial to its overall success. "UGI Corporation has introduced a number of commitments in its annual ESG reports over the past several years to demonstrate its focus on progress towards key metrics. UGI Corporation has also committed to reducing Scope One emissions by 55 percent in the next three years, and decreasing its overall methane emissions by 92 percent by 2030. This will then be followed by a further 95 percent for 2040. Tying in with that, UGI Utilities has committed to replacing all cast iron pipelines by 2027, and all bare steel pipelines by 2041. The corporation also announced its commitment to invest at least one billion dollars in renewable energy by 2025."
He also recognizes that none of these developments would be possible without the UGI team, who have shown exemplary dedication to maintaining the company's prosperity. "UGI Energy Services started as a company of eight employees in 1995, and we are now a group of 400 strong. During this growth, I am particularly proud of how we have been able to maintain a small-company family atmosphere. I believe that UGI Energy Services' diverse and dynamic environment attracts talented individuals who want to be part of a company that contributes significantly to the profitability of the larger corporation. We have created a culture in which individuals feel included, and are all working towards the same goals," he expresses.
He then brings the conversation to a close by turning his thoughts towards the future. "Looking ahead, UGI Energy Services will continue to make smart investments and follow through on its ESG commitments by investing at least one billion dollars in renewable energy by 2025. Above all, I look forward to seeing us maintain our reliable and flexible services with our legacy retail and midstream businesses," says Shaun.
From what we have learnt, UGI Energy Services will continue to be a leading energy supplier and marketer across the United States, while striving to be a pioneer in renewable energy supplies for the energy and gas industry.
UGI Energy Services LLC
https://ugies.com/
Services: Supply and marketing of natural gas