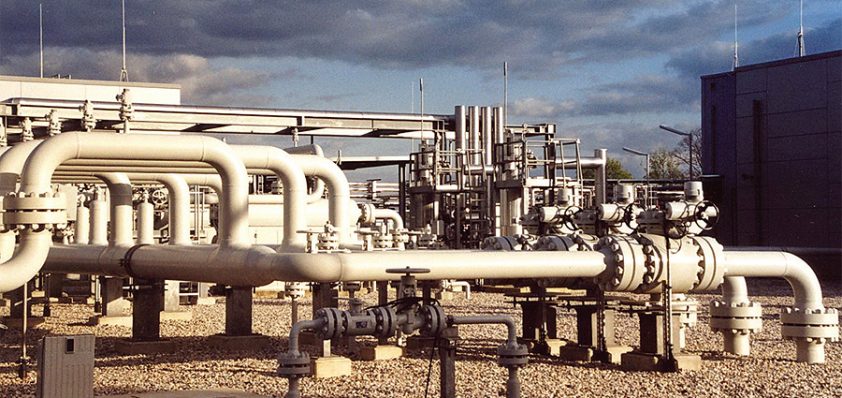 Storing success
Untergrundspeicher- und Geotechnologie Systeme GmbH (UGS) was originally established over 40 years ago as a drilling and exploration company, exploring gas and oil reservoirs in former East Germany.
In the mid-1960s, the company expanded with the construction of its first storage facilities for gas and LPG. With more than four decades of experience in the field, UGS today specialises in the exploration, design, construction and operation of underground storage facilities in salt caverns, aquifers and depleted gas reservoirs, as well as related fields of geotechnical sciences and subsurface technology.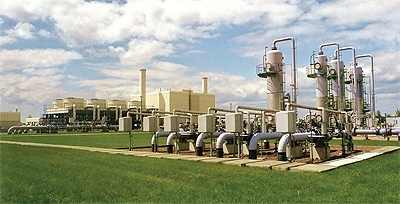 The company employs a fully qualified workforce, six drilling and workover rigs, and manages the operation of several first-gas-filling plants, leaching stations, as well as a number of gas storage facilities with specialised staff. UGS' managing director, Dr. Klaus Ziegler, elaborates: "As an engineering and service company, we focus on underground storage facilities for gaseous and liquid products. We have the competence, with our highly qualified staff and the necessary equipment to carry out the full range of services in the field of underground storage. These services range from the very early days of a storage project, through design, construction, commissioning and start up, operation, maintenance, repair, and abandonment.
"Our comprehensive know-how, combined with our constant drive to increase efficiency, while co-operating with our customers in a reliable and dependable way, makes it possible for us to provide innovative and cost-effective solutions, which are tailor-made to our clients' particular requirements. Our clients value our integrated service that is perfectly adapted to their needs in terms of resources, equipment, competence and experience. The service covers the complete design, supervision and implementation of the project – to include drilling, workover, repair, leaching and plant operation. This combination of engineering and servicing is unique within our branch. It minimises the number of interfaces and reduces the risks normally associated with multiple interfaces."
He continues to outline the company's main service offerings: "Our biggest areas of operation are the planning, drilling, and completion of wells in salt deposits and deep porous structures. We also provide project management for gas storage projects, as well as basic and process engineering for leaching plants, gas storage, surface facilities, detail engineering, site management and commissioning of leaching plants. Encompassing five self-propelled drilling and workover rigs, our rig fleet works in a hook load range of up to 178 tonnes. Recently we bought a sixth rig, which can provide a hook load capacity of up to 200 tonnes and can be equipped with a top drive. Since we got the approval for its operation in Germany, we have made excellent progress and gained crucial experience in operation, rigging up and down, and mobilisation."
UGS' drilling and workover equipment is adapted to the specifics of the underground storage market, resulting in a flexible and competitive service, when compared to the more sophisticated equipment used in oil and gas exploration and production. Engineers specialised in sub-surface engineering benefit from the unique opportunity offered by UGS to train and improve their technical skills. Gaining invaluable feedback from site construction, UGS is increasing its track record of technical solutions, aiming to implement unique hands on experience within the company.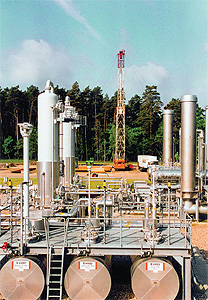 This will also help enhance the designers' understanding of the technical solutions they create, increasing their awareness of the safety aspects related to the implementation of their designs. Meanwhile, as the company's drilling activities benefit from direct contact with the designers, drilling operators are able to incorporate their own constraints early in the design process, so that they can be considered. This provides an optimised solution for the client both technically and in terms of safety and cost efficiency.
Klaus elaborates on UGS' workforce and the training employees undergo: "Our present staff encompasses 285 employees working in the fields of geology, reservoir engineering, drilling and workover, well completion, leaching and brine disposal. We also employ specialist consultants in surface facilities, who are complemented by experienced project managers and construction site supervisors, as well as specialists for permitting, document management, plant commissioning and technical operation.
"The majority of our engineers have graduated in the appropriate disciplines from well known universities. This education is then followed by a period of training on the job, working with experienced engineers in their specific department. Every year we allocate a substantial budget for further vocational training, participation in technical courses, SCC and IWCF courses, and other technical qualifications. Engineers in planning departments, field services and operation have to pass examinations regarding HQSE and legislation knowledge. Many of our clients prefer to work with the engineers who have helped them to overcome technical problems in the past."
The high levels of training among its personnel, help UGS to offer a complete package to its customers despite some fiscal limitations. "There is no doubt that UGS has the capability, capacity and the experience to carry out even comprehensive turnkey projects," explains Klaus. "However, compared to the typical financial scope of an entire underground storage project, UGS' reach is rather small. For this reason UGS cannot appear as a classical EPC contractor. Therefore in big projects we act as a general contractor, purchasing the major equipment and material on behalf of the investor. This enables us to offer the investor a complete package of services with a liability that fits our financial power.
"Even acting as a one-stop-shop contractor, we still have to subcontract some of our special services. In that regard, we can refer to the extensive experience gained from our longstanding and successful collaborations with our partner companies. These renowned contractors have been demonstrating reliability and efficiency in many projects, and can also help us in more challenging situations."
In 2007 UGS established a new department to supply comprehensive technical operation services for leaching plants, first-gas-filling processes, and storage facilities for gas plants. Klaus elaborates: "We have qualified and trained a number of our employees to work in this department – some as heads of operations. Depending on demand, several operators can easily move to work on different locations. The reliability and quality of our performances have been confirmed by our clients."
He goes on to talk about quality assurance within the business: "For many years our company's internal processes have been organised according to ISO 9001:2000 and SCC accreditations, and the current certificates are valid until October 2010. HQSE has always been of high importance to our business. Recently, the employer's liability insurance association awarded UGS the compliance stamp – Safety with System – for establishing and maintaining an integrated system for health and safety. UGS was the first company in the federal state of Brandenburg to attain this stamp, and following a recent audit it is now valid until July 2012."
As the remaining market depletes, the overall business situation for UGS has been characterised by a heavy workload for several years. "New projects and the extension of many existing storage facilities are currently underway," explains Klaus. "In spite of the economic crisis we have to cope with a workload that is still above the long-term average for the marketplace. However, we are seeing the first signals that the euphoric run for more underground storage capacity is being replaced by a more realistic view from our clients as to what is in fact required and therefore appropriate.
"As such our internal policy is directed so as to deliver top quality and we always try to provide innovative and cost-effective solutions, which are tailor-made to our clients' particular requirements. Expansion into new markets will not be a focal area for us in the near future, but our target is to improve and extend our international activities in engineering, together with our shareholder, Geostock, and other companies within Geostock Holding."
For decades now, UGS has been one of the leading providers of underground storage facilities. Klaus describes UGS' plans for maintaining and strengthening this position in the future: "We will develop and promote our team's qualifications and skills in terms of engineering, service and operation, to demonstrate UGS' capacity for real team-work. This enables us to follow and fulfil the moving targets and visions of our present and future clients. Further to traditional storage media, we are prepared to handle upcoming challenges, such as safe carbon dioxide storage and sequestration. In the future, we will supply safe and secure performances and technical solutions at the top level."
UGS
Services: Underground storage facilities