Innovation specialists
With the offshore, and oil and gas industries playing host to some of the most difficult operating conditions today, it is vital that those working within the market have access to equipment and resources that can rise to these demands.
Therefore over the last ten years Dutch-based Ulstein Sea of Solutions' innovative and cost effect vessel design solutions have gained growing appreciation in the market, predominately in construction, and exploration and development drilling.
"The business specialises in the heavy offshore segment of the market, particularly the larger and more complex vessels of over 130 metres in length," begins Bob Rietveldt, managing director and founder of Ulstein Sea of Solutions. "These are vessels that need to incorporate a large quantity of equipment and require a high level of functionality to perform in demanding areas of the world and complex field developments, and this is an area where we excel."
In 2008, the company became incorporated within the Ulstein Group giving rise to the Ulstein Sea of Solutions name. With the Ulstein Group well known in the field of offshore support vessels, there are significant synergies between the businesses. As a result of Ulstein Sea of Solutions' integration with the Group, it is now able to bring innovation to a wide portfolio of vessels ranging from supply vessels all the way up to drill ships.
One example of this is the unique Ulstein X-BOW hull design, which has dominated the market for the last six years. As many offshore vessels work within more adverse wave and weather conditions, the Ulstein X-BOW's shape is specifically designed to ensure soft entry into waves, therefore reducing speed loss, pitch and heave accelerations. For Ulstein Sea of Solutions its most prominent new development has been the introduction of the Deepwater Enabler – a multipurpose offshore construction vessel, which is notable for its customisable design. Measuring 160 by 32 metres, the Deepwater Enabler benefits from a large deck area, DP2 capability with DP3 layout, and large deadweight capacity.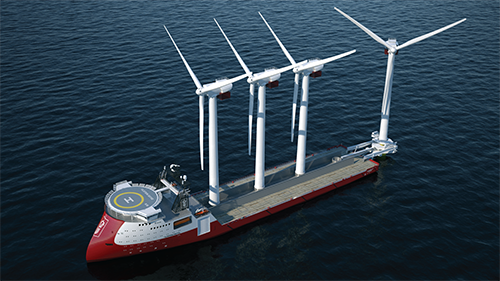 "As a company operating in the heavy offshore market we are seeing a trend for more specialist vessels that are tailor made to their function. Therefore the Deepwater Enabler incorporates a high level of flexibility in meeting individual demands of both the deepwater offshore industry, and the emerging offshore renewable sector. In particular we see potential for the vessel in offshore wind farm foundation installations, which today are predominately carried out by jack-ups. This is in line with the overall market trend of moving away from these traditional methods to the more effective floating solutions," highlights Bob.
Whilst developments such as these are born out of a consistent knowledge of emerging trends within the industry, Ulstein Sea of Solutions places particular emphasis on looking at both the short, and long-term potential of these: "We study these markets on a constant basis, and the culture within the company is to drive new innovations, as we believe that sustaining our future is based upon providing tomorrow's solutions," enthuses Bob. "Therefore it is vital that we are aware of the directions that the market is moving in. A good example of this is our ability to address current installation problems in the offshore wind industry with the Deepwater Enabler, but we are also looking long term at the trend of increasing inshore activity as this is far more cost effective than working offshore.
"This has led to the development of our innovative Floating to Fixed (F2F) concept, which is effectively a floating offshore wind farm foundation. As a self-installing foundation, this can be floated out and fixed in place, then brought back to shore for maintenance making it much easier for operators to carry out a controlled programme without paying expensive day rates for dedicated offshore equipment."
Clearly Ulstein Sea of Solutions' strong grasp of the market and in-depth research are key strengths in ensuring the company evolves alongside the demands of its core industries. Bob describes the challenge of converting these requirements into an engineering solution: "Rather than taking the vessel as the starting point of our design, we actually look at the operating needs of the client and develop the vessel around them. We also have strong relationships with other specialists in the market, such as locally based Dutch company Heinen & Hopman. In particular, Heinen & Hopman provide us with additional support in special disciplines such as heating, ventilation, and air conditioning (HVAC) designs on vessels. It is important for us to be in touch with the market and ensure that we have the latest equipment incorporated into the design, and therefore this type of relationship is a key benefit in ensuring the performance of these complimentary systems."
Today's conflicting market conditions mean that whilst the gap between worldwide supply and demand for energy continues to increase, there are certain financial barriers towards the development of new innovations. It is within these pressures that Ulstein Sea of Solutions continues to maintain its leading reputation, largely due to its strategy of delivering innovation and tailored performance, which maximises value for its clients. In light of these circumstances, Bob concludes with his strategy for sustaining the business into the future: "Whilst there are some upcoming investments within the North Sea in relation to offshore wind farms, the majority of the larger reserves and discoveries are concentrated in the southern hemisphere.
"We see a definite shift in the markets that we expect to be servicing in the near future towards areas such as Brazil, West Africa, and the Far East where some substantial developments are expected. With a lot of this focus directed on deeper waters, we are focused on expanding our competencies to an international level by forging new networks, whilst remaining close to our current service markets. This means that we can still continue to bring a high level of innovation into the countries of Europe, and demonstrate our ability to adapt to the new challenges of the southern hemisphere."
Ulstein Sea of Solutions
Services: Naval engineers and architects