On the rise
Unaoil's roots go back to the 1970s when Ata Ahsani repaid his educational scholarship to National Iranian Oil Company/Mobil by working with the Seven Sisters in Iran, going on to later join the board of directors of Ira Engineering and Construction Company as a partner and managing director.
He was instrumental in growing Ira's turnover from $1 million in 1972 to $50 million by 1978. Following Iran's Islamic revolution and the nationalisation of numerous private companies, Ata Ahsani emigrated and founded Isomer Limited, a UK market consultancy firm offering expertise in the Middle Eastern and North African energy markets. Unaoil was established by Ata Ahsani in 1991 and the company has progressed consistently ever since.
Commenting on the development of the business from its early days to its present form, chief operating officer Saman Ahsani elaborates: "The core model of the business has always been to invest in local capability to provide local execution at international standards. We have done that in a number of product and service lines historically; for example we established a production chemicals business called UnaChem in 2005 which, thanks to its success as a local blender of demulsifier and corrosion inhibitor, was later acquired by Weatherford in 2008.
"We also set up our manpower and workforce solutions business in 2006. Since then, it has operated camps catering for as many as 3000 personnel and has trained and seconded hundreds of qualified local and foreign personnel to key oil and gas projects globally. Most recently, over the past three years we have grown our engineering and construction business to deliver major turnkey projects for the oil and gas industry as a local onshore contractor. So, from what our chairman began in the 1970s, our activities have come full circle with a significant portion of our revenues now forecast from our engineering and construction business."
Today, Unaoil operates in three main areas within the oil and gas sector. The first is its engineering and construction business, UnaE&C. The division is headquartered in Dubai and undertakes engineering, procurement, construction and construction management projects (on an EP, EPC, and EPCM basis) from the concept stage through to commissioning. Unaoil has over 20 years of experience in operating profitably within the Middle Eastern, North African and Former Soviet Union markets, and its engineering and construction capability offers its customers 'boots on the ground' access to these increasingly dynamic regions. Its management team is comprised of key specialists with detailed local knowledge, which allows UnaE&C to deliver turnkey projects from the wellhead to the export terminal focusing on pipelines, pump and compressor stations and medium-sized power plants.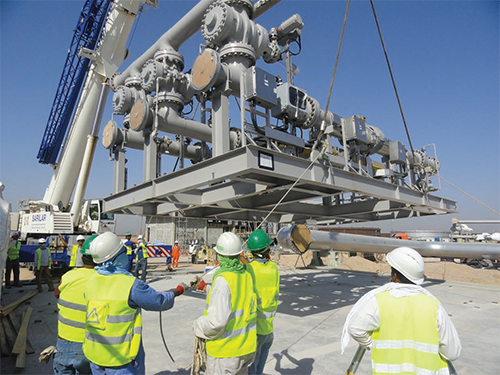 UnaE&C recently achieved ISO9001 and ISO14001 certifications as well as recognition from a major client for two million man-hours without lost time incident. "This is something that is very important and is at the heart of the business," says Saman. "We are particularlyproud of our ISO14001 certification because we are one of the first companies in Iraq to operate with this accreditation. This is particularly important to us because clients look at us and see that although we are smaller than other companies we take quality, health, safety, and the environment seriously and we invest significant time and resources into maintaining these high standards. It is this focus on quality and our certifications that have helped us drive our business forward."
Unaoil's second area of operation is the provision of oilfield services and equipment through its subsidiary, UnaRoteq. This division operates a number of joint ventures, which have grown rapidly in recent years. For example, Technical Field Services Limited, a joint venture between Unaoil and RBG Middle East, recently secured contracts from the BP-led Rumaila Operating Organisation (ROO) for flowline testing, in-situ machining, and hot tapping for the Rumaila oilfield in Iraq. Similarly, Severn Valve Solutions Iraq (SVSI), a joint venture between Unaoil and Severn Glocon, has been awarded valve technical support contracts from Shell at the Majnoon oilfield as well as from ROO. To support these activities, in 2013 Unaoil established its North Rumaila Operating Base, which provides a full range of accommodation as well as offices and technical field services workshops. This investment, as well as other capital expenditure in infrastructure at Zubair and Fao, has helped establish Unaoil as a leading local contractor in southern Iraq.
In addition to its UnaE&C and UnaRoteq divisions, Unaoil also provides specialist technical manpower to the global oil and gas, power and industrial markets through its group company Global Energy Technical Resources (GETR). The division has access to some 70,000 industry specialists and is in a prime position to support its clients through the complete lifecycle of a project from concept to completion, such as providing hook-up and commissioning and construction management teams. The company remains true to its vision of empowering local communities by actively supporting local content through technology transfer and training. This has allowed GETR to meet increasing local content requirements with competent talent pools in the Libyan, Adriatic, Iraqi and Caspian markets.
Although the global economic downturn has created challenging marketing conditions, Unaoil has been fortunate in that it operates within markets where the oil and gas sector continues to benefit from high growth and investment. The oil and gas sector in frontier markets like Iraq, Kazakhstan, Azerbaijan, Libya, Algeria, Angola and Nigeria is pivotal in allowing these nations to develop their economies and people. This has resulted in heavy investment in these countries by national and international oil companies, as Saman elaborates: "Whatever else is happening in the market globally, these countries will be investing first and foremost into improving their oil and gas industry as the key to improving their economic position. The amount that has been spent in these countries on the upstream onshore market has been huge. National and international oil companies like BP, Shell and Exxon continue to invest billions into countries like Iraq and Kazakhstan."
In 2014, Unaoil will look to consolidate its operational presence within its targeted markets in preparation for repeat business as these frontier markets increasingly become important producers. To facilitate these operations and ensure that it has access to the best engineering talent, Unaoil recently acquired a 40 per cent stake in the Romanian company Pureworld Engineering, an engineering firm with over 60 qualified engineers. Commenting on the importance of this investment, Saman explains: "When it comes to lump-sum turnkey contracts, the importance of engineering is in managing execution risk. Normally, engineering only represents around five to seven per cent of the value of the project, but if you get your engineering wrong you risk doubling or tripling your construction costs. So, it is absolutely paramount for us to double-down on our engineering investment by having our senior engineering team in Dubai work closely with our colleagues in Romania." With a reputation for delivering outstanding engineering quality, the investment into Pureworld Engineering will help ensure that Unaoil is well placed with leading local knowledge, equipment and technical expertise to meet the challenges of the world's up-and-coming oil and gas producers.
Unaoil
Services: Turnkey upstream oil and gas contracting