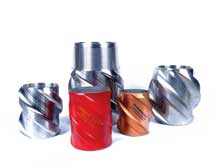 Oil and gas companies in Alaska, Canada and elsewhere look to Unique Machine LLC for support in every stage of production. "A lot of people use the analogy that we're the hub that holds things together in terms of how we support drilling operations," says Pat Hanley, General Manager and Vice President of the Anchorage-based company.
The company, founded in 1973, is now Alaska's largest machine shop. Unique provides repair, machining, fabrication, threading, and manufacturing services primarily to the oil and gas industry The company also serves many other industries. A large part of Unique's business involves threading casing and tubing and downhole accessories for major oil and gas clients including Conoco Philips, ENI, Chevron, BP and Pioneer Natural Resources.
Accessories produced by the company include self orienting biased edge guide shoes, pup joints, wire line entry guides, overshot tubing guides and crossovers. Many of these parts produced by the company are their own proprietary technology, Hanley says.
"When oil companies get ready to do a project, we're one of the companies they're talking to," he adds. "We can support projects from the very beginning to the very end."
Unique Machine is ISO 9001 and American Petroleum Institute 5CT and 7.1 certified. "Because of these accreditations, major oil and gas companies look to us because they know we can perform to their standards and specifications," Hanley says.
Outside of the oil and gas industry, Unique provides equipment repairs and products for the fishing, mining, construction, government, medical and food industries in Alaska. One of the company's unique products is the hydro ax blade, which is used by the state and other contractors to clear power lines.
Major Partnerships
Since 2009, Unique Machine's operations have been based out of a 13.6-acre, three building site in Anchorage. The complex, dubbed the Alaska Technology Center, includes a 29,000-square-foot headquarters and machine shop, an 18,000-square-foot threading plant, and a 14,000-square-foot warehouse. The site also includes space available for lease to other manufacturers. The center currently has one tenant.
The complex also offers Unique room to expand in the future for developing new products. "The idea is that, over time, we could bring in a major client and partner with them to manufacture a product specific to the oil and gas industry," Hanley says.
Unique Machine currently is partnering with BP on a research and development project aimed at extending the life of the tubing used in wells to extract oil. Unique has established a test unit and is collaborating with BP on testing how certain types of tubing hold up against heat, corrosion and wear, among other things.
Personal Connections
The company's capabilities and experienced staff have long earned it a reputation in its local community as a place to go for any repair and machining need. Unique often takes on small jobs for area residents or organizations, Hanley says.
"People often come to us with something and ask 'can you put this together,'" he adds.
Unique Machine also supports local charities through its connections with industry associations including the Society of Professional Engineers.
Last year, the company partnered with Orange County Choppers to create a special motorcycle in honor of Alaska's 50th anniversary of statehood. The chopper was raffled off with proceeds benefitting a local children's hospital.