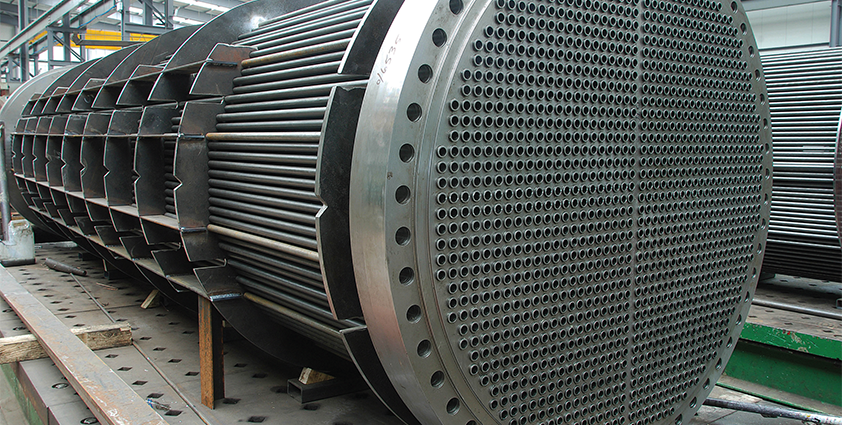 Combined strength
Separately their histories demonstrate the breadth of expertise within both companies, and now combined, they have become a force to be reckoned with as two of the most well established businesses in the UK have joined forces to create Unit Birwelco.
Birwelco formerly known as The Birmingham Welding Company, formed in 1902 and Unit Superheaters, another company with over a century of history, formed in 1909 to produce detachable superheaters for Lancashire type boilers.
The merging of the companies began to take shape in 2003 when Bill Ledwood, managing director of Unit Birwelco, formed Pembroke Dock based Unit Engineers and Constructors.
In 2004 the company acquired Unit Superheaters, which brought together specialist fabrication, mechanical construction and maintenance expertise alongside unrivalled engineering services.
In 2009 the company expanded further with the acquisition of the projects, maintenance and turnaround division of Immingham based Motherwell Bridge. Just a year later, in the autumn of 2010, the Unit Group completed the acquisition of Birwelco. Now with capabilities in engineering design, global project management and procurement and patented flare systems.
"Unit Birwelco is pretty diverse as a group in relation to the different sectors it works in," says managing director Bill Ledwood. "It is also unique in that there are very few EPC companies operating in the UK today. What makes Unit Birwelco stand out is that it can offer a wide range of products and services to a range of different customers. Its flexibility allows the group to manufacture boiler components for the power industry, to work on oil refinery turnarounds, carry out construction work, build power plants and utilise its extensive capacity to provide fabrication solutions across all these markets. Our future plans include preparing for accreditation under the ASME 'N' stamp, which will allow us the opportunity to bid, and operate, within the nuclear industry. As a true EPC contractor Unit Birwelco can design, build, engineer and manufacture its own products and then install and maintain them, providing a complete service under one roof."
Each individual business under the Unit Birwelco brand retains its own expertise in manufacturing and engineering certain applications. Unit Engineers and Constructors provides engineering, construction, maintenance and fabrication services to the oil, gas, petrochemical and power industries, which includes pipe fabrication, erection, the manufacturing of process heaters and boilers and the installation of chemical equipment within process plants.
Based in Swansea, Unit Superheaters operates mainly within two markets; the manufacturing and pre-fabrication of items for coal fired power plants, steam drums, superheaters, economisers and boiler elements, while also designing and manufacturing heat, shell and tube and air-cooled exchangers and pressure vessels for the petrochemical industry.
Unit Group's Immingham operation is responsible for a large area of the group's business, working on oil refinery turnarounds and large international construction projects on behalf of some of the biggest names operating within the oil and petrochemical industry.
The most recent addition, Birwelco, provides engineering, procurement and construction services as well as the designing and building of fired heaters, ethylene crackers, reformers and waste heat boilers, while also being the owner and producer of a worldwide patent for an innovative sonic flare used by offshore customers.
"The equipment designed and manufactured by Unit Birwelco in the UK is sent all over the world," Bill states. "The Group works on behalf of clients in Iraq, Tunisia, Saudi Arabia and a number of other Middle Eastern territories."
Operating in so many different business sectors also presents a number of challenges, and the oil industry is obviously no exception: "Safety is undoubtedly the most important factor that dictates all the work undertaken in the oil industry," Bill explains. "Unit Birwelco can confidently say that it has a very strong safety record, reaching well over a million man hours with no time loss injuries recorded, which is a considerable achievement."
The industry as a whole has experienced difficult times in the past few years, but as Bill points out, there is a much more unique challenge about to face companies like Unit Birwelco: "Looking at the year ahead, this sector is almost certain to suffer from various skills shortages with the amount of jobs that are coming through. However if this proves anything, it is that there has been a huge improvement within the industry since the financial crisis receded.
"Another positive is that as the Unit Group covers such a diverse spread of sectors and capabilities, it is far less reliant on one particular area or market doing well in order to succeed and bring in revenue. When you combine this with the upward trends we are seeing and the amount of enquiries Unit Birwelco is receiving, the signs are very positive and the whole group looks forward to seeing the results of its recent efforts in the third or fourth quarter of 2011."
Unit Birwelco
Services: Engineering and construction