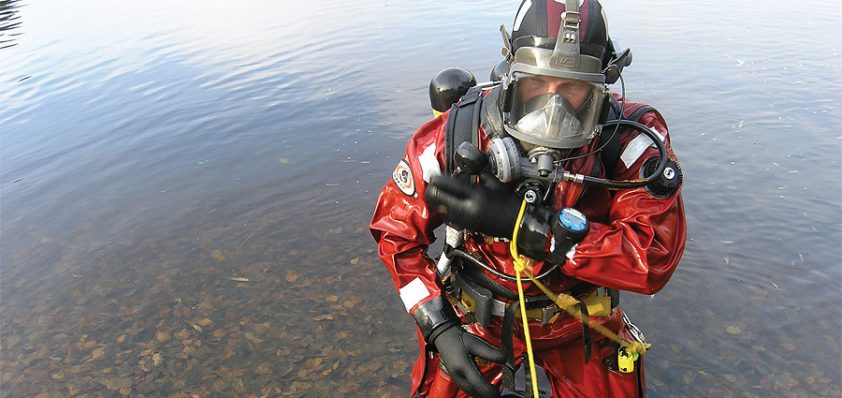 Suits you
Founded in 1964, Finland-based family business Ursuk Oy manufactures its own brand Ursuit constant wear immersion suits and diving dry suits for both professional use and extreme conditions.
With 45 years of experience, the company is now an established leader in product development within its field. The quality of its products is guaranteed by the ambition, workmanship and skill level of its staff, as well as through extensive technical know-how and the constant attention to safety features. Ursuk additionally distributes renowned, well-recognised brands such as Suunto and

Aqualung, through its business operations.
Marko Kallionpaa, managing director at Ursuk, discusses the history of the company: "My father, a diver, founded the business in the mid 1960s. At that time it was very hard to find any diving equipment in Finland, so he began to import it and grew the business from there. We mainly dealt with wet suits for diving and it wasn't until the early 1980s that we first started to manufacture immersion suits, at which point we were the only company in northern Europe to do so. We initially started off from Norway and then went to Sweden, Denmark and Finland. In the beginning of the 1990s, we came out with constant wear immersion suits, being dry suits made from Gore-Tex. After this, we started our own production of diving dry suits. Today our three main categories are diving dry suits, constant wear immersion suits and sailing dry suits."
Ursuk manufactures, imports and markets its Ursuit line of constant wear immersion suits that are designed for extreme conditions in cold water and at rough seas. The Ursuit dry suits are designed for continuous work and demanding usage on board marine vessels. Manufactured from a breathable three-layer material, the immersion suits are fit for long-term usage.
Amongst the company's extensive product range, is its Ursuit immersion suit Sea Horse, for example. It is a top quality suit for the most demanding user. The Sea Horse model includes all of the best properties of an immersion suit. Both ergonomics and comfort are taken into account throughout the design process, and so its fit and performance are highly superior. This particular suit has a telescope waist construction creating a good fit with a lightweight and comfortable feel. Integrated suspenders keep the trouser section up, while a crotch strap keeps the upper section down. The telescope design allows the trousers to not fall down in the way they often do in a one-piece overall. Also, the design allows users of differing heights to use the same garment without weakening the ergonomic features.
Functioning perfectly in all conditions, the suit will keep the wearer dry, regardless of the length of stay in the water. The Gore-Tex fabric based upon the ePTFE membrane allows vapour to penetrate, while remaining completely waterproof. Marko comments: "The Gore-Tex material that we use in our suits is highly breathable and the durability is the best on the market. Although it is expensive, you can't find anything of higher quality."
The Sea Horse's seam construction, like many of the company's other suits, is particularly effective. Double seams are sewn with a heat seal taped inside, insuring that seams will not open even
when worn and that they are reinforced to be 100 per cent watertight. Many of the suits are additionally equipped with several strategically positioned reflective tapes. They are developed by 3M in accordance with the directive on marine equipment and assure visibility in a variety of challenging conditions. Additional features include both the knee and back positions on the suits being reinforced with double material and an innovatively placed dry zip, which opens from the right hip up to the left shoulder, minimising the disadvantages of a heavy zipper when sitting and moving around.
Marko continues, outlining Ursuk's client base: "Our major customer group is within civilian authorities, including firemen, coastguards, police and so on. The other big group is our military customers and the third is laser diving and laser sailing. The laser segment includes products for those who are particularly active in hobbies, such as paddling." When the company designs suits for these different business segments, while comfort and usage are important objectives, the most important goal is its customers' safety and survival in all situations.
Ursuk offers an extremely effective and efficient product portfolio to a healthy customer base. Marko comments on what aspects set the business apart from the competition: "Product quality is number one, with reliability and good delivery times also being paramount. Most importantly, quality can be found in the usability of our suits, we also inject lot of effort into the ergonomics, so that they feel good and resemble the feeling of normal clothing. We work to ISO 9000 quality standards and every single product is tested before we ship it out. They're pressure tested, so quality in terms of water tightness is 100 per cent."
He concludes, elaborating on the future of Ursuk: "Like all other businesses, there is competition and it's quite often very hard. However, in our field of personal protective equipment, it is quite a big cost to certify a product. And so for a new company entering our business it is not going to easy. In general terms, the whole dry suit manufacturing segment is quite protected, as its starting cost is very high.
"My vision for the coming years is that the use of dry suits, both in diving and in all activities that occur close to the water or in the boat, will increase. We expect people to use more and more dry suits or emersion suits in the future due to safety aspects. Safe thinking has been growing heavily recently. In the last five years the change has been very dramatic and we anticipate that this will continue to escalate."
Having already won a competition in seven states of the US, both in survival and diving dry suits, Ursuk looks set to strengthen its identity within the oil and gas industry, a field in which it intends to expand into. With a broad and comprehensive product range addressing all aspects of safety and design, the company will now focus its efforts on improving its global reach, growing heavily in central Europe, the US and Russia.
Ursuk Oy
Products Constant wear immersion and diving suits