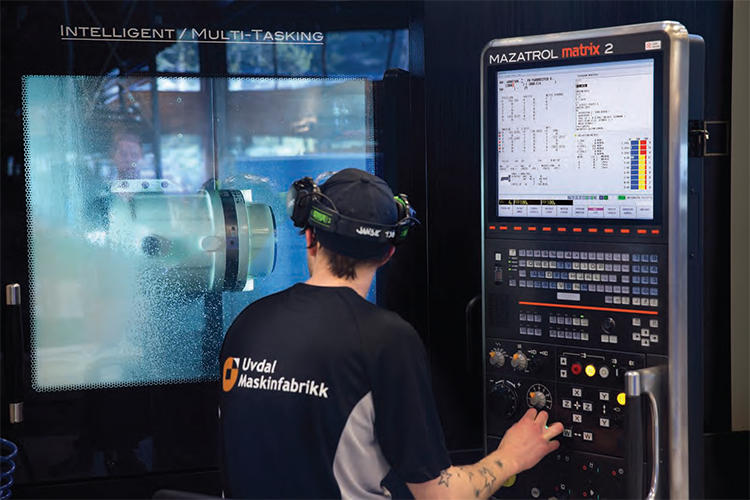 The total package
Established in 1987 to produce machine parts for industry, Uvdal Maskinfabrikk AS (UMF) has accrued extensive engineering knowledge through over two decades of experience.
The firm was founded in the Nore og Uvdal municipality in Norway and currently has a production facility and main office based in Uvdal and a branch office in Sande, Vestfold. At the heart of the business are its 60 employees, who exemplify the company's commitment to providing high-quality solutions in all areas.
UMF aims to be a complete supplier, offering a comprehensive portfolio of services to its customers. The company's founders brought with them extensive experience from the technology based industry at Kongsberg and since then it has continued to expand and grow into new areas. "To start with, our business activities were based in production, and over the years we have expanded our scope to new areas, including engineering, certified welding,assembly, testing, and quality control," begins UMF assistant managing director Betty-Karin Nørstebø. "Today we are an established subcontractor in the oil and gas business, and a total supplier of intelligent solutions.
"Our production department consists of machining and certified welding. The department employs skilled workmen, who operate CNC machining centres and lathes with up to five controlled axes. Using the 3D models from the design directly in the programming tool eliminates human error, so this department is very strong. Engineering is also an important part of our business. Our engineering department is comprised of highly qualified engineers, and we have a very successful track record of projects involving the automation of production processes. Having provided many special machines and parts of production lines, built on intelligent solutions as well as good workmanship on all levels, we have many satisfied customers who come back to us with new and challenging projects time and again."
Since it was last included in European Oil and Gas Magazine, the business has been spurred by further diversifying its activities through greater focus on the subsea sector and further refining its production and product delivery systems. UMF retains its commitment to offering a full range of services while it anticipates future business. "We have a strategy of approaching the subsea service and after-market. The subsea sector is a bit quiet at the moment, however, a lot of projects are being set at this time so we see that there might be opportunities in the service and after-market in the future," Betty-Karin elaborates.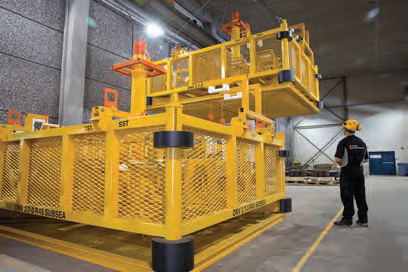 Relating this to the challenges faced by the industry at present she adds: "Business has been more challenging in recent years in that delivery times have been shorter. That represents both a challenge and an opportunity because if you have a flexible organisation and are a flexible supplier the opportunity is there to impress current and potential clients. Our major investment in 2013 is a new business solution and ERP-system powered by Microsoft Dynamics. Our aim is to improve our flexibility and effectiveness in the market so this is a major investment for us."
Through managing its current projects and investing in future markets, UMF is in a strong position as it moves forward throughout the rest of 2013. It remains an attractive option to a variety of operators from both onshore and offshore industries and its machining services sare in constant demand, providing the company with the necessary stimulus to pursue its future interests. The linchpin of its vision is the priority UMF places on quality and the relationship the business maintains with its customers. "Firstly, quality and on-time delivery are imperative across our operations," Betty-Karin explains. "Supporting this, our quality assurance system is certified to ISO 9001:2008, and we have a reputation as a provider of high-quality equipment. We won the supplier of the year award for quality from our customer FMC in 2007, which serves as proof of our continuous focus on top quality in all our products. We also look at documentation and strive to deliver intelligent solutions, ensuring that we are flexible and adaptable in our services to clients."
Expanding further, Betty-Karin talks about the close working partnerships between its engineers and its clients and how important they are in allowing the firm to provide tailor-made solutions: "Most projects start with the customer's requirements. They present us with the idea, and we put it into practice. In any project our engineers work closely together with the customer to ensure that their vision is what guides us. We believe that this is important to achieve the best possible result. Over the years we have produced several tailor-made machines, production lines and related equipment for various industries."
The future is set to bring great things for UMF, the company has not simply weathered the decline in manufacturing following the global economic crisis but has instead invested, optimised its production capability and identified and targeted strong future markets. This epitomises the experience UMF brings to the market place and is why it remains a dynamic and energetic player in the oil and gas industry.
Uvdal Maskinfabrikk AS
Services: Complete engineering solutions