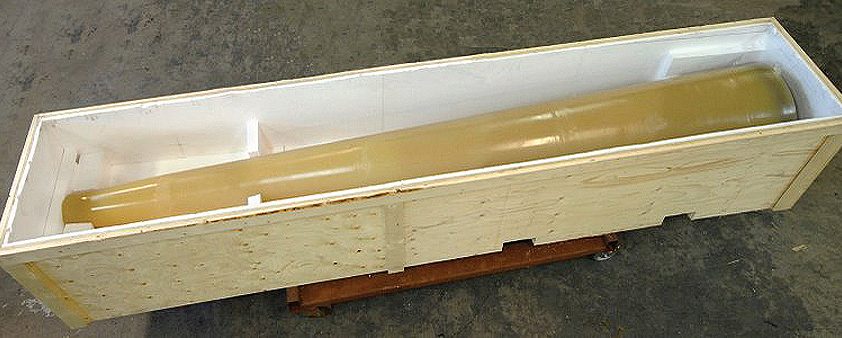 Keeping it rolling
2007 was an exciting year for UW-Elast, part of the UW Group, when it became the sole shareholder of Trekollán AB, a manufacturer of its own range as well as subcontracted products in polyurethane, in line with UW-Elast.
With Trekollán's turnover reaching SEK23 million in 2007, the acquisition meant that the UW Group would successfully reach a turnover of some SEK70 million in 2007.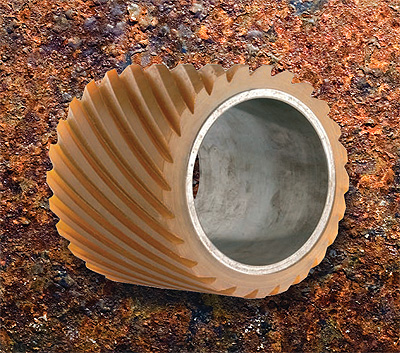 Located in Traryd in the southern part of Småland in Sweden, Trekollán manufactures and markets its own range of polyurethane products as well as operating as a subcontractor supplier, specialising in solid polyurethane rubber – PUR. It is the only company in Sweden capable of manufacturing products in the three different types of polyurethane materials: NDI, which is especially suitable for extreme dynamic loads, for example in wheels, rollers, dampers and springs; MDI, which is a very process-friendly material giving the best possible elasticity, wear resistance and economy; and TDI, which is particularly suitable for complicated component solutions.
The UW Group is fully owned by the Garpco holding company in Jönköping. With an annual turnover of over SEK150 million and a total of 135 employees, Garpco represents ownership based on accountability and long-term thinking, founded on a clear ambition to expand for future growth and development. The CEO of Garpco, Leif Garpheden, commented on the acquisition: "The UW Group will now be able to further establish its presence as a Nordic market leader within solid moulded polyurethane products." Trekollán was just as satisfied with the move as it believes that UW-Elast is an expert company with a clear and purposeful objective for further initiatives within the industry.
It was also in 2007 that the organisation and operations of Industri Polyuretan AB (IPAB) were transferred to UW-Elast. Among the operations taken over by UW-Elast are long runs of injection-moulded small polyurethane components. Furthermore, the company also benefits from acquiring IPAB's long experience and know-how of Ribbon-Flow technology for coating large rollers, including those designed for the steel and paper industry.
It is safe to say that when Uno Widström first founded UW-Elast AB in 1975, little did he imagine just the success it would have turned out to be. The company is today Sweden's leading specialist in providing polyurethane component solutions that can be applied to a wide range of industries, and together with materials expert Elastogran has fulfilled many customers' demands in a number of sectors. The benefit of using polyurethane is the long life span it can offer over other materials, and the company prides itself on overcoming a wide range of wear and corrosion problems inherent in many industrial processes.
When Christer Wirheim, member of UW-Elast's sales division last spoke to European Oil and Gas, he explained the company's background further: "We can construct a full range of machinery that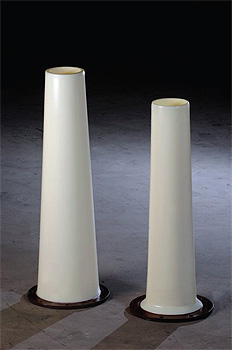 mould and structure polyurethanes, such as wheels, hammers, sheets, and rollers. The business approached potential clients in the steel, paper, and machining industries to display our technical expertise, and to understand what they wanted from the range of machines they used. Historically, the steel and paper industry have used machines that have rubber components, so we had to demonstrate that we could exchange this material where possible, and replace it with polyurethane."
A leading supplier of rolls and rollers to the steel and paper industries in Sweden, Norway and Finland, as well as the majority of Europe, the company also deals with clients in the automotive industry. As for the oil and gas market, it is a relatively new sector that UW-Elast has been focusing on in the last five years, and will continue to create more products in the future for clients operating in this industry. Christer added: "One product that UW-Elast manufactures for offshore clients is the bend stiffener, and we also distribute wire clamps. In addition, we supply products to cable manufacturers, and companies that produce mooring solutions, such as anchor systems. We provide products to anyone that manufactures items that roll – like guide cables and barrels. The solutions we offer mainly apply to products that suffer high levels of wear and tear. Our status as the biggest polyurethane firm in Sweden means that we are involved in many significant ongoing projects.
"When customers are satisfied with our products and the relationship we have formed, then they spread the word throughout the oil and gas industry that we are a special supplier. It's our hope that through this approach, UW-Elast will shift from being the hunter to the hunted. Companies operating in the oil and gas industry require specific products, so businesses are always talking amongst themselves in regards to which suppliers offer the best service, how machines can be maintained, and the ways in which they can be applied. The good word that is spread throughout the oil and gas companies about UW-Elast is obviously beneficial to our future success."
The company has plans to grow organically over the coming years, with the aim to build on its range of abilities to make it an attractive business proposition to customers in the future. The focus of UW-Elast will be on the mass opportunities available in the oil and gas sector, while it continues to look at other heavy industries, including steel, paper, and mining, which are still significant in Sweden.
UW-Elast AB
Products: Solid cast and sprayed polyurethane products