Enjoying transformational growth
Founded in 1985 by Virgil A. Walston and Charles Alcorn, VAALCO Energy, Inc. (VAALCO) is a Houston, Texas-based independent energy company that is principally engaged in the development, production and acquisition of crude oil reserves Publically traded on the New York Stock Exchange and the London Exchange, VAALCO has a long track record of developing and producing oil reserves in West Africa, and is today the operator of production licenses in Gabon and Equatorial Guinea.
It is in the former where the company first discovered oil at the Etame license in 1998, and since first production in 2002, VAALCO has gone on to produce over 120 million gross barrels. "As well as the Etame license in Gabon, our other primary asset is the Block P production license in Equatorial Guinea, which we also operate," explains VAALCO CEO, Cary Bounds. "When we discovered oil on the Etame license and began first producing it in 2002, initial estimates by our third-party reserve comauditors were for only 30 million barrels of gross recoverable oil. Over the years we have drilled, discovered, innovated and expanded Etame, and we have produced over 120 million gross barrels thus far and we believe that the field still has another 100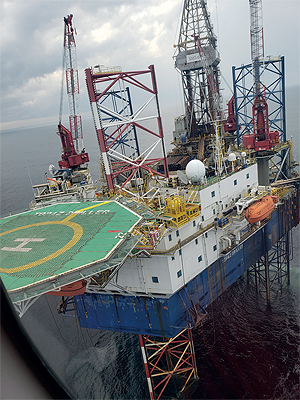 million plus gross barrels of resource potential.
"Meanwhile, In Equatorial Guinea, we own a 43 per cent interest in Block P, where there is an undeveloped discovery and significant exploration potential, and we are evaluating alternatives to fund the cost to drill an exploratory well targeting over 160 million gross barrels of resources at our SW Grande prospect. We are also evaluating scenarios to develop over 16 million gross barrels of contingent resources at our Venus discovery on Block P."
Significant highlights
For Cary, what helps to set VAALCO apart from its peers – particularly in the current energy environment – is its pristine balance sheet and its ability to generate free cash flow. "There are not many small cap E&Ps that have no debt and can complete significant acquisitions like we have in recent times using cash on our balance sheet," he states. "We also believe that oil prices should continue to benefit us and give us unique flexibility to do additional drilling or more acquisitions in the months and years to come."
There have indeed been some significant highlights enjoyed by the company in recent times, as Cary goes on to detail. "In 2018, we negotiated a license extension of up to 20 years in Gabon, which provided VAALCO with the runway to maximize value by growing reserves and increasing production from our world-class Etame asset. Also in 2018, we paid off all of our outstanding debt and began to rebuild our cash position.
"In 2019, we began trading on the London Stock Exchange, which complements our listing on the New York Stock Exchange by providing us the opportunity to diversify our shareholder base, attract additional research coverage and provide VAALCO with access to additional sources of capital to help fund our growth objectives. Just as critical, in September 2019, we kicked off our 2019/2020 drilling program. That campaign resulted in three successful development wells and two successful appraisal well bores. Looking ahead, we are planning to initiate another drilling campaign later this year to repeat on our success."
Important acquisitions
Turning to last year – 2020 – VAALCO's drilling success in that time saw production increase by 40 per cent, with its full year production of 4853 BOPD exceeding its 2019 average of 3476 BOPD. This came in a year that saw oil prices impacted by the global Covid-19 pandemic, as well as supply and demand imbalances. For VAALCO, however, it had hedges in place that provided it with good protection when oil prices fell, allowing it to continue to generate meaningful free cash flow from its higher production volumes.
Last year was also notable for a couple of important acquisitions. "In November 2020, we agreed to purchase Sasol's 27.8 per cent working interest in Etame for $44 million, with the final cash settlement amount to be reduced by net cash flows generated from the effective date of July 1 through the closing date," Cary reveals. "As part of the agreement, we made a $4.3 million cash deposit in November, and agreed to a contingent payment of $5 million if Brent oil prices average greater than $60 per barrel for 90 consecutive days. We closed the acquisition on February 25th, 2021. Taking into account the $4.3 million deposit and the cash flow that was generated between July 1, com2020 and the date of closing, we paid $29.6 million at closing, all with cash on hand. We believe this deal is very accretive to VAALCO as it is improving our margins, increasing production and the price we paid per barrel of oil was about $4.91 for 2P CPR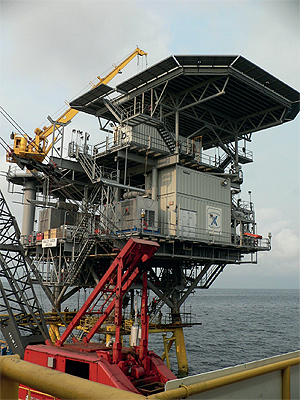 reserves. Since we already operate the asset, we expect minimal increase in G&A expense, there is no integration needed, and we will immediately benefit from the acquisition.
"In 2020, we also completed the acquisition of a new proprietary 3D seismic survey over the Etame block. We expect the seismic data to enhance sub-surface imaging by merging our legacy data with the newly acquired seismic, allowing for the first continuous 3D seismic over the entire block. The improved 3D seismic imaging will help us optimize our future drilling locations, and allow us to better plan our drilling campaigns to reduce costs."
Empowered team
At VAALCO, its people are committed to developing and producing oil resources in West Africa in a safe and environmentally responsible manner. In 2020, the company created a Corporate Social Responsibility Committee consisting of the VAALCO executive team and a cross section of employees from across the company. "The Committee is charged with the responsibility to monitor our adherence to our ESG standards and formally communicate their findings on an ongoing basis to our Board," Cary adds. "Also in 2020, our Board's Nominating and Corporate Governance Committee amended its charter for the oversight of the company's policies and programs on issues of social responsibility and environmental sustainability.
"We believe that every employee has a responsibility to ensure that we operate with the highest regards toward ESG, and our Board is empowering our management team to create a working environment focused on accomplishing our ESG objectives. These core values have guided our success as a trusted operator, a generous partner to the communities where we operate, and good stewards of the environment. Our 2020 ESG report will be released in April 2021, and posted to our web site. It will include key ESG reporting metrics for the past three years that are aligned with SASB and TCFD standards and guidelines."
Solid base
Over the past five years in particular, VAALCO's management team has worked together with its employees to overcome several significant challenges. In doing so, the company has strengthened its balance sheet, built a future for growth at Etame, and flawlessly executed its operations. It is has also ensured that the coming months will be an increasingly exciting time for the whole operation.
"Among our upcoming plans, we are targeting the drilling of up to four wells starting in the fourth quarter of 2021 and finishing in 2022," Cary enthuses. "The final well locations will be determined in conjunction with our processing of the new 3D seismic data we acquired, but we are currently expecting to drill two development wells and two appraisal wells. We believe that if those four wells are successful, we could increase gross field production by 7000-to-8000 BOPD, or 3500-to-4100 BOPD net to VAALCO, comparing estimated Q3 2021 with anticipated Q3 2022. We are estimating the cost of the program to be between $115 million and $125 million gross, or $73 million to $79 million net to VAALCO. The upcoming drilling campaign has the potential to generate significant additional free cash flow under our VAALCO low cost operating structure and current prevailing oil prices, and give us the opportunity to grow further."
Cary's vision for VAALCO over the next several years is for it to remain focused on achieving operational excellence, while at the same time maintaining financial discipline. He also expects the company to grow and expand into another one or two countries where it can utilize its offshore development expertise. "We are making substantial progress toward achieving our growth objectives and we believe that VAALCO is well positioned to prosper in any pricing environment," he concludes. "We have a solid asset base at Etame that is generating meaningful free cash flow in the current pricing environment, and we remain focused on maintaining strong production and keeping costs low. Additionally, we continue to evaluate opportunities that are consistent with our inorganic growth strategy, and as such we believe that we are well positioned to deliver long-term growth, in line with our strategic objectives."
VAALCO Energy, Inc.
www.vaalco.com
Services: Independent energy company developing and producing crude oil reserves in West Africa