Vacono Aluminium Covers GmbH
Covering the market
Vacono Aluminium Covers GmbH, one of the leading companies specialising in the design, production, supply and installation of tank equipment systems, has evolved to become a real success story.
With 30 years of experience in vapour control, Vacono today has customers in over 80 countries worldwide. One hundred years of experience in aluminium has earned the company over 4000 references and 500,000m3 of saved valuable product every year. Offering a complete service for the construction of new or the retrofitting of existing systems from a single source, Vacono's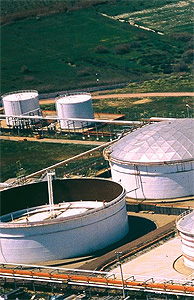 unique range of products focuses on tank equipment, providing optimum solutions worldwide.
Tank systems need to meet a whole variety of different demands, which is why Vacono's tank covers and accessories protect stored products against contamination by, for example, rain water, sand and any other foreign matters, while minimising evaporation loss caused by wind or direct exposure to sunlight. This not only means that Vacono's tank equipment proves to be a real money-saver but it also makes crucial contributions in preserving the health of a client's personnel and the well being of the environment. Through this one-stop shop, Vacono provides individual solutions and a complete service that cover consultation and advice, technical design as well as production and assembly. It also goes without saying that Vacono's products conform to all international standards and the company provides three different product ranges, VaconoDome, VaconoDeck and VaconoSeal.
VaconoDome comprises of aluminium geodesic dome roofs used for the covering of cylindrical open structures of up to 120m diameter in the petroleum industry, the water treatment sector and for architectural purposes. They are mostly applied in refineries and tank farms where both the storage product and the structural tank components must be protected from atmospheric and environmental influences.
The benefits of this roof include low erection and maintenance cost, and corrosion-resistance. Designed as a self-supporting dome roof, where only its outer edge is
connected to the tank shell around the outer rim, the weight of the VaconoDome is only ten to 15 per cent of a comparable self-supporting steel roof. The system therefore offers a cost-optimised solution by saving the weight of the tank cover and is also suitable for the retrofitting of existing floating roof tanks, which are designed to function without a steel roof, into fixed roof tanks. For the building of a new tank, the light weight of the VaconoDome allows a saving in expenditure for the foundations as well as the tank shell.
The second product range, VaconoDeck is a lightweight compact internal floating cover made of high quality aluminium, stainless steel, or from a combination of the two materials, to be used inside fixed roof tanks to limit the emissions that occur where volatile hydrocarbons are stored. The system is designed as a pontoon construction floating on the stored product and functions as a gas barrier thereby reducing vapour losses by over 95 per cent; this not only ensures a substantial increase in tank operation profitability but also protects the atmosphere, making an effective contribution towards the elimination of environmental pollution.
In addition to high rigidity and stability warranted through its design and construction, the long service life of the floating cover is further ensured through the excellent corrosion resistance exhibited by the materials selected. A unique feature of the VaconoDeck is the use of 'cladded' deck sheets, which are coated on both sides with a special aluminium alloy containing zinc that prevent the perforation of the panel by localised pitting. This form of corrosion can occur as a result of an electrolytic reaction of the water condensation combined with rust particles falling from the roof and walls of the tank onto the floating deck. The company's final range, VaconoSeal comprises of a wide range of top mounted primary and secondary seals for floating roofs in open top tanks.
Vacono's recent independence from Aluminium Rheinfelden has enabled the company to focus more directly on its market and has led to greater flexibility and customer orientation. Vacono has experienced excellent sales this year with over 150 projects in more than 35 countries including the US, and it continues to look ahead to the future with optimism.
Vacono Aluminium Covers GmbH
Products Tank equipment systems