Vallianz Offshore Marine Pte Ltd
A valliant approach
Utilising its advantageous position in a major shipping hub, Singapore headquartered Vallianz Holdings Limited has established a geographical footprint across Asia Pacific, the Middle East, Latin America and is currently in the process of expanding its presence in the burgeoning market of West Africa.
With a passion for excellence in all areas of operation, the SGX-Catalist listed company provides integrated offshore marine solutions to oil majors and national oil companies on a global scale; these services include vessel ownership, chartering, brokering, vessel management services and marine marketing services. Discussing the history of the company, executive director and CEO Darren Yeo begins: "Vallianz was previously an offshore marine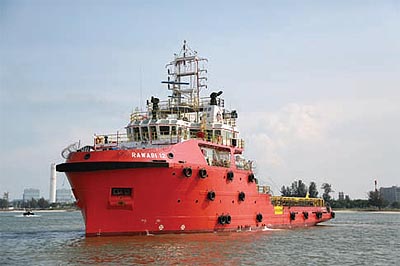 services division within Swiber, an integrated offshore engineering, procurement, installation and commissioning (EPIC) services provider that has enjoyed huge success across Asia Pacific and Latin America, and achieved a revenue of over US$1 billion dollars in 2013. In Aug st 2010, this division spun off to become Vallianz Holdings Limited."
He continues: "We have three revenue models, the most significant being vessel chartering and brokerage, followed by ship management services and finally investment holdings. Using our expertise in these services as a platform for growth we have spent the last two to three years aggressively growing the business within the OSV market. Through independent funding since 2010 we have also actively been reinforcing industry awareness of our strong management capabilities in this sector to secure our future prospects."
Keen to take advantage of a rapidly growing market, the company has invested in industry experts to operate and manage its increasing fleet of OSVs, which includes platform supply vessels, towing tugs and anchor handling tugs with supply capabilities. "We are very pleased an experienced industry professional, captain Lim Kean Hin, joined Vallianz's senior management team in 2013 as our vice president for QHSE Captain Lim has close to 40 years of experience and expertise in management, ship quality assurance, safety, environmental protection, crisis and emergency response," said Darren.
Adding to the strength of the company's management team is Mr. Ling Yong Wah, who was appointed as an executive director and senior vice president, corporate in March 2014. Mr. Ling brings with him over 25 years of experience in business, management and private equity, having previously worked with major companies listed on the Singapore Stock Exchange. The board of directors also includes non-executive and independent director Yeo Jeu Nam, who boasts 30 years of consultancy expertise, and Bote De Vries, a non-executive and independent director with more than 20 years of international asset finance experience. Apart from the strong management team, Vallianz will also be expanding its existing fleet to 50 by 2016, as part of its strategy to strengthen its market presence and capitalise on the business opportunities in the exploration and production market.
However, strengthening the management team and fleet expansion are not the only key strategies in place for the delivery of growth. Vallianz entered the Kingdom of Saudi Arabia through a 50 per cent acquisition of Rawabi Swiber Offshore Services Co Ltd for US$1.45 million in October 2013. Vallianz purchased the interest from Swiber Offshore Construction, a subsidiary of Swiber, which owns a 28.8 per cent share in Vallianz. Following this development, Vallianz entered Latin America through the newly incorporated Vallianz Marine Mexico SA DECV in February 2014. These moves have led to the company tendering for a range of contracts worth more than $1.2 billion in areas such as Asia, the Middle East, Latin America and Africa.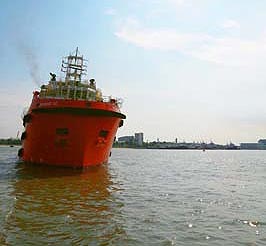 Although it is flourishing in a booming and competitive market, the company is facing challenges as it enjoys tremendous growth; one such example of this being the stringent demands of international and national oil and gas firms. "Our focus is on the OSV market in areas such as Latin America and the Middle East; we have four OSVs operating in Latin America and Mexico and 21 vessels under an open contract with an oil major in Saudi Arabia," says Darren. "We are expecting to increase our fleet to 50 vessels and that includes shallow water AHT, anchor handling tug supply, platform supply vessels, multi-purpose vessel, accommodation work barges and an accommodation pipelay vessel.
Presently we have two state-of-the-art vessels being added to our fleet over the next few months; we have started working on our own design and if demand is still growing over the next five to ten years our new vessels will ensure we are ready for this. Looking at the kind of vessels we want, they have to be environmentally friendly, which is why we brought in new management with long-term experience to help us achieve higher levels of compliance."
With 28 offshore marine vessels currently in operation, the company aims to boost its fleet to 50 vessels by 2016, all of which will meet the necessary standards and regulations to operate in booming oil and gas locations around the world. These vessels will include PSVs, anchor handling tugs with supply capabilities, multi-purpose vessels and anchor handling tugs. Complementing these plans for fleet expansion, Vallianz has signed a collaborative agreement with a first class international shipbuilding organisation in China, for which Vallianz will provide market intelligence and engineering specifications for up to 200 newbuilds.
As part of the agreement, the company will have no financial obligations upfront and will have first refusal rights to vessels built in the shipyard; an advantageous position for the company as it looks to bid on projects and capitalise on upcoming market opportunities. "This collaboration will mean vessels are built according to our market intelligence and includes a strategic arrangement for us to acquire up to 200 newbuilds so we have vessels ready when we are awarded new projects. So far we have nine vessels under construction and have the opportunity to acquire more as we need them; although we aim to have a large number of vessels in operation around the world, we are going to be very selective and strategically look at certain markets to ensure our ongoing growth," concludes Darren.
Vallianz Offshore Marine Pte Ltd
Services: Integrated offshore marine solutions