Valmet Energy & Process Systems
Forward together
With roots stretching back over more than 250 years to the early 1750s, Valmet represents a leading Finnish business and a proven supplier of innovative technologies, automation solutions and dedicated services for clients operating within the global pulp, paper and energy industries. The company's comprehensive service package covers everything from maintenance outsourcing to plant improvements and the delivery and installation of spare parts. Valmet also supports a strong technological offering, which includes equipment for pulp mills, tissue, board and paper production lines, as well as the installation of efficient plants for bio-energy production. These capabilities further incorporate advanced automation solutions that range from the introduction of single components to plant-wide turnkey automation projects.
Valmet operates from its head office located in Espoo, Finland while its shares are presently listed on the Nasdaq Helsinki stock exchange. The company currently employs around 12,000 professional members of staff and achieved net sales of approximately €2.9 billion during 2016. Throughout all of its operations Valmet works in accordance with its vision to become a global champion in serving its clients across a variety of markets, which the company achieves by maintaining a strong global presence that enables the business to remain in close contact with its customers. Valmet predominantly targets the pulping and fibre; board and paper; tissue; energy; and biofuels and biomaterials industries, while the company additionally provides solutions to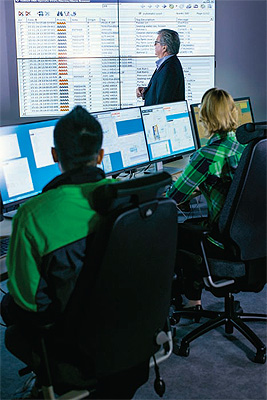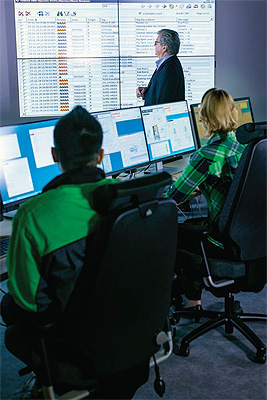 clients operating within the marine, LNG, oil and gas, food, pharmaceutical, waste water and chemical industries. Valmet reached a significant operational milestone during April 2015, through the acquisition of Metso Process Automation Systems. This event enabled the company to add automation solutions to its expansive service offering, which has since grown into an important business line within the wider Valmet Corporation.
Energy, Oil & Gas previously profiled Valmet in October 2015, during which time the company's Director of Automation Systems for the Energy Market, Esa Jokiniemi discussed the strength of the business across the entire life cycle of industrial processes, including new machines and plants, rebuilds, process control and services. Over the course of the proceeding years Valmet has continued to develop its service offering, while continuing to attract new business with both new and existing clients. "Valmet has continued to make strong investments in the development of both its technology and operations, as well as the training of its personnel," Esa says. "The integration of the automation business line has also been completed and this successful project has delivered a strong competitive advantage that extends to not only the day-to-day running of the business, but also to the development of new products and services."
By successfully integrating Process Automation Systems into its wider business, Valmet has positioned itself as an industry leader in the delivery of turnkey technology and services for converting fuel into energy. Within the energy, oil and gas markets the company has agreed several contracts with clients that are engaged with providing turbine retrofitting services. This includes the supply of distributed control systems (DCS) and controls to partners that can subsequently deliver a full scope of turbine retrofit operations to the end user. Indeed, Valmet has recently signed a value-added reseller (VAR) agreement for gas turbine automation with Mechanical Field Support B.V. (MFS) – a leading Dutch company specialising in providing gas turbine services globally. Within this new partnership the role of Valmet is to supply its Valmet DNA automation system for gas turbine controls, whereas MFS is responsible for the complete gas turbine retrofit projects including automation system renewal. "We have been developing our capabilities and services relating to turbine automation systems for several years," explains Director, Partner Business, Automation, Kari S. Heikkilä. "The partnership with MFS will boost our automation business in the execution of gas turbine retrofit projects, since MFS will include the Valmet automation system as part of its overall gas turbine renewal and relocation projects."
The company is also presently involved in an agreement with Babcock and Wilcox Vølund A/S to supply automation technology for the new Dunbar Energy Recovery Facility (EFR) location within East Lothian, Scotland. Valmet has supplied advanced automation solutions to the facility that make it possible for operators to effectively control the renewable energy recovery process and to further manage plant operations. The order was received during Q2 2016 and represents part of the company's net sales for the year. Typical projects within this environment are valued at between €1 million and €3 million and the delivery of equipment from Valmet to the client began in March 2017. "This is the second project that Babcock and Wilcox has ordered from Valmet," observes Sales Director, UK, Neil Buckland. "Our earlier delivery relating to the Peterborough waste-to-energy plant was highly successful and went into operation during 2015."
While the world's energy market continues to evolve and develop, Valmet will continue to produce innovative solutions that will enable the business to remain at the forefront of delivering turnkey solutions to a dynamic and demanding environment. "The power generation market is going through a period of huge transition due to an increased focus on green energy production, including solar, wind and bio fuel sources. Electricity price levels are also currently at a very low level, which creates its own challenges. Valmet has subsequently further invested into the development of renewable energy solutions. Within the field of thermal power plant solutions for example, we are emphasising flexibility in relation to high loads versus ultra-low loads and fuel flexibility. This consideration is executed while remaining compliant with best available techniques (BAT) emission management," Esa concludes. "We are also working to develop novel industrial Internet-based solutions to provide our customers with better tools with which to monitor process performance and availability. Within the company's services portfolio, we have recently launched a new service called 'Shared Journey Forward', which ties together the life cycle services of the entire Valmet group to help bring the customers' performance forward."
Valmet Energy & Process Systems
Services: Leading developer and supplier of technologies, automation and services for the pulp, paper and energy industries