Pipe dreams
Established six months ago in the Norwegian regions of Stavanger and Kristiansund, VAM Norge was created in response to a growing client demand in the Norwegian oil and gas industry.
The company is part of the wider Vallourec Mannesmann group founded in 1997 when the French company Vallourec merged with the German company Mannesmannröhen-werke, bringing together years of experience in the seamless hot rolled tubes and threaded oilfield tubulars industry. The group is now the world's largest and most comprehensive producer of seamless steel tube sizes and has an output of up to three million tonnes. After a review of the services in the Norwegian department it became apparent that clients required a more comprehensive service and a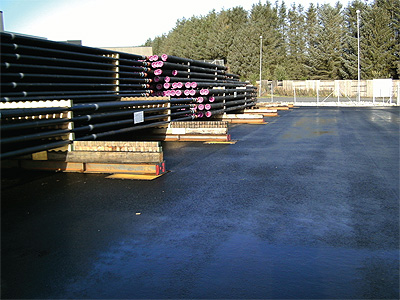 recognised infrastructure. Hartley Taylor, the new country manager for Norway, explains how VAM Norge was created:
"The company was established six months ago when we set up a senior management team here, until then we had just one employee working in Norway for three years. Our customer feedback in 2007 showed us that our current and potential clients were not happy with the infrastructure; they did not feel that we were able to deal with any additional work and the size of the operations we were handling at the time. Being a pro-active company we listened to the feedback and have created a new identity. I was appointed country manager and part of my task was to create an infrastructure not just here but all the way up the Norwegian coast. There is massive potential here in Norway, we have found the personnel and now have the capability to cope with the workload." The group's commitment to the oil and gas sector is impressive and the company's new offices in Norway include other Vallourec group companies such as VAM Field Service and VAM Drilling, providing support and facilitating a range of technical services and special projects.
The company prides itself on its state-of-the-art pipe mills and one-stop-shop capabilities as it is able to provide a range of products and services depending on the clients exact requirements. "Generally customers will buy casing and tubing with premium connections which could be hundreds of tonnes worth. Many of our clients are smaller customers or independents who don't have facilities to store the product, but now that we have new larger stockyards in Stravanger and Kristiansund we are able to provide a storing service or deliver to wherever it is needed. We can also tally and rig ready the pipe, as well as inspect it on return to shore or oversee internal and external cleaning machine shop processes. We didn't have any of these capabilities before, but now rather than just selling the product we have a whole array of supply chain services adding value to their drilling programme," Hartley comments.
In being such a specialist industry, oil and gas companies often have issues with obtaining skilled and capable staff, as he explains: "We see huge growth in the future, for both VAM Norge and the other companies within the Vallourec Mannesmann group, and they will all be looking for personnel, as will all the other companies in the industry. There are good people out there but everyone wants to recruit them and that is the biggest challenge to keep up with the growth of the company. However I would also say that we have a number of strengths to overcome these challenges, including the skill and expert service of our current employees. Despite a small team, our employees are totally dedicated to our clients. Our clients have also said time and again that we have the best in service and stockyard facilities and our supply chain is second to none. As well as this we have our Chinese division at the touch of a button helping us to learn about and deal with certain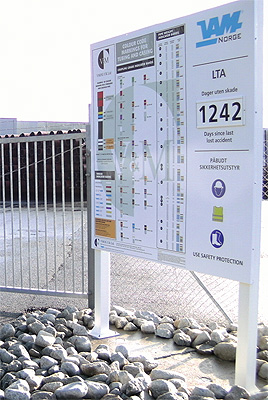 scenarios, whilst gaining knowledge about best practices – it s a big advantage for us."
Handling the deep offshore, high temperature, pressure harsh environments is challenging and expert, thus there is a need for premium connections in oil country tubular goods (OCTG). With the increasing cost of drilling and completing wells, VAM Norge dedicates its business to generating quality products that provide the customer with value for money – well constructed seamless tubes that last. "Marston is one of our biggest clients and we've been working with them since day one, all the way through our years in Norway," states Hartley. "Our contract with Marston has gone from strength to strength and we have a really good relationship with them, they know how well we work and are taking advantage of the new capabilities we can offer. We are targeting the small independent companies as we feel we can give them real added value.
"Because of our infrastructure improvements we have secured contracts with Vundeen, DNO and Revis; they are small at the moment but we will grow in the future and they will grow with us, leaning on our experience and capacity. Being part of the Vallourec Mannesmann group also helps us draw on decades of experience. To illustrate, the group's turnover last year was six billion euros and we have strategic positions all over the world. With the years of experience, the group has huge databases and as a new entity in Norway being able to draw on this knowledge has been fantastic."
Hartley concludes: "There are plenty of opportunities at the moment in Norway for the oil and gas industry. We want to grow and develop the Norwegian coast and into the Bearing Sea where the future lies for oil and gas reservoirs. Our aim is to grow with the independent companies and as drilling is moving further north, we see potential growth from establishing satellite bases. Our long-term goal is to launch ourselves as an entity and getting our name known in the industry. My task here is clear; to provide a comprehensive total tubular management service for the Norwegian sector that removes cost and resource commitment from our customers, allowing us to concentrate our expertise and resources in the supply chain management of OCTG. The aim is to deliver Vallourec and Mannesmann OCTG to our customer well sites in a condition of preparedness that avoids rig time and resources being tied up, adding value to their operation. Put simply VAM Norge continuously strives be 'best in class' in the oil and gas industry."
VAM Norge (part of the Vallourec and Mannesmann group)
Products Tubing and piping