Van Aalst Marine & Offshore BV
Well Handled
The Van Aalst group was founded back in 1954 as the first Dutch company offering pneumatic bulk handling of cement.
At this time, company founder Arie van Aalst developed a vacuum-pressure system built into a converted tug, which made it possible to discharge cement in bulk at storage sites. The concept of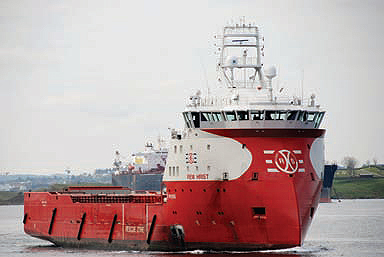 pneumatic ship unloading was developed further by the next generation culminating in the design of the world's first road mobile ship un-loaders, which since 1999 have been sold through the Van Aalst Bulk Handling business unit.
It was in 1995 that Van Aalst made its way further into the marine and offshore market, under the guidance of the third generation of van Aalst's. Active in all pneumatic bulk handling equipment onboard of vessels and other marine applications, Van Aalst has made a name for itself in systems for offshore supply vessels, and the conversion of ocean-going cargo vessels into self-discharging cement carriers. Through this unchanging focus, and commitment to development, Van Aalst has become one of the largest suppliers of dry bulk handling systems in the world.
Today, the Group consists of independent companies, each specialising in a specific field within the pneumatic cargo handling for transport and distribution in the global marine and offshore markets, and construction industries. This includes Van Aalst Bulk Handling BV, CargoMaxx BV, Mulder Europe BV, CargoMaxx Drilling BV and Van Aalst Marine & Offshore BV (VAMO).
Situated in Dordrecht, the Netherlands, VAMO's headquarters are home to 9000 square metres of newly-opened offices, production, training, and research and development facilities, shared with Group divisions Mulder Europe and CargoMaxx. With generations of industry know-how behind it, the company has become a reference point in the industry with a dedication to delivering sustainable products that meet business specific processes. Whilst VAMO has continued to make great technological advances in its products, the core design principles of reliability, durability, efficiency, and safety remain throughout.
One of the most important innovations that VAMO has introduced in recent years is the multi-application liquid and dry tank system known as CargoMaxx. This solution is rapidly gaining ground in the offshore support sector given its flexible use of tank volume on supply vessels to carry both dry bulk and liquid cargo. Industry leaders such as Petrobras and Statoil are implementing CargoMaxx on their vessels, enabling dry materials to be delivered to a drilling unit and the same tanks to be used to carry back drill cuttings, mud, and other process waste on the return journey.
Primarily it is the shape of the CargoMaxx tanks, essentially an inverted pyramid, which enables this multi-functionality. The angles of the tank sides have been adjusted in line with specific gravitational behaviour of dry bulk cargoes, and at the same time they allow for easy circulation of sedimentation in liquid cargo through the use of compact pumps.
Likewise, by eliminating the need to reserve dedicated tanks for liquid mud, dry bulk, brine, base oil, fuel oil, and methanol through the use of one single tank for all products, CargoMaxx can increase the average payload of a vessel by as much as 20 per cent. The advantages of the CargoMaxx system over conventional tanks are not only economical by reducing the number of required journeys, but also environmental with minimised emissions during loading and offloading, and safe storage of potentially hazardous waste products.
Having been proven as a concept onboard supply vessels, VAMO is looking to extend this offering to mobile offshore drilling units themselves. As such, CargoMaxx is designed as a modular concept that offers the flexibility of being built into, but also retrofitted onto platforms to provide space saving, below deck bulk storage of drill cuttings. In order to capitalise on this market and offer first-hand support, in 2011 VAMO opened a new CargoMaxx facility in Houston, US.
By utilising its in-built experience and industry expertise VAMO generates greater value by engineering and developing forefront solutions for more sustainable machinery and equipment that increase productivity for customers. The company believes that cargo handling systems are one of the most important tools within its clients' operations, and therefore strives to fully master this technology as well as integrate it more seamlessly into production objectives. Fundamentally, VAMO's mission is to continue to be at the forefront of cargo handling processes and to surpass expectations with regards to product quality, service, and innovation. Building upon its heritage so far, the company's ambition is to now grow in existing and new markets and products that are profitable in order to ensure its long-term stability and continuity into the next generation.
Van Aalst Marine & Offshore BV
Products: Bulk handling systems