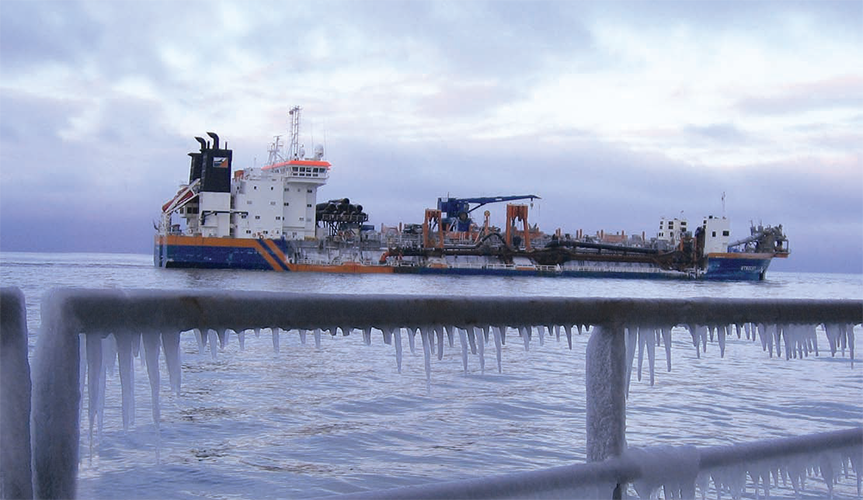 Moving forward
"Van Oord was first established as a family business in the mid 19th century. Over the last few decades we have become a world-class international dredging and marine contractor specialising in dredging, marine engineering and offshore (oil, gas and wind).
Marine ingenuity are the two words that state who we are. As an innovative partner for our clients, Van Oord helps to create the infrastructure for the world of tomorrow. Expanding and developing our services in the last few decades, we have evolved into a world-renowned, one-stop-shop engineering, procurement and construction (EPC) contractor," says Maurice de Kok, area manager at Van Oord Offshore, Van Oord's business unit for the oil and gas industry.
Van Oord has developed a global reputation as a business characterised by visible leadership, marine ingenuity, a focused long-term vision and strong financial position. Dedicated to surpassing client expectation, the company makes substantial investments in its personnel and equipment to ensure continued quality services and ongoing growth within its worldwide market.
Van Oord Offshore's market-leading high precision subsea rock installation activities (SRI) are vital to the stabilisation and protection of offshore pipelines, cables, wind farm foundations, and gravity based structures (GBSs). The success of the SRI services means they have been used in high profile projects in the North Sea region, such as Ormen Lange, and are becoming more global with projects in Brazil, Russia, Australia and Mexico.
Working with oil and gas companies around the world, Van Oord Offshore has developed an excellent reputation as a company able to find the best solution to the biggest challenges. Investing in its first shallow water pipe lay barge in 2012; Van Oord's Stingray complements the company's diverse services to the offshore industry. Stingray is designed in accordance with the stringent safety and quality standards required by the oil and gas industry. Equipped with state-of-the-art machinery, Stingray can install pipelines ranging from six to 60 inches in diameter; furthermore, the barge can also be used for a diverse range of offshore installation operations such as buoy and manifold installation, commissioning, piling, hook-up and midline tie-ins.
"Stingray complements Van Oord Offshore's main strength of inventing or developing solutions within the offshore industry and has already been executed for its first projects," states Maurice. "Located in Ulsan, Korea, this project comprised of the new single point mooring (SPM) construction for the S-Oil refinery. The construction started in April 2013 and consists of dredging a trench and the installation of a 42 inch pipeline and a pipeline end manifold system (PLEM)." Furthermore, Stingray has also already executed its second contract for the replacement of the Shalung No 1 offshore crude oil pipeline for the Taoyuan refinery CPCin Taiwan.
Fully integrating its EPC services has enabled Van Oord to encompass detailed design and verification, materials procurement and associated services as well as installation and commissioning services in one comprehensive package. Boasting vast amounts of experience within the offshore industry, the dynamic firm has grown a worldwide reputation, with approximately 4500 employees covering its strategically located offices around the globe; a presence that has given Van Oord the opportunity to develop experience in the most remote and harsh locations, long before the oil and gas industry's move into deeper waters. "We are used to working in remote areas or complicated environments such as the arctic or the tropics and are able to manage challenging projects, as well as the rules and regulations being enforced in these harsh locations, with ease," says Maurice.
"We all know oil and gas exploration is moving into harsher conditions such as the arctic; we have experience of working in the arctic and operating in the northern parts of Russia over the last ten years, completing projects in Sakhalin and in the Jamal area, north of Murmansk. There are further plans to move into the arctic and we want to continue our involvement in this area.
"2013 has absolutely been a busy year; we managed to get two contracts in a row and were recently awarded a contract for Stingray in Brazil; this success is a sign of our abilities in delivering solutions that surpass expectations," enthuses Maurice. With a dedicated focus on the preparation, installation and protection of offshore oil and gas infrastructure, Van Oord investigates the best way to complete all projects in the most cost effective, efficient and high quality manner.
Focused on expanding its global portfolio throughout 2013, the company achieved this goal through contract awards in Australia, Korea, the Middle East, Brazil and Europe. With this expansion set to continue, particularly in the SRI market, Van Oord is actively looking to resource new personnel, as Maurice concludes: "We are always looking for new personnel and Van Oord has repeatedly been chosen as the best technical traineeship in the Netherlands. Our employees are committed, entrepreneurial professionals who are passionate about water, wind energy and technology; we give them the opportunity to operate a modern and versatile fleet and to work as a team to provide the best solution for our clients. We look forward to the future."
Van Oord Offshore BV
Services: Global contractor for offshore, dredging and marine projects