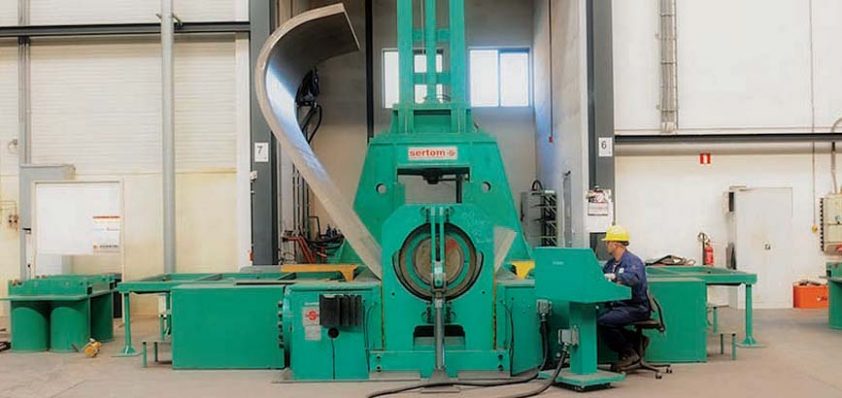 A strong grip
Founded in 1928, The Netherlands based independent manufacturing and trading firm VandeGrijp has developed into a leading specialist in the production of pipes, pipe constructions and the rental of pipeline systems for on and offshore projects.
"We have a long history, which began when a man called Vandegrijp began to reclaim a large area of land in the area where we are now based. At some point in the 1950s, we moved to large scale production of pipelines for dredging firms to move sand; it was around this time we realised that building pipelines is more or less the same as building tube structures, so we developed our services in manufacturing tubes for the construction industry. Today our focus is on the fabrication of tubes and tubular structures, which is 50/50 in the dredging and offshore industries," explains Paul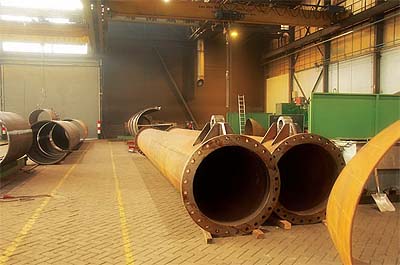 Nederlof, managing director at VandeGrijp.
Split into two companies, VandeGrijp IGS, which focuses on manufacturing, and VandeGrijp Rental, which offers tailor-made solutions through temporary pipeline systems and floating equipment for infrastructural projects, the Papendrecht headquartered group is able to focus its attentions on providing its customers with unique, custom-made high quality solutions. For example, VandeGrijp IGS leads the way in producing a wide range of equipment such as pipes, pipe sections, cones, reels, and tapered reducers. It supplies not only in bulk, but also for specific single pieces in common, high-tensile or wear-resistant material grades. VandeGrijp Rental, meanwhile, stocks approximately 60 km of pipes for pipeline systems and also offers pontoons and split hopper barges when tailor made solutions are required urgently.
Production facilities at the ISO 9001:2008 and ISO 3824-2 certified group include a pipe mill with a six metre plate rolling machine, with plate thickness available from five millimetres to 25 millimetres and diameter from 500 millimetres to 1200 millimetres. VandeGrijp also has a construction department with two three metre plate rolling machines, that offer plate thickness from ten millimetres to 80 millimetres and a diameter from 450 millimetres up to 4500 millimetres, as well as a length of up to 50 metres. There is also a large tube assembly area, with one three metre plate rolling machine, that can deliver plate thickness from 20 millimetres to 150 millimetres and a diameter up to 8200 millimetres and a length of up to 120 metres. Pipes and tubes are assembled using single, twin and triple SAW welding. It also boasts a ro-ro barge loading
quay wall for heavy and large tubes.
"Our speciality is roll bending steel," confirms Paul. "We make pipelines for dredging firms, while our tube fabrication services are used in projects within the oil and gas industry. This could mean making tubes for jackets and constructional components for offshore clients; as long as the products need to be in tube form we can make them. We are currently working on the construction of a machine for Fistuca, a young company that has developed a new offshore pile driving technology. It is an interesting project as we are building the complete hammer, which is five metres in diameter."
This BLUE Piling Technology from Fistuca is a revolutionary new pile driving technology that uses water as a ram weight. Advantages of this technology include very low underwater noise levels that comply with the stringent German offshore noise regulations, lower fatigue levels, good scalability, and low tensile stresses in the material, which has the potential to result in significant savings for offshore foundations. For a more detailed explanation of the BLUE Piling technology please visit www.fistuca.com where an animation describes it in much more detail.
"Other Projects include the recent production of piles for jack up legs, which was for Volker Steel under contract for Allseas. We also made some piles for a pile template for ASK Steel, which was contracted by Heerema Marine Contractors. We don't necessarily work for the offshore companies directly, but deliver the tubes to contractors that assemble larger structures from them."
With the group's production facility running to full capacity, VandeGrijp will focus on expansion over the next 12 months, which will enable it to take on more projects and enhance its services further. In addition, Paul sees opportunities to improve customer service through increasing the availability of VandeGrijp stock, as he concludes: "We are strategically located and most of our customers are within a 150 mile radius of us, which is very convenient, however, we want to make our service more easily available. To do this we could make our products available online, which would not only enable customers to order from us more easily, but would also boost turnaround times."
VandeGrijp
Services: Manufacture and trade heavy walled tubes, pipes and parts