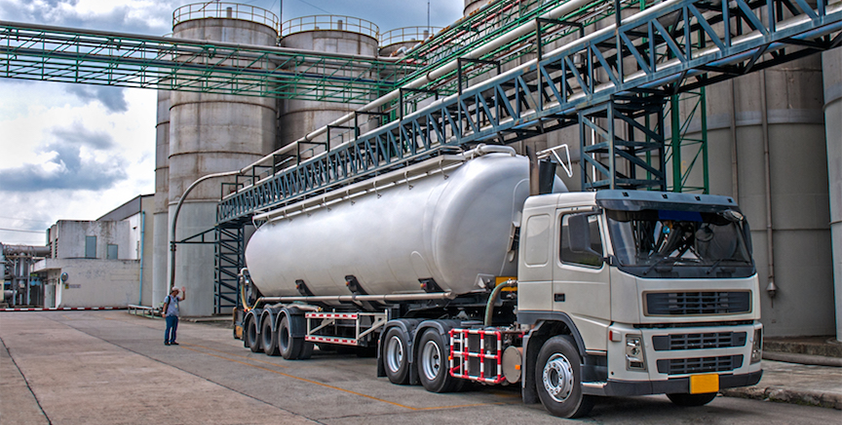 VantEdge O&G Inc. develops software solutions to support the oil and gas industry, help it reduce costs and remain viable for the long term.
The oil and gas industry in North America has to know how to operate safely and profitably to remain competitive in the constantly changing market. When energy companies are operating well, they bring major economic benefits to their regions and the overall country. In fact, the American Petroleum Institute has found that advanced technologies, best practices and quality standards allow the U.S. industry to become the world's No. 1 producer – above Saudi Arabia and Russia – as well as the top reducer of emissions. These are important strides for the industry, and to keep progressing in this manner, oil and gas producers must find the best partners to support their operations. VantEdge O&G Inc. is one such solutions provider that wants to provide the support the oil and gas industry requires.
VantEdge has the expertise to contribute to the oil and gas industry's strengths, while working to add value and improve performance in the market's operations. Based in Calgary, VantEdge supports the oil and gas industry by specializing in areas that are not core specialties of its clients. The company's team brings more than 40 years of industry experience to its work with clients, providing smart logistics and compliance solutions that are key to clients' success. VantEdge employs a fee-for-service business model so its partners can focus resources on their core service areas.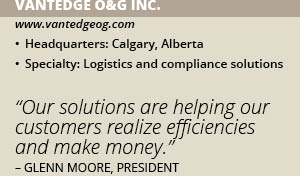 "I spent 15 years in the oil and gas market working in logistics and scheduling rail cars and trucks," President Glenn Moore explains. "During that time I was trading LPGs and oil across North America. With this experience, I saw a lot of holes in the process with respect to how we scheduled cars and traded products. I thought a software solution would be great for the industry. We focus on logistics and compliance, and many of the issues in these areas have flown under the radar for oil and gas companies. Our solutions are helping our customers realize efficiencies make money."
VantEdge is dedicated to increasing efficiency and cost savings for its customers. The company is working on a number of products that will help clients further simplify processes, increase transparency, improve measurement, increase quality controls and speed up payment cycles. With all of its solutions, VantEdge's primary goal is to help the oil and gas business continue to grow and become more efficient.
"We only hire industry experts at our company," Moore stresses. "Our people have at least 10 to more than 15 years of experience in this industry, and that makes it easy for them to see problems that can be fixed. Our people have been very prominent in their own businesses and careers, but they really understand the pain points in this industry."
Eliminating Areas of Friction
In the area of VantEdge's logistics solutions, the company focuses on truck and rail shipments. VantEdge strives to identify areas of friction in the marketplace and create solutions. This could involve managing the flow of information around railcar moves more effectively, as well as creating tools that enable business to move product and organize shipments more efficiently. VantEdge believes the transportation side of the oil and gas industry has not benefitted from the technological development that other areas of the market have, and it wants the transportation and logistics sectors to achieve efficient and up-to-date methods of handling rail and truck hauling.
The company's first offering in the logistics arena is Bullseye, which was created to modernize the way trucks are scheduled and moved within the oil and gas industry and peripheral markets. The web-based platform offers truckers the ability to reserve timeslots on truck racks for loading and/or offloading at facilities that are linked to the system. Bullseye's goal is to reduce truck waiting times, increase safety, increase transparency and provide a standardized platform for everyone to use. Current users of Bullseye are in the LPG, crude oil, oilfield waste, sulfur, gasoline, diesel and petrochemical markets.
Wheelhouse is VantEdge's newest logistics offering. The goal of Wheelhouse is to properly manage data that comes from the rail and trucking sides of the oil and gas industry. Working to increase efficiency in the front and back office, Wheelhouse provides the ability to generate and store standardized versions of BOLs, create detailed shipping plans from facilities and automatically populate a database that records each transaction done through Wheelhouse. The solution currently is only active for rail shipments, but VantEdge plans to evolve it to work for trucking, as well.
"With Wheelhouse, we are trying to streamline the process of shipping a railcar and eliminate the manual data entry that is associated with all of it," Moore says. "There is only one way to ship a railcar, but every company puts their spin on it, which makes for a really messy, convoluted process. The systems don't talk to each other, people can't cover for each other and the data entry is difficult because multiple people are doing it, so there is bound to be errors."
By streamlining this process, VantEdge creates one way to ship a railcar and stakeholders receive all of the necessary information digitally. "That way, when you get to the end of the month, the invoices always match because there is one source document," Moore adds. "Dribs and drabs of money are being spilt all over, and we are trying to help gather it up and push it back into clients' pockets."
Reducing Costs
With all of its trucking, rail and compliance solutions, VantEdge strives to establish industry best practices while keeping them as simple as possible so everyone can use them. Understanding compliance requirements are often overlooked in operational management systems, VantEdge found there are often gaps between how regulators evaluate compliance and how corporations manage the requirements. VantEdge wants to eliminate duplicate and contradictory processes while creating solutions that actually add value, so they have also created CompliShield.
VantEdge's first compliance solution, CompliShield allows clients to identify and close the gap between legal requirements, internal processes and procedures, operational implementation and assurance activities. CompliShield was designed to help companies focus on the operation of their business while clearly understanding the associated risks and required activities. It also helps clients remain up-to-date on upcoming requirements and legal changes that could affect their operations.
"We are helping our clients see a huge reduction in costs," Moore stresses. "In Calgary, our oil and gas sector is under a lot of pressure from the government, environmentalists and public/private entities so the companies are trying to save money wherever they can while seeing what the next few years will bring. By embracing technology, we can help them save a little here and a little there, because everything we do is focused on efficiencies and saving money. We can't control the market and we can't control what people will pay for oil and gas, but we can help the companies shave their costs and survive until we get back into better times."
Now that its foundational products have been established and are available to the market, VantEdge has plans for six to eight different modules to go with each solution, further increasing clients' efficiencies. For example, Moore says VantEdge wants to create an optimized railcar loader, enabling clients to put more product on a tank car and reducing freight costs on a per-gallon basis. The company also is planning solutions to optimize freight rates, so clients can be sure they are making the shortest trip possible, while also using fewer tank cars.
"We're taking software and trying to wrap it around the oil and gas business," Moore says. "We don't want our clients to change their business to fit the software. We're creating efficiencies and giving them better tools and improve ability to pull out information. There is so much discovery in working with our customers, and we don't want to go after symptoms, we want to fix the actual root problems of the business.
"This is a business I very much love, and I want to put a better light on the oil and gas industry so the industry is still here for my kids and their kids' kids," he continues. "To ensure it lasts, the industry has to be better about what it does, and ensuring its work is safe and proactive. This is what we have to do to continue moving forward."